Have a look at the transfer news coming out of France as Lionel Messi agrees on a 2-year deal with Paris-Saint Germain ahead of the new season.
Argentine International Lionel Messi pens a 2-year contract with the Ligue 1 club Paris-Saint Germain who were the only candidates in the race to sign Leo Messi.
He will travel to Paris today and will sign a contract which will see him earn a whopping €35 million per year.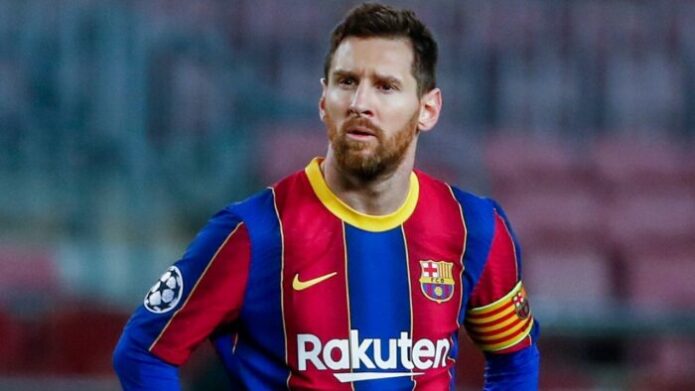 Meanwhile, he will join his former teammate Neymar, Parades, and Angel Di Maria with whom he secured his first-ever Copa America.
The news does not come as a shock after Barcelona failed to comply with the Financial Fair Play regulations set by La Liga.
ALSO READ: Look At The Huge Losses Barcelona Will Have To Endure After The Departure Of Lionel Messi
Lionel Messi Joins Paris-Saint Germain On A 2-Year Deal With An Option To Extend
Although he is signing a 2-year deal with the Parisian club, there is an option to extend his stay at the Parc Des Princes for one more year. Just imagine the lineup of PSG who will now once again strictly dominate the Ligue 1.
Switching from the Camp Nou will surely affect the Argentine forward a little but his determination on the pitch will always be 100 percent.
There will be no shortages of goals at the Parc Des Princes which will now be lit up by the Parisian city lights ahead of his arrival in France.
Contract Details
Lionel Messi will put pen to paper on a 2-year deal with the Parisian club with an option to extend for one more year if both parties are comfortable.
Lionel Messi joins PSG… HERE WE GO! Total agreement completed on a two-years contract. Option to extend until June 2024. Salary around €35m net per season add ons included. 🇦🇷🇫🇷 #Messi

Messi has definitely accepted PSG contract proposal and will be in Paris in the next hours. pic.twitter.com/DiM5jNzxTA

— Fabrizio Romano (@FabrizioRomano) August 10, 2021
Meanwhile, he will earn a tremendous €35 million per year with additional bonuses. That also includes collaborations, royalty, goal-scoring bonus, and bonus per goal.
In conclusion, PSG are planning to unveil the best player in the world on top of the Eiffel Tower under moonlit skies ahead of the new season.
ALSO READ: Transfer News 2021-22: Manchester United Want More Than €4/5 Million For Portuguese Right-Back Diogo Dalot
Thank you for visiting TheSportsLite.com
Have a good day ahead