An agitated Lionel Messi exuberantly celebrated Martinez saving a penalty from Yerry Mina as Argentina made it to the Copa America final.
Lionel Messi mocks his former teammate Yerry Mina who missed a crucial penalty in the semi-final of the Copa America on July 7. Mina's celebration of any goal is a dance that he performs after scoring. The side's top scorer in the Copa America bellowed, "How about dancing now" towards Mina as the Colombian defender saw his penalty be saved. The jibe by Messi was in reference to Mina breaking into a dance after scoring against Uruguay.
Watch Video:
Copa America Final: Argentina vs Brazil
Argentina will face Brazil in the Copa America final which will take place on Saturday at the Maracanã Stadium. Messi and company are in good form winning five games out of six and drawing one. They humiliated Bolivia and Ecuador scoring 7 goals in the process. Messi vs Neymar will once again be on our tables when Argentina and Brazil lock heads in the final of Copa America 2021.
Lionel Messi finally has a chance for redemption after so many Copa America losses and tasting defeat at this stage of the tournament in previous editions. Lionel Messi's bloodied inner left ankle was just an example of the competitive nature of the Copa America semi-final clash between Argentina and Colombia on Tuesday that saw a total of 47 fouls in regular time. This is his fifth chance to win Copa America and it is finally the time that the Copa America Jinx be broken.
Emiliano Martínez Heroics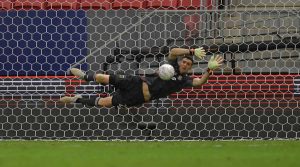 28-year-old Emiliano Martinez helped his side to advance in the Copa America final by beating Columbia in the penalty shoot-out saving 3 out of 5 penalties. He was literally on fire in the shoot-out getting into the minds of the penalty taker and trash-talking as they were stepping up to take the penalty.
His confidence was witnessed by everyone in the stadium as Argentine players were confident in Emiliano for saving the penalties. He also made some crucial saves in the regulation time for Argentina keeping them in the game as the game was level. He is in a good run of form after a decent Premier League campaign with Aston Villa.
Argentina will face their arch-rivals Brazil in the Copa America final where Lionel Messi will finally break the jinx and will definitely win this time.