With a global audience of over 1 billion people, the FIFA World Cup is one of the world's largest sporting events. It is also one of the most anticipated sporting events organized by FIFA every four years. Qatar will host the FIFA World Cup for the first time in 2022. Till now 17 different countries have hosted the World Cup. Brazil, France, Italy, Germany, and Mexico have hosted twice each, while Uruguay, Switzerland, Sweden, Chile, England, Argentina, Spain, the United States, Japan and South Korea (jointly), South Africa, and Russia have hosted once each.
To know more about the newly released Denmark kit for the World Cup and its inspiration, click here.
FIFA Qatar World Cup 2022: Teams
The World Cup group stage draw took place on April 1, 2022, in Doha, Qatar, to set the stage for the tournament.
The men's World Cup in Qatar in 2022 will feature 32 teams before expanding to 48 teams for the World Cup in 2026.
In addition to Qatar, 31 other countries have earned a place in the tournament through regional qualifying matches. This including 29 regular qualified nations and two winners of the play-offs. The number of nations qualifying from each region was predetermined:
Africa (CAF): 5
Asia (AFC): 4 (plus 1 playoff qualifier)
Europe (UEFA): 13
North/Central America & Caribbean (CONCACAF): 3 (plus 1 playoff qualifier)
Oceania (OFC): 1 playoff qualifier
South America (CONMEBOL): 4 (plus 1 playoff qualifier)
FIFA Qatar World Cup 2022: Groups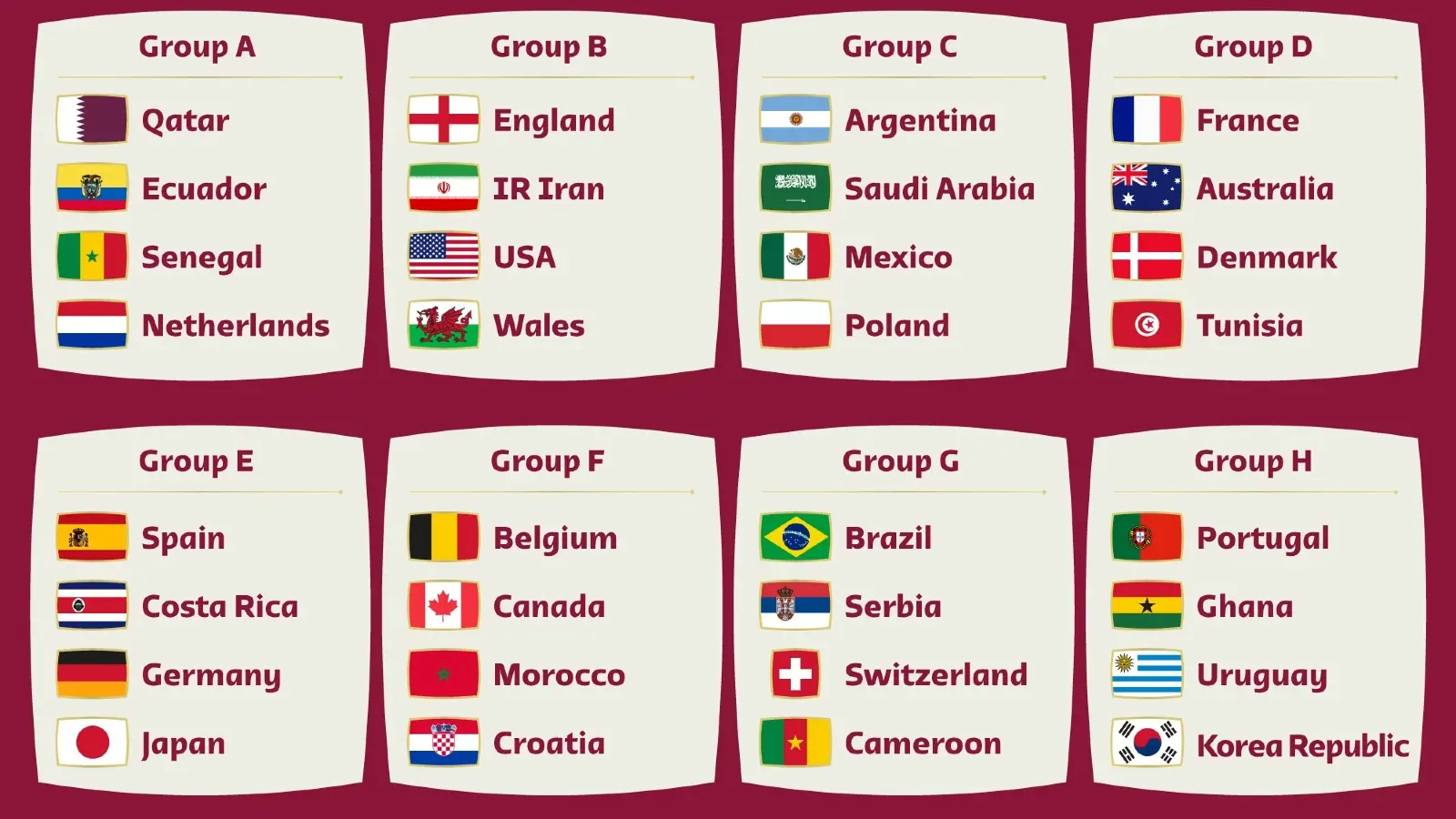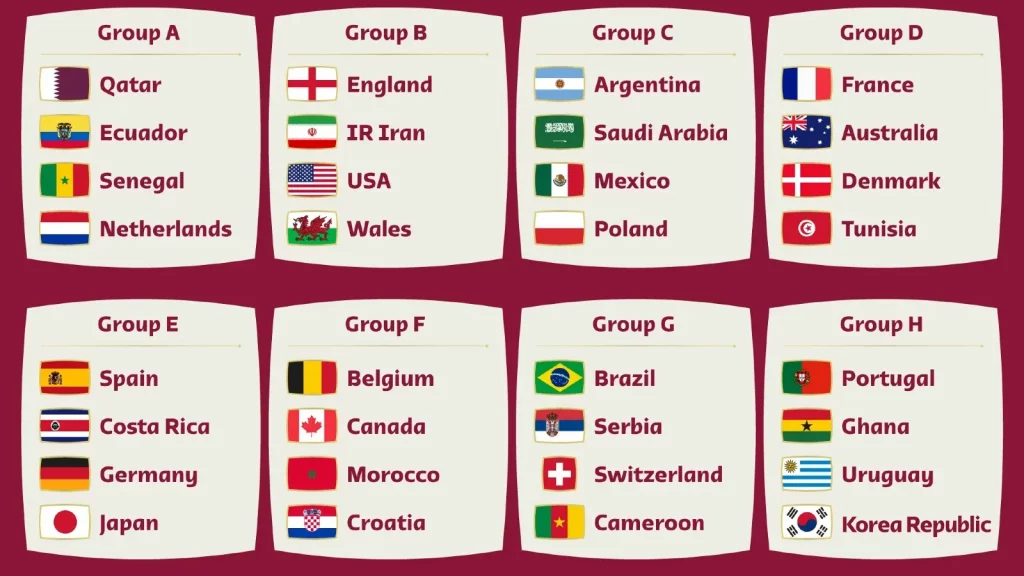 The eights groups A-H comprise of:
A– Qatar, Ecuador, Senegal and Netherlands
B– England, IR Iran, USA and Wales
C– Argentina, Saudi Arabia, Mexico, Poland
D– France, Australia, Denmark and Tunisia
E– Spain, Costa Rica, Germany and Japan
F– Belgium, Canada, Morocco and Croatia
G– Brazil, Serbia, Switzerland and Cameroon
H– Portugal, Ghana, Uruguay and Korea Republic
Also read: Paul Scholes questions new Manchester United signings in summer
FIFA Qatar World Cup 2022: Schedule
The schedule will be different than previous tournaments, since the 2022 World Cup is being played in the winter. The tournament kicks off on Sunday, Nov. 20 with an opening ceremony and the inaugural match between Qatar and Ecuador. It will wrap up in less than a month, with the final due to be played on Sunday, Dec. 18.
Group stage: Nov. 20-Dec. 2
Round of 16: Dec. 3-6
Quarterfinals: Dec. 9-10
Semifinals: Dec. 13-14
Third-place match: Dec. 17
Final: Dec. 18
FIFA Qatar World Cup 2022: Fixtures
The 2022 World Cup will begin with the host country, Qatar, being first team to play on November 21. The tournament will contest 64 matches to be played in 8 Stadiums across 5 cities.
Group stage fixtures
Match 1 to Match 48
Sunday, November 20 – Friday, December 2
Last 16 fixtures
Saturday, December 3
Match 49 – 1A v 2B – Khalifa International Stadium, 3pm
Match 50 – 1C v 2D – Ahmad Bin Ali Stadium, 7pm
Sunday, December 4
Match 52 – 1D v 2C – Al Thumama Stadium, 3pm
Match 51 – 1B v 2A – Al Bayt Stadium, 7pm
Monday, December 5
Match 53 – 1E v 2F – Al Janoub Stadium, 3pm
Match 54 – 1G v 2H – Stadium 947, 7pm
Tuesday, December 6
Match 55 – 1F v 2E – Education City Stadium, 3pm
Match 56 – 1H v 2G – Lusail Stadium, 7pm
Quarter-finals
Friday, December 9
Match 57 – Winner of Match 49 v Winner Match 50 – Lusail Stadium, 7pm
Match 58 – Winner of Match 53 v Winner Match 54 – Education City Stadium, 3pm
Saturday, December 10
Match 59 – Winner Match 51 v Winner Match 52 – Al Bayt Stadium, 7pm
Match 60 – Winner Match 55 v Winner Match 56 – Al Thumama Stadium, 3pm
Semi-finals
Tuesday, December 13
Match 61 – Winner Match 57 v Winner Match 58 – Lusail Stadium, 7pm
Wednesday, December 14
Match 62 – Winner Match 59 v Winner Match 60 – Al Bayt Stadium, 7pm
Third-place play-off
Saturday, December 17
Match 63 – Khalifa International Stadium, 3pm
World Cup final
Sunday, December 18
Match 64 – Lusail Stadium, 3pm
FIFA Qatar World Cup 2022: Format
The tournament will feature 32 national teams competing over the course of a month in the host nations. There are two stages: the group stage followed by the knockout stage.
In the group stage, teams compete within eight groups of four teams each. Each group plays a round-robin tournament, in which each team is scheduled for three matches against other teams in the same group. Each group will contest 6 matches. The top two teams from each group advance to the knockout stage.
The knockout stage is a single-elimination tournament in which teams play each other in one-off matches, with extra time and penalty shootouts used to decide the winner if necessary. It begins with the round of 16 (or the second round) in which the winner of each group plays against the runner-up of another group. This is followed by the quarter-finals, the semi-finals, the third-place match (contested by the losing semi-finalists), and the final.
Read more: Eric Cantona critical of David Beckham and his association with Qatar for World Cup
Tickets
The tickets for the 2022 World Cup began in 2020 and most are already sold out. The host country, Qatar, will get an automatic quota of tickets, however, the number is yet to be determined. The online Last-Minute Sales Phase is currently open and will run until the end of the FIFA World Cup Qatar 2022™ on 18 December. During this sales period, tickets will be allocated on a first come, first served basis, and ticket purchases are processed as a real-time transaction, subject to availability. Check out official FIFA website regularly for further information regarding the opening of the FIFA Ticketing Centres in Doha.
Final Words
The Qatar 2022 World Cup will be an exciting and historic event. There will be plenty of time for speculation about who might win the tournament and what players will do to get there. Now is the best time to start following your favorite teams and players and get ready for the upcoming Qatar 2022 World Cup!
Thank you for reading. Leave us a comment if you liked it.
Do follow us on Google News | Facebook | Instagram | Twitter | Youtube | LinkedIn
Have a good day ahead 🙂