The IPL auctions has been the talk of the town since forever. Now the mega auctions have finally come to play. The auctions are taking place in Bengaluru. A lot of changes in teams and dynamics is taking place already and there are a lot to go. A mega-auction like this is taking place after a decade. There are going to be a lot of shift in things from now on. Next up in the auctions were the uncapped players in the list. One of them in the IPL Auction 2022 is Rajvardhan Hangargekar who got sold to CSK for 1.5cr.
Rajvardhan Hangargekar, a pace bowling all-rounder from Maharashtra who began his career as an off-spinner, is a member of India's recent U-19 World Cup winning group. Hangargekar used to bowl off-spin for the Osmanabad district U-14 squad, but his team needed a fast bowler, so he switched to pace bowling. In the U-19 World Cup semi-finals, Hangargekar hit speeds of above 140 km/h and closed the innings with three consecutive sixes in the last over against Ireland.During the World Cup, he has received a lot of praise from commentators and past players. He concluded with 5 wickets and 278 runs to his name.
Rajvardhan Hangargekar to CSK for 1.5cr.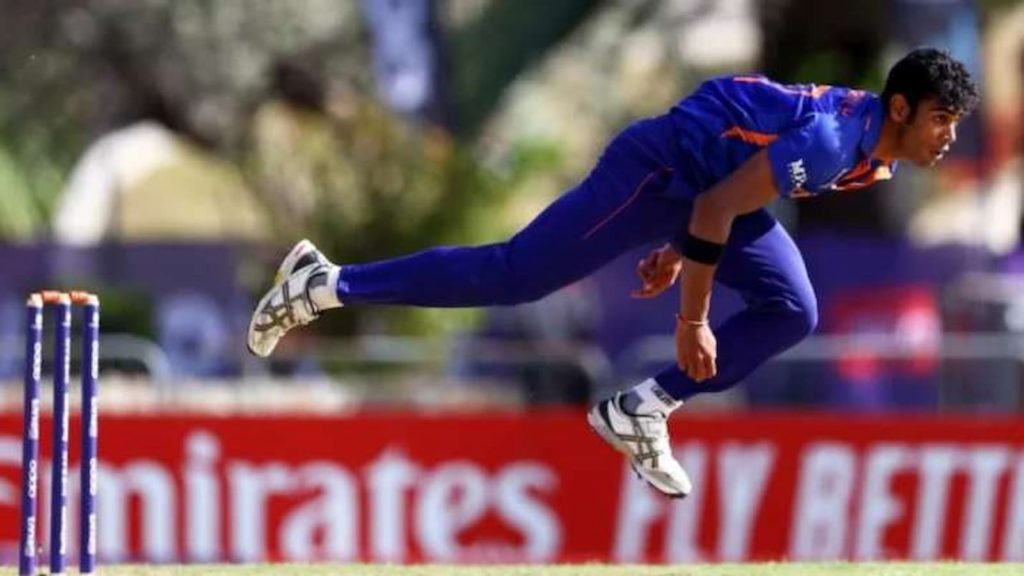 Chennai Super Kings paid Rs 1.5 crore for Rajvardhan Hangargekar, who had a basic price of Rs 30 lakh. In the afternoon session of Day 2 of the Auction, Mumbai and Lucknow were the top bidders for the U-19 standout. Mumbai and Lucknow were also joined by Chennai in the bidding war. In the end, it was the MS Dhoni-captained CSK team that emerged victorious in that match. So, in the IPL Auction 2022, Rajvardhan Hangargekar was sold to CSK.
Also read: Dewald Brevis Sold To Mumbai Indians For A Colossal Amount Of 3 Cr
The auctions continue to take place. With every minute, a number of players are going under the bid. The bidders are doing all the preparations needed for the mega auctions. They seem confident about the players they want in their team, to take them ahead in the game. The IPL 2022 will mostly start either in March or April. And this season is going to be nothing less than interesting. All the players are ready to start playing for the upcoming season. Also, we cannot wait to see how this season goes ahead and changes things around drastically. 
For more such latest information about IPL, keep checking thesportslite.com
Have a good day ahead