Ever heard the word "Blitz" when you're watching a football game & wondered what would happen next? Let's know everything about Blitz in Football and its various types, in this article.
What is Blitz in Football?
When "Blitz" is played, the defense sends five or more defenders directly into the offensive backfield to attack the ball carrier & disrupt the offense. The play is much tougher to execute than it sounds. It leaves the offensive players open which makes it a high-risk play.
Essentially, the play Blitz is carried out to sack the quarterback by rushing a greater number of players than normal. A Blitz is the most popular defensive tactic used in football that comes with a lot of variations. Read More: Most followed NFL teams on Instagram
What are the different Types of Blitz in Football?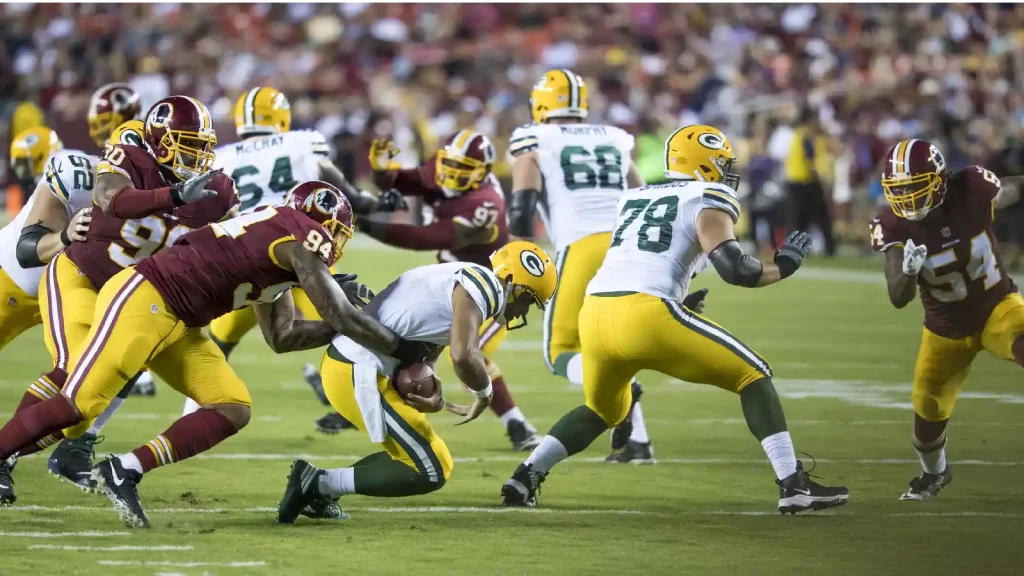 Zone Blitz
When a team plays a zone blitz, the quarterback feels extra pressure as the defense sends one or more defensive players on a blitz. This play is a concept used to confuse the quarterback as one or more defensive player drops into coverage simultaneously.
Zero Blitz
The riskiest blitz leaves no extra coverage on top of the defense. It has no deep safety & every defender who isn't marking any individuals has to blitz. The quarterback is targeted to be trapped & pressurized to kill the offense off.
Safety Blitz
As the name suggests, the play brings a player from the safety position to rush & attack the quarterback. The player from the safety is in the last line of defense & when he rushes it leaves a wide gap open that makes it risky for the team.
Cornerback Blitz
The cornerback is brought into the play as the player is sent after the quarterback. The space left open by the cornerback is covered by the safety. A Blitz is planned & instructed to be carried out by the Defensive coordinator of the team. Read More: Top 5 fastest QB 40-yard Dash Times in NFL history
Thank you for reading it. Leave us a comment if you liked it.
Do follow us on: Google News | Facebook | Instagram | Twitter | Youtube | LinkedIn
Have a good day ahead 🙂