One of the most successful Shooters of India who made himself more famous in 2004 after bagging a silver in Athens Olympics. Along with this, he has shine at Commonwealth Games, Asian Games and many major tournaments. Born in Jaisalmer, Rajasthan on 29 January 1970 currently represents the Political Party B.J.P. Rathore was the chosen Flag Bearer Of team India at the 2006 Commonwealth Games and 2008 Beijing Olympics. So below here we take a closer look at his major defining points like Rajyawardhan Rathore Sports Career and more details.
Sports Career and Olympic Medal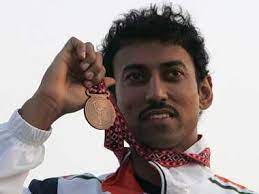 Rathore showed his colors at the 2002 Commonwealth Games where he picked a Gold medal with record shots. Similarly, he enhanced himself more at the Athens Olympics where he captured India's first-ever individual silver at the Olympics. Another major career achievement came in 2003 at the World Championship in 2003 where he ended India's 40-year medal gap with a silver medal. Moreover in 2006 Rajyawardhan not only defended his Commonwealth Title but also added an Asian Games bronze in his medal collection. Furthermore, the 2005 Major Dhyan Chand Khel Ratna awardee ended his career with 17 International medals.
Also read: Greatest Indian Tennis Players – Top Five Best Indian Tennis Players
Politics Journey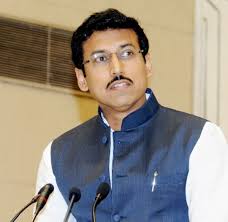 The double trap event expert has been a noticeable name in Indian Politics. Simultaneously, on 10 September 2013, Rathore joined the Bhartiya Janata Party after successfully retiring from the Indian Army. He has handled some major positions in the party. First, he took the pledge for Minister Of State For Information and Broadcasting, in Narendra Modi's rule. Soon he went on to become the Minister Of Sports in 2017, favoring his victorious sports career. Later in 2018 in the month of May, he became the Minister of State (I/C) for Information & Broadcasting.
Player Profile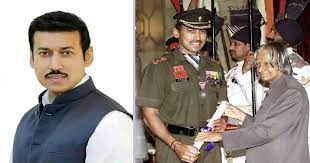 Meanwhile, The five-time Asian Clay Target Championship Gold Medal has been the part of the Indian army side that fought the Kargil war and has been a part of many counter-terrorist Operations which builds a very fortunate career profile for him which some of us could only dream.
| | |
| --- | --- |
| Name | Rajyawardhan Singh Rathore |
| Age | 51 |
| Born Place | Jaisalmer, Rajasthan |
| Major Shooting Event | Double Trap |
| Total International Medals | 15 |
| Major Awards | Major Dhyan Chand Khel Ratna, Padma Shri, Padma Shri , Arjuna Award |
For more such interesting sports news do visit : The Sportslite more frequently.