In Battle Royale games survival is the key aspect to stay victorious and to survive one has to get as much knockouts and however knockouts can be done from the guns or correct combination of guns with the attachments, so in this article the main focus tends to stay on 10 Best Guns In Garena Free Fire which would help a player for BOOYAH !
Basically one can rank the guns in a specific manner as all guns have different uses ,skills and method is required to get the most knockouts using any specific guns. Every gun has a different role to play and also they are applicable to use in different Ranges across the map of Garena free fire. As the data analyzed from usage of guns the guns below were most used in free fire since its inception.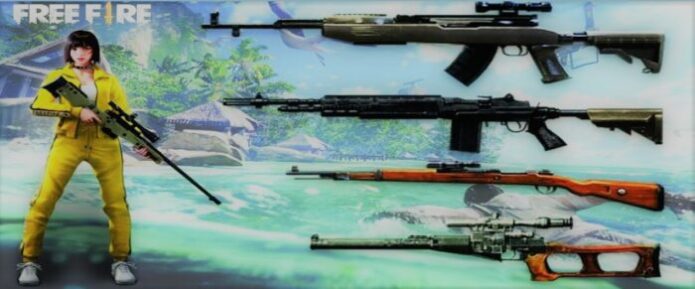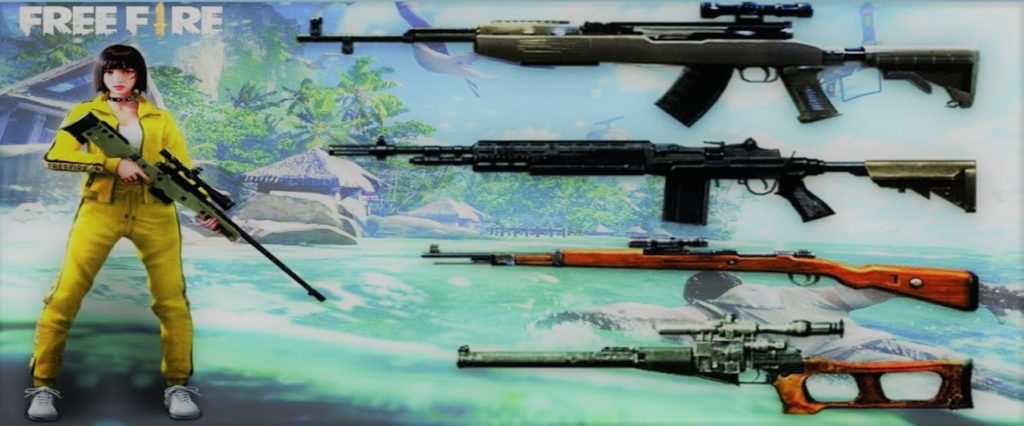 The Name of the 10 best Guns in Garena free fire are as follows :-
Snipers are the best weapons for any one to have on free fire as due to it's wide range of covering the terrain, as one accurate shot i.e headshot on enemy it ensures that the enemy gets knocked out it has a damage of 90 and ensures one headshot one kill ! the only problem is premium snipers like AWM's are only found in drop.
#9. FAMAS
FAMAS is an Assault Rifle with AR Ammo. the automatic rifle also fires 3 bullets at a time with 53 damage for each and a fast rate of fire and a medium accuracy. The weapon is good for Medium-Long range as it has a damage of 53 also the recoil is quiet manageable but one con is there that one has to click the shoot button multiple times as the gun uses burst mode of fire.
Also read : Garena Free Fire: Advanced Tips And Tricks
#8.SCAR
Scar is a very famous and dangerous gun spawned in the game, considering its high rate of fire. It is one of the most balanced assault rifles in Free Fire. Although the gun gives medium-range damage of 53 , it has the least recoil of all the assault rifles.
#7.VSS
VSS is surprisingly a Submachine Gun with SMG weapon but It's mostly categorized as a Sniper Rifle because of its high range of 84. The weapon has a medium damage of 50 and a medium accuracy and a medium rate of fire but if one takes a specific shots from VSS it proves to be very handy as it's muzzle is silenced.
#6.sks
SKS is an Assault Rifle with AR Ammo but It's mostly described as a Sniper Rifle because of its very long range and high damage of 82. The weapon has also a medium accuracy and a slow rate of fire i.e. similar to M4A1.
#5.Dragunov
A sniper rifle found in free fire that uses AR ammunition and is only found in resupply drops and Supply Drops. Dragunov is a powerful sniper rifle that comes pre-equipped with a 4x scope. With quite strong damage and higher fire rate makes this weapon reliable choice as a result makes it effective in either long range or mid range.
AK is one of the choosiest and most overpowered Assault Rifle in Free Fire it is on the 4th position because we can attach every attachments in it and its damage and rate of fire is perfect, however due to its overpowerness one con is prevalent while using AK that is it's recoil which is indeed the most in the game which is the main reason why it's accuracy tends to stay 40's.
Also Read : 10 Best Characters In Free Fire And Their Abilities 2022
#3.M4A1
M4A1 is an Assault Rifle with AR Ammo. the automatic rifle has a damage of 53 and a medium range. The weapon has also a medium accuracy and a high rate of fire which make It one of the most balanced weapons in the game . M4A1 when compared to AK ,i t's in the top 3 irrespective of less damage rate but it's rate of fire is rapid and it's recoil is however very less than that of AK as a result makes m4a1 better than AK.
Groza is at the 2nd position because it's one of the best assault rifles in Free Fire. It features significant damage per hit of 61 which is very high in AR segment and best in class fire rate. The weapon can also be used in mid-range and long-range gunfights in the game but it can only be found in supply drops .
#1. M79
And the weapon which is on the top, which is better than the rest, with which you can enter any place without any fear, its M79. The launcher is the best weapon in the whole game for e.g. if you see a whole squad inside a house or standing close to each other you just need to hit 1 shot and m79 would get it's job done as getting the whole squad knocked out, that's why t M79 (One shot, countless kills) is ranked at top.
** The ranks here are subjective and is respective to change
Best Guns in Garena Free Fire
| | | | | | | |
| --- | --- | --- | --- | --- | --- | --- |
| Name of guns | Damage | Range | Magazine | Rate of fire | Reload speed | Accuracy |
| Famas | 53 | 70 | 30 | 57 | 48 | 54 |
| VSS | 50 | 84 | 15 | 48 | 55 | 90 |
| AK47 | 61 | 72 | 30 | 56 | 41 | 41 |
| SKS | 82 | 82 | 10 | 33 | 41 | 68 |
| XM8 | 55 | 65 | 30 | 54 | 48 | 54 |
| M4A1 | 53 | 77 | 30 | 56 | 48 | 54 |
| SCAR | 53 | 60 | 30 | 61 | 41 | 42 |
| AWM | 90 | 91 | 5 | 27 | 34 | 90 |
| DRAGONAV | 89 | 80 | 10 | 35 | 41 | 68 |
| GROZA | 61 | 75 | 30 | 56 | 48 | 54 |
Pros and cons of Best Guns in Garena Free Fire
| | | | |
| --- | --- | --- | --- |
| Guns | Pros | Cons | Best combination |
| Famas | Good for long mid-range, high rate of fire. | Burst fire , requires fast tapping | Mp40 |
| VSS | Long range, preoccupied 4x scope ,silencer | Low rate of fire , not for mid-range | Spas 12, Mp40 |
| Ak47 | High damage ,good range | High recoil | Snipers |
| SKS | Long range high damage | Low rate of fire not for mid-range | MP40 |
| Xm8 | 2xscope inbuilt, stable | No 4x low rate of fire | Shotgun |
| M4a1 | User friendly mid-range balanced | Low rate of fire | Best with shotguns |
| Scar | Balanced low recoil | Not for long range | Spas 12 |
| Awm | Long range, headshot hunter | Requires good aim | MP40 |
| Dragonav | Great damage long range | – | Shot guns |
| Groza | High damage accurate easy to control | – | Shotguns |