Spinners and wicketkeepers are often seen working in tandem. The effectiveness of a spinner largely depends upon the guidance he receives from the man standing behind the stumps. As he is the one monitoring the batsman's movements and antics and relays the strategies to the bowlers. And when the opportunity arises, it all comes down to the keeper to take the catch or take the bails off. Ever since the dawn of cricket, there have been countless wicketkeepers known for their exceptional glove-work behind the stumps. However, none have been able to do so with such precision as the ones mentioned below. That being said, here is a list of the top five wicketkeepers with most stumpings in ODIs.
5. Adam Gilchrist – 55 Stumpings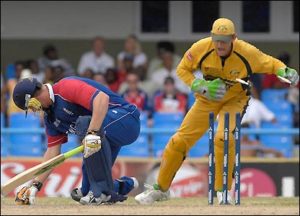 Starting off the list is the Aussie legend, Adam Gilchrist. Gilly was a quintessential pillar during Australia's indomitable reign from the mid-90s to the mid-2000s. His high-profile batting records speak for himself but his wicket-keeping skills aren't less great either. In addition to the 9619 runs he scored in One-Days; Gilchrist also has a whopping 472 dismissals to his name as a wicketkeeper. Out of the 472, 55 such dismissals have come as a result of stumpings. Gilchrist still holds the record of the highest dismissal-per-inning rate in ODIs, clocking in at 1.679.
Also Read: Wicketkeepers with most stumping in Tests
4. Moin Khan – 73 Stumpings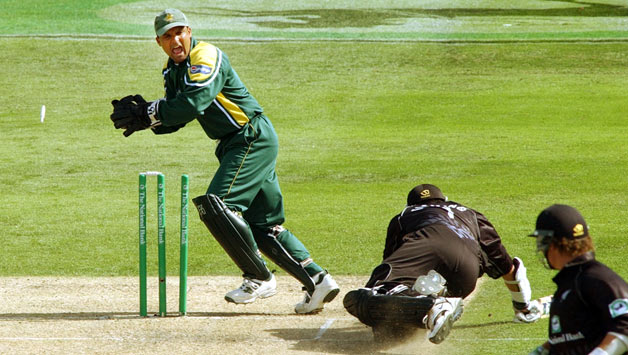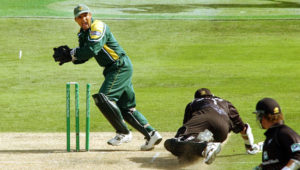 Pressurizing the batsmen with his constant sledding, making them commit errors and lightning-quick glove work separated Moin Khan from the rest during his stint in international cricket between 1990 to 2004. With the likes of Saqlain Mushtaq and other Pakistan spin greats, Moin looked effortless and classical when keeping for Pakistan. With a total of 73 dismissals, Moin is fourth on the list of wicket-keepers with the most stumping dismissals. A total of 214 catches and an overall 287 dismissals put Moin in the top bracket of wicket-keepers in ODIs.
3. Romesh Kaluwitharana – 75 Stumpings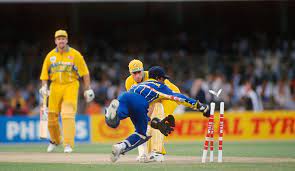 Romesh Kaluwitharana was quite a household name during his heyday. The firebrand cricketer donned the gloves for the Lankan Lions for over a decade and was a cornerstone in Sri Lanka's rise in world cricket. He also played a prominent role in Sri Lanka's 1996 World Cup Triumphs with his athletic maneuvering. With a total of 75 stumpings and a total of 206 dismissals in ODIs, Kaluwitharana bags the third spot. Romesh was the hallmark for excellence in wicketkeeping as he passed the torch to the second entry on this list.
2. Kumar Sangakkara – 99 Stumpings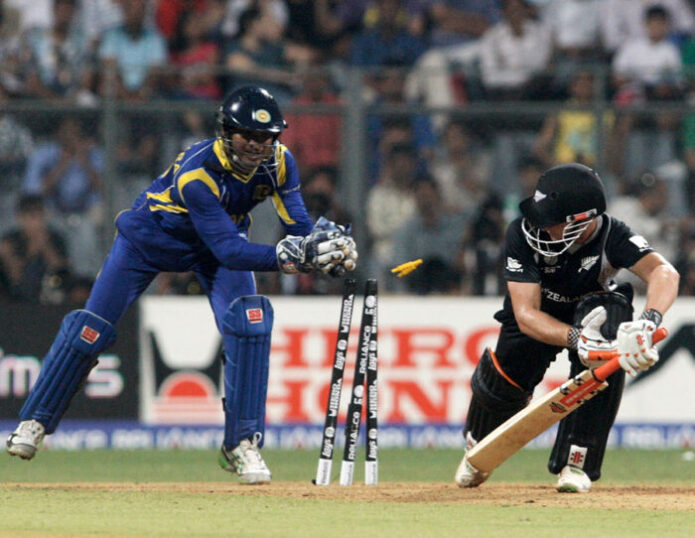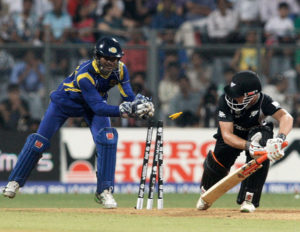 One of the finest cricketers Sri Lanka ever produced, Kumar Sangakkara has left behind quite a legacy on the field. Dealing with spin greats like Muttiah Muralitharan, Rangana Herath, and many more, Sangakkara was always on top of his game. With 99 stumpings in his 15-year long ODI career, Sanga is only second to a certain Indian wicketkeeper we shall talk about later. Sangakkara also has 383 catches to his name which takes his overall tally to 482 dismissals in 404 matches.
Also Read: Wicketkeepers with Most Stumpings in T20 World Cup
1. MS Dhoni – 123 Stumpings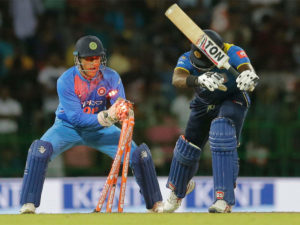 From captaining the side to guiding the bowlers and reading different match situations to being lightning quick behind the stumps, MS Dhoni is miles ahead of his competition. His greatness can be estimated from the fact that his absence is still felt after over 2 years from his retirement. With 123 dismissals from stumpings in 350 matches, Dhoni sits atop of the pile in the list of the wicketkeepers with the most stumpings in ODIs. In addition to this, he also has 321 catches under his belt which takes his overall tally to 444 dismissals.
Top Five Wicketkeepers With Most Stumpings In ODIs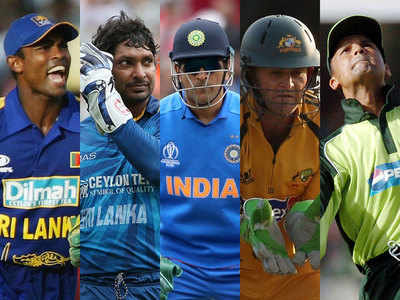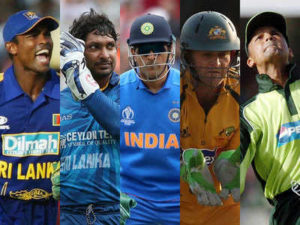 | | | | | | |
| --- | --- | --- | --- | --- | --- |
| Rank | Player | Country | Matches | Stumpings | Dismissal-per-Inning Rate |
| 1 | MS Dhoni | India | 350 | 123 | 1.286 |
| 2 | Kumar Sangakkara | Sri Lanka | 404 | 99 | 1.365 |
| 3 | Romesh Kaluwitharana | Sri Lanka | 189 | 75 | 1.090 |
| 4 | Moin Khan | Pakistan | 219 | 73 | 1.373 |
| 5 | Adam Gilchrist | Australia | 287 | 55 | 1.679 |