The current Indian team has some remarkable firsts to his name. The two successive series victories in Australia outshine all others. India are currently leading the series 2-1. The series got suspended after Covid outbreak in Indian camp. The test is scheduled to held in England in July 2022. But South Africa is the one country where India haven't won a Test series till now. Over the years, these two teams have been involved in some great battles. Here we will look at the 5 most memorable matches in Cricket history between IND vs SA.
IND VS SA: 5 Most Memorable Matches In Cricket History
5. India vs South Africa – ICC Champions Trophy 2002 Semi Final
This match was a thriller and both these teams showed that day why they were in this knockout match. They showed their skills for the world to see. Batting first, India were off to a good start. But India lose wickets in between. However, fifties from Virender Sehwag and Yuvraj Singh helped India post a very competitive total of 262.
South Africa, then, got off to the worst start possible. But the greatest of Jacques Kallis and Herschelle Gibbs rescued South Africa with 178 runs stand. In the end, India kept their nerve and won the match by 10 runs. With this win India booked their place in the final of ICC Champions Trophy 2002.
4. India's tour of South Africa 2017-18, 3rd Test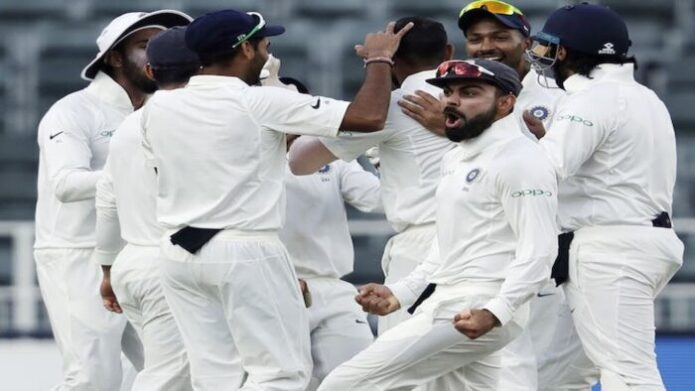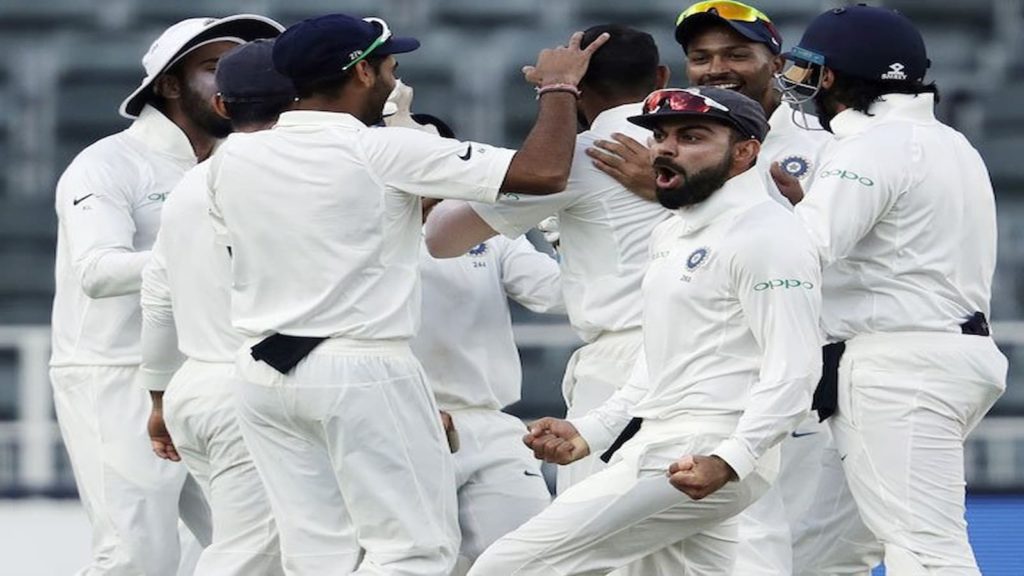 The Virat Kohli-led team fought hard during India's 2017-18 tour of South Africa. Despite playing well in the first two Tests, they lost both of them. India got bundled out for just 187 runs in the first innings, despite vital half-centuries from Cheteshwar Pujara and Virat Kohli. On the fast and seaming surfaces of South Africa, it wasn't easy for proteas to bat as well.
Jasprit Bumrah made their life difficult as he picked 5 for 54. South Africa, as a result, were bowled out for 194 runs in the second innings. And in the second innings, India set a target of 241 runs for South Africa. And then it was Mohammad Shami's turn to took a fifer. South Africa were bundled out for 177 in the final innings. And India won the first and final test of the series by 63 runs.
Also Read: Big Breaking! Harbhajan Singh Announces Retirement From All Forms Of Cricket
3. India vs South Africa – World Cup Group Match 2011
Indian fans would not want to remember this match but this was just another classic match in this greatest rivalry. In this match, India batted first and made a formidable total of 296 runs. Sachin Tendulkar stepped up and scored an amazing hundred. Sehwag also scored a fast 73 but wickets kept felling at regular intervals. India were able to post 296 on the board.
In return, South Africa gave a perfect example of team effort. Most of their batters looked set on the crease. Jacques Kallis was the highest run scorer for South Africa and Harbhajan Singh was outstanding from India. But India can't hold the nerves in the end. And South Africa won this match by 3 wickets. Though, India lost this match but this was a perfect thriller.
Also Read: 5 Indian Cricketers Who Have Older Wives – Raina, Bumrah, Hardik Pandya Into The List
2. India's tour of South Africa 2010-11, 2nd Test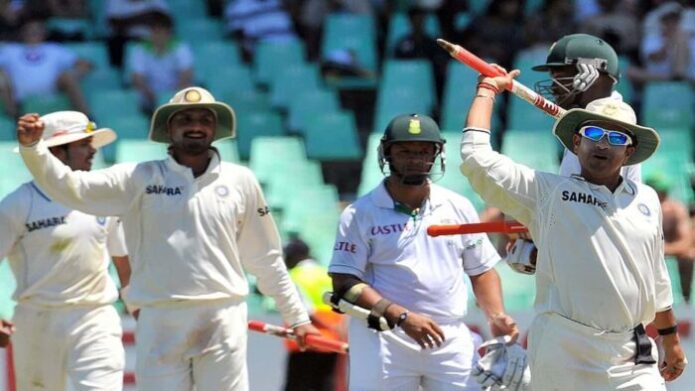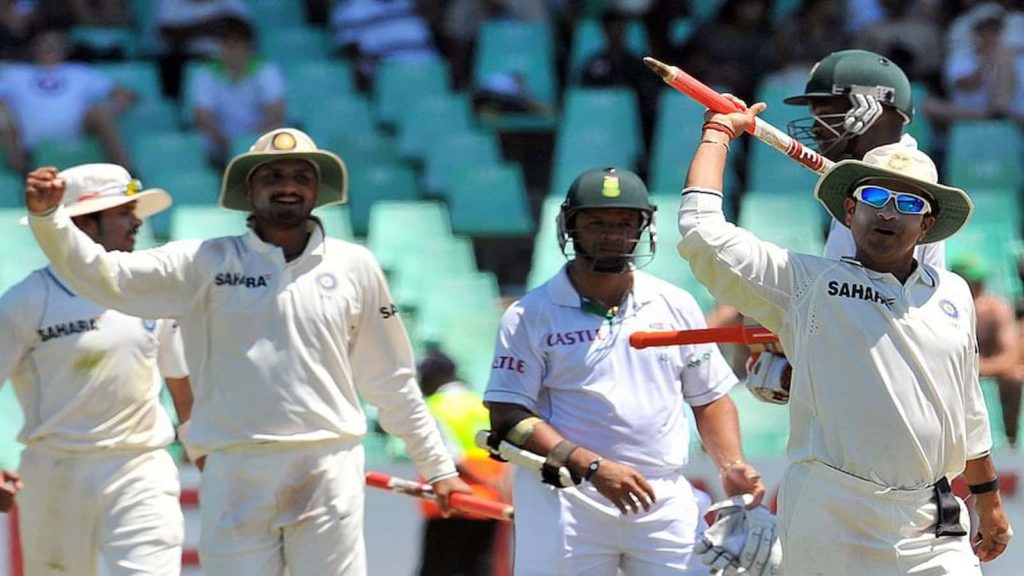 India had lost the first match of this series by an innings and 25 runs in Centurion. MS Dhoni lost the toss and Greame Smith has no hesitation in asking Indian team to bat on a green pitch. Dale Steyn took 6 wickets and India were bundled out for 205 runs. This is also due to the gritty effort of VVS Laxman and MS Dhoni. The bowlers then bowled exceedingly well to bundle out South Africa for just 131 runs in the second innings. 
And once again, it was VVS Laxman from India who stood tall against South African bowling lineup. He stayed firm at one end and wickets keep trembling at the other end. He made 96 runs and helped India set a target of 302 runs. South Africa, then, bundled out for 215 runs and India won this Test Match by 87 runs. Ishant Sharma and Zaheer Khan ran through the batting lineup of South Africa. India won their second Test in South Africa during the 2010-11 tour to South Africa. 
1. India's tour of South Africa 2006-07, 1st Test
India created history in this Test Match as this was India's first ever Test victory in South Africa. And what was more remarkable that it was fashioned by Indian pacers. India won the toss, and batted first in the Test. Despite getting poor start with the bat, India managed to score 249 runs. Indian middle order made vital contributions with the bat. South Africa, in reply, were bundled out for just 84 runs, thanks to a sensational spell from S Sreesanth. He took 5 wickets. Zaheer Khan and Anil Kumble also took 2 wickets each.
Then, in the second innings, VVS Laxman scored 73 runs off 154 deliveries. With his effort, India managed to score 236 runs in their second innings and set a target of 402 runs for the proteas. In reply, South Africa were able to score only 278 runs, and thereby lost the game by a big margin. And India won this match by 123 runs. And this match is the first Test match victory for India in South Africa.
These are the 5 most memorable matches in IND vs SA matches in Cricket history. Indian team is currently in South Africa for a three match Test Series which is followed by a three match ODI series. Star opener Rohit Sharma will be missing this series due to a hamstring injury. Priyank Panchal was called in as replacement. India is yet to win a Test Series in South Africa. Hope so, this break ends at the end of this series.