Sara Tendulkar, daughter of Sachin Tendulkar, recently stepped into the modelling world. Sara made her modelling debut with the international luxury clothing brand Ajio Luxe. This first public appearance of Sara as a model stunned everybody. Now, after Ajio Luxe, Sara Tendulkar officially steps ahead in her modelling career through her second endorsment of "Kama Ayurveda". This is Sara's second endorsement after Ajio Luxe. Her work is garnering much love from the netizens, calling her "Beauty Personified".
Sara Tendulkar's second endorsement
Sara is making a lot of headlines for quite some time now for various reasons. She recently attended a concert, the video of the same also went quite viral on the internet. Sara took to her Instagram account to endorse the product of the Kama Ayurveda brand. The post is receiving a lot of love on social media and compliments are pouring in for Sara. Many popular actresses like Katrina Kaif, Deepika Padukone, Malaika Arora have carved themselves into modeling before films and then hit the silver screen. Thus, people have also started questioning her on the modeling pictures – How about acting? Sara has all those qualities, which can make her the next star of Bollywood.
Also Read: Exclusive: Sara Tendulkar Made her modeling debut with this commercial, Watch
Check out her promotional post for Kama Ayurveda below:
About Kama Ayurveda
Kama Ayurveda is a Delhi-based skincare and haircare brand founded in 2002. The ancient science of healing has inspired the founders of Kama Ayurveda. They seek to bring authentic beauty and wellness to the world and promote the message of Ayurveda globally. Kama Ayurveda recently launched a wide range of ayurvedic treatments, developed in partnership with the 100-year-old Arya Vaidya Pharmacy in Coimbatore, Tamil Nadu. The brand focuses on the purity of ingredients as well as the efficacy of formulations. All of their products are EU certified, and available internationally.
Also Read: Sara Tendulkar All Photos: Check out all the Stunning Pictures of Sachin Tendulkar's Daughter Sara
Sara's recent public appearances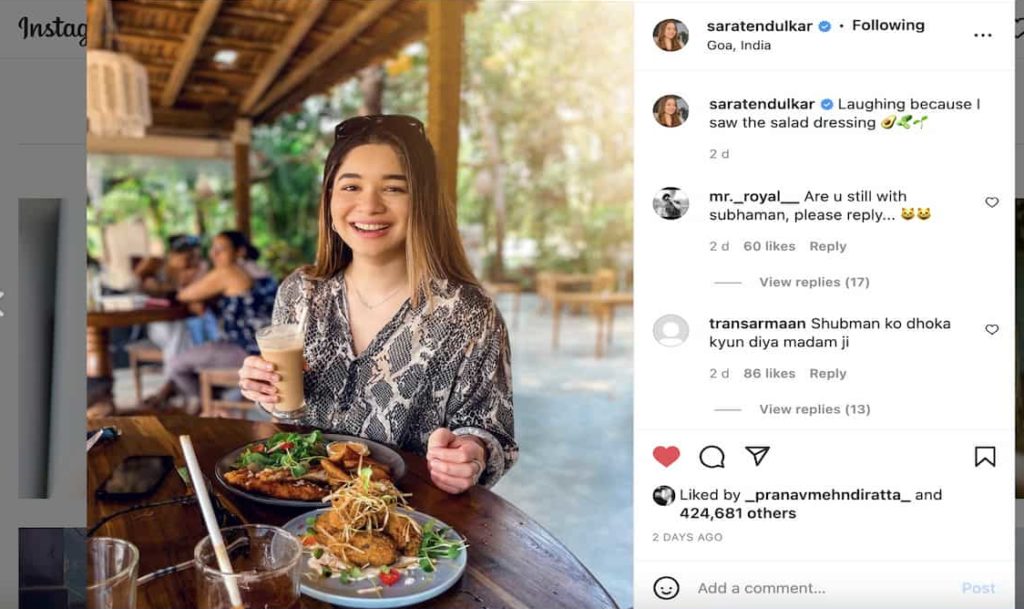 For the longest time, Sara Tendulkar is recognized as Sachin Tendulkar's daughter. But soon enough, she managed to establish her niche and identity with her eye-catching content on social media. With more than 1 million followers on Instagram (precisely, 1.6 million), Sara is grabbing all the limelight nowadays with her stunning public appearances. A few days back, she was seen dancing with best-friend Alaviaa Jaaferi at AP Dhillon's concert in Mumbai. She was also spotted at the Mumbai Airport by the Paparazzi and it was reported that she was going on a vacation with friends. Notably, Sara is currently enjoying her leisure time in Goa while she is reportedly attending her friend's wedding.
Also Read: Watch! Sara Tendulkar enjoys AP Dhillon live concert in Mumbai
Meanwhile, now that Sara Tendulkar officially steps ahead in her modeling career, fans can maybe expect some big announcement soon.