Lionel Messi's Wife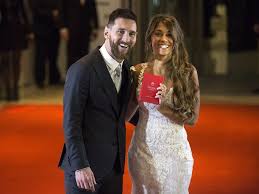 Lionel Messi is one of the best players ever to play football. Arguably the best left-footed player ever, Messi is never away from the spotlight. The Argentine football magician enjoys a huge fan base all over the world. Playing most of the football for FC Barcelona, Messi joined PSG this summer in a football transfer that stunned the whole world. Lionel Messi is a gifted player from his childhood and we all know that. Another thing about Messi's childhood is about Antonela, his childhood sweetheart later turned wife. So, in this article let's know about Messi's wife Antonela.
Who is Antonela?
Antonela Roccuzzo is an Argentine model and dietician. She was born in Rosario, Argentina on 26th February 1988 to Jose Roccuzzo (Father) and Patricia Roccuzzo (Mother). She is one year younger than her husband Lionel. Although she is widely known for being Lionel Messi's wife and mother to his 3 children. Both Lionel Messi and Antonela Roccuzzo are happily married to each other since 2017 and have 3 children together.
Also read: Romelu Lukaku Net Worth, Salary And Endorsement – Earnings, Income, Car, Property, Brand Endorsements
Education and career
Antonela studied Dentistry at the University of Argentina and trained to become a dentist. However, in 2016, Antonela decided against it and pursued a career in modeling. Today Antonela is one of Argentina's leading models. Apart from being a model, she is also a dietician.
How did Messi and Antonela met?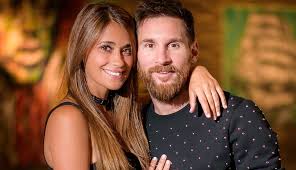 Antonela has known her husband Lionel since her childhood. Messi was friends with Lucas Scaglia. Both the boys used to play for the local side of Newell's Old Boys. Lucas and Lionel soon became close friends of each other. Antonela is Lucas's cousin and she met with Lionel when Lucas invited him to join in a family vacation in summer. After the vacation, both Lionel and Antonela knew each other and soon became close friends.
Also read: Robert Lewandowski Net Worth, Salary And Endorsement – Earnings, Income, Car, Property, Brand Endorsements
Marriage and children
Antonela and Lionel Messi decided to marry each other in 2017 after dating each other for quite a long time. Their marriage was a big thing for the whole world. In Argentina, their marriage was termed as the 'Wedding of The Century". The marriage and function took place in their home town at the City Centre Hotel. Since their marriage, the couple has 3 sons together. Thiago of 8 years, Matteo of 5 years and Ciro of 3 years.