Bruno Fernandes's wife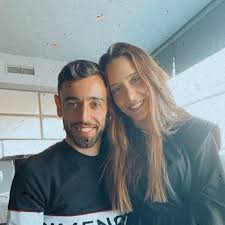 Bruno Fernandes took the world by storm a few seasons back and hasn't stopped yet. He is currently one of the best attacking midfielders in the world. Manchester United bought Bruno to lift up their squad and what he did was more than that. The presence of Bruno uplifted the whole of Manchester United. Bruno has got a massive fan base to his name. Even Manchester United fans call him by the name Portuguese Magnifico, meaning an imminent person from Portugal. Although not only the fans but Bruno has got the support of his family and children. Not to mention, Bruno is a complete family man and he loves spending time with his wife and children. He often posts about his wife and children on Instagram. However, we know mostly everything about Bruno so in this article let's know more about Bruno Fernandes's wife Ana Pinho.
Also read: Phil Foden's Girlfriend – Who Is Rebecca Cooke, Whom English Star Phil Foden Is Dating
Who is Ana Pinho?
Ana Pinho was born on 18th April 1994 in Boavista, Portugal. Both She and Bruno went to the same school in Boavista where they met each other. Bruno and Ana became friends then and later started dating. Bruno Fernandes was just 16 when he fell in love with Ana at first sight.
Bruno Fernandes and Ana Pinho
As both Bruno and Ana went to the same school, they met each other there. Bruno fell in love with Ana at first sight but Ana wasn't an easy fish to catch. Bruno had to put a lot of effort into her to start dating. Luckily he managed to make Ana his girlfriend later. In 2015 Bruno and Ana married each other and living happily since then. Everyone from both families attended the wedding. They had a beautiful love story between them, starting as childhood sweethearts to being married to each other and living happily.
Also read: Kylian Mbappe's Girlfriend: Who Is Alicia Aylies, Rumored Girlfriend Of Mbappe?
Children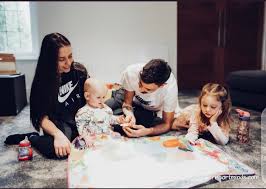 Bruno Fernandes married Ana Pinho in 2015. The couple has two babies together. The couple had their first child, a baby girl named Matilde Fernandes in 2017. Recently in 2020, the couple had their second child, a baby boy naming him Goncalo Fernandes.