Sports is about triumph of the human spirit. Sports does not differentiate between people. Similarly, the differently-abled indian athletes have proved themselves time and again. They have shown the world that their disability is not an obstacle in their success. Here is a list of top five differently-abled indian athletes of all time who outshined everyone in their respective fields.
5. Deepa Malik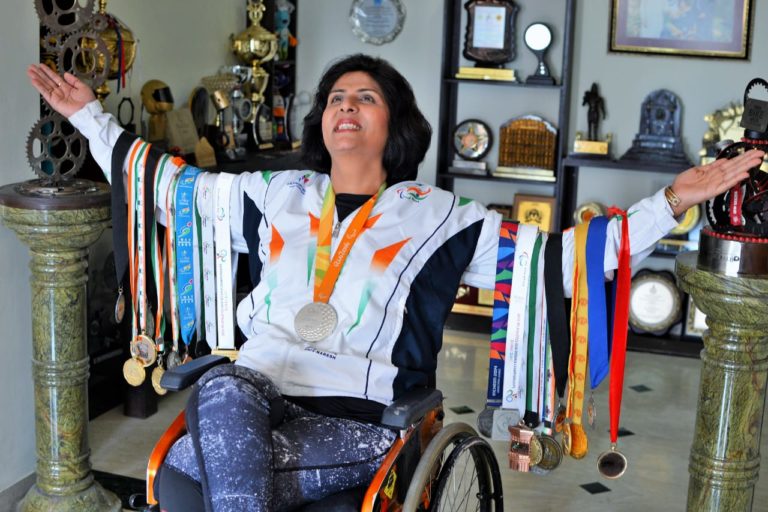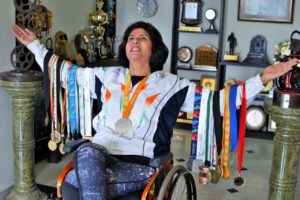 At the age, when most of the people have mid-life crisis, Deepa had her first medal in hand. On September of 2016, the oldest member of the Indian contingent- Deepa Malik scripted history. In the 2016 Rio Summer Paralympics, she won a silver medal in the shot put.
Malik was diagnosed with a spine tumor when she was just 5. Eventhough she recovered from that, at 29, her spine tumor returned. At this point the only way out was to operate, which made her unable to walk. However, she never let these difficulties stop her from achieving her dreams. At the age when most sportsperson consider retirement, she began her career.
4. Sumit Antil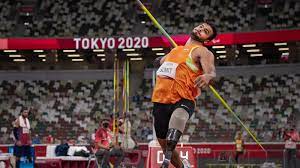 After the 2020 Tokyo Paralympics, there is hardly anyone who does not know Sumit Antil. The gold in the Tokyo 2020 Paralympics is his biggest achievement! He currently is world no 1. He won a silver medal in Paris Open Handisport in 2019. The javelin thrower also came second at the World Para Athletics Grand Prix, Italy 2019.
Sadly, on January 5, 2015 his bike met with an accident. His bike slipped and he spilled over the road. It was then that the tractor behind him ran over his left leg. Unfortunately, the doctors had to amputate his leg below the knee.
3. Girish Sharma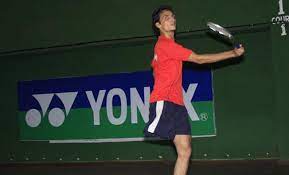 Sharma is a seven times national champion. In 2015, he was the world number 2 in both singles and doubles for para badminton players. Girish is very patriotic by nature. His childhood dream was to join the army and serve the nation. However, he later came to know that people with disabilities cannot join the army.
In 1989, at the age of 2, Girish Sharma met with a severe accident. His foot was stuck in the railway tracks. He wasn't able to pull off his leg and unfortunately, a train passed by crushing his leg.
2. Bhavina Patel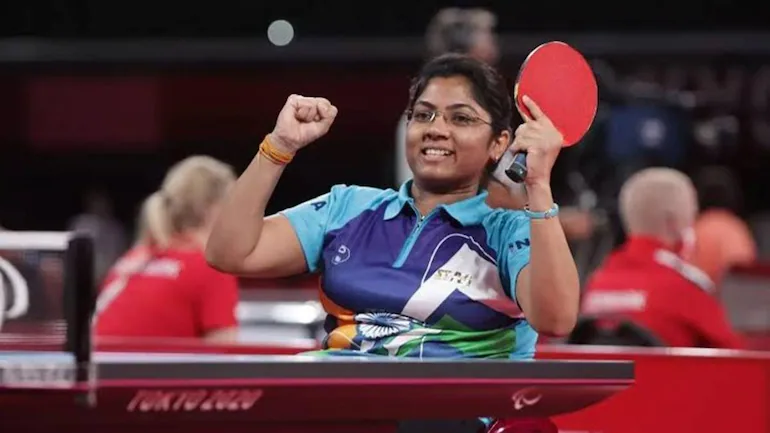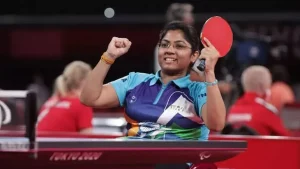 Bhavina met with an unfortunate incident while she was learning to walk at the age of one. She fell down awkwardly and the incident impaired her mobility below the waist.
This incident, however, did not stop her from pursuing her dreams. She did all she had to achieve everything she wanted. It should also be noted that she did not give up on her academics for her love of the sport. She studied hard and completed her graduation in Sanskrit. Patel became the first Indian table tennis player to secure a medal at Paralympics.
1. Devendra Jhajharia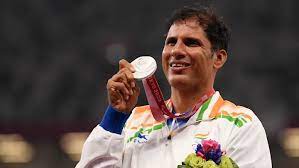 Jhajharia is already the most successful Paralympian currently. He has won gold medals in the 2004 and 2016 Games. In addition, he pulled off a new personal best throw of 64.35m for the silver in F46 classification.
Unfortunately, at an early age of 8, Devendra met with a deadly accident when he accidentally touched a live electric cable. and was electrocuted. Doctors were able to save him, however, his left arm was amputated. In addition, GoSports now proudly supports him for his legendary athletics.
Following are a few more successful Indian Paralympic athletes:
Mariyappan Thangavelu
Murlikant Petkar
Yogesh Kathuniya
Sharad Kumar
Varun Singh Bhati
In conclusion, all the differently-abled Indian athletes have brought back enough laurels for our nation. They all deserve equal love as well as respect from the nation.