Sagol Kangjei is a traditional Manipur pony polo. The term itself reveals the meaning of the word. Sagol stands for a Pony or a Horse; Kang means a ball whereas Jei stands for a stick. For instance, the game is said to have been associated with ancient manuscripts like Kangjeirol. Let us know more about this game in the article.
The Origin & History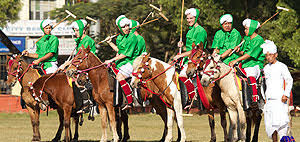 Ningthou Kangba is the first and most foremost King of Manipur. He is the man behind the origin of Sagol Kangjei. The king ordered his men to play this game on horseback. Therefore, his officials became the first people to play this game! It is also said that three types of hockey were played in those days. The other two were Khong Kangjei (field hockey) and Mukna Kangjei (included both wrestling and hockey). However, the Manipuri polo depicts the rich and ancient culture and heritage of the state. The International community now plays this game as Polo and is famous worldwide.
Uniform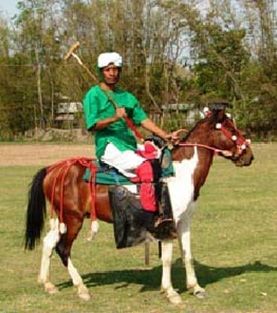 The players in the game have a uniform. Primarily, they wear a white dhoti. The dhoti is then tucked in above their knees. Additionally, a head guard or a big white turban is a must. Above all, there is a chin strap (khadangchet) that holds the head guard. This helps in protecting their calvae. Usually, the players do not have footwear. Similarly, a leather strap (khunningkhang) covers the ankle of the player. However, the leg guards (khongyom) are worn below the knee.
Seasons
Sagol Kamgjei is a seasonal game. It is played in the Manipuri month of Mera. In other words, it lasts from September to October. Moreover, it ends in the month of Ingen which depicts the months of June and July.
Also Read- Hockey – Introduction, Rise, Fall and Revival story of India's National Game
Rules & Methods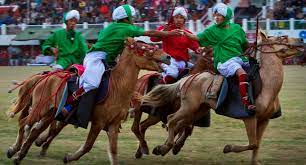 Each player in the game has a specific role. There are two teams that compete against each other. Each of the teams consists of 7 players. Every player drives a pony that is about four to five feet in height. Each player assumes the following, specific positions:
Pun – Ngak ( Full back )
Pun – Ngakchun ( Half back )
Pulluk ( Left wing )
Langjei ( Centre )
Pulluk ( Right wing )
Pun Jen ( Inner )
Pun – Jenchun ( Inner )
There is a rectangular field that is 210 yards in length and 100 yards in width. However, there are no goal-posts in the game. There are goal lines that are present at the end of the two boundaries of the rectangular field. The ball (kangdrum) is white in color. It is of 14 inches in circumference. Moreover, the ball is made from the roots of bamboo. In addition, the players use a stick to hit the ball. It is made of cane. Therefore, the stick has a narrow angled wooden head fixed at the lower end. However, Meiteis Pony is an important aspect of the game.
Comparision With Modern-Day Polo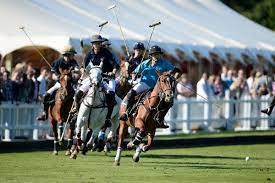 | | |
| --- | --- |
| Sagol Kangjei | Modern Polo |
| The traditional game has seven players on each side. | The modern polo has four in each team. |
| There are no goalposts in traditional form. | The modern polo has a goalpost. |
| There is only one referee in the traditional game. | There are two referees in modern polo. |
| The referee does not ride a pony. | Both the referees ride a pony. |