Proposals right in front of Eiffel Tower have been considered iconic over the years, but speaking your heart inside a stadium is a new trend. For sports lovers, there is nothing better than getting a "Yes" inside a stadium during live games. A similar incident happened during the ongoing historic Ashes series between Australia-England. On the third day of the Ashes, a couple engulfed the sight of the world. One fan from England proposes his girlfriend from Australia during 1st Ashes Test at Gabba. Twitter also explodes as a fan proposes his Girlfriend During Ashes Test.
Robb of England, Natalie of Australia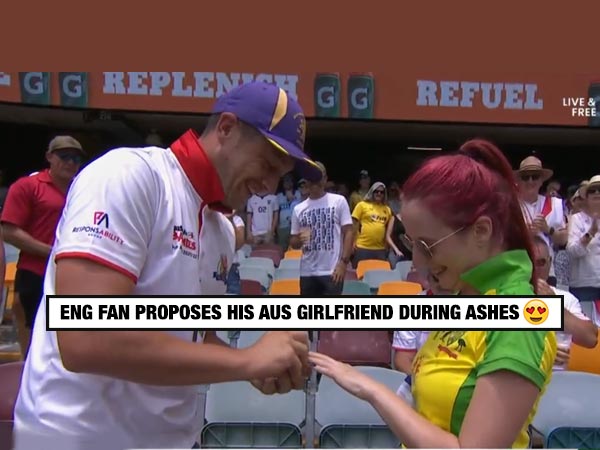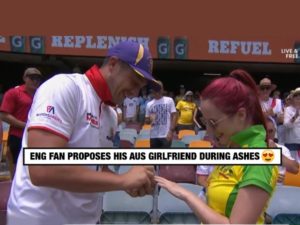 Rob Hale, who arrived to support England, proposed to his Australian girlfriend Natalie on his knees. At first Natalie was a bit shocked, but then immediately accepted the proposal. Interestingly, their love story started from the Ashes itself. Robb met Natalie during the Ashes series played in 2017. Although such proposals have happened in the cricket stadium before, but both Rob-Natalie are from different countries, this relationship makes this proposal even more special.
Also Read: Epic! Ben Stokes Bowled Huge 14 No Balls In 1st Session During Ashes.
Australia has a strong hold in the match
Electing to bat after winning the toss, the English team could only manage 147 runs in their first innings. In reply, Australia raised a mountain of 425 runs. Travis Head scored 152 runs at number five. Opener David Warner was dismissed after scoring 94 runs. Currently, both the England openers are back in the hut and captain Joe Root and David Malan are playing and planning for England recovery in this Test match. Nathon Lyon is just 1 wicket away from his 400 Test wickets. He is bowling brilliantly and might get the result in few overs.
Twitter Explodes As One Fan Proposes To His Girlfriend During Ashes Test
This video went viral on social media.