Sourav Ganguly, MS Dhoni and now concurrent skipper Virat Kohli have all led the Indian team with aplomb. A captain plays a crucial role in the team's success. After all, it is rightly pointed out that a leader is someone who knows the way, shows the way and goes all along the way. It is a captain's responsibility to instill confidence among his players, especially the younger members of the team. Furthermore, a skipper should also back its players not only when it is all hunky-dory but even when the odds are against them.
In fact, Ganguly, Dhoni and Kohli have done an excellent job while leading the Indian team. Furthermore, their records are a testimony of this fact.
Also read: Virat Kohli T20I Captaincy Record | A Look At Kohli's Memorable Run As Skipper
Sourav Ganguly's Captaincy:
ODI Record: 146 matches, Won: 76, Lost: 65, Winning Percentage: 53.90
Test Record: 49 matches, Won: 21, Lost: 13, Drawn: 15, Winning Percentage:42.5.
Southpaw Ganguly gave the confidence to the Indian team to do well in the foreign conditions. In fact, he was instrumental in making the most of players like Virender Sehwag, Yuvraj Singh, Harbhajan Singh and Zaheer Khan.
Ganguly lead in an aggressive way and India savoured great success in his leadership. Furthermore, Sourav Ganguly always put his weight behind his players.
More importantly, Ganguly had a vision like great leaders do. He quietly knew what kind of players he wanted in his team, and he even fought for them with the selectors. Furthermore, veteran gave ample opportunities to his players to showcase their skills. He knew how to take his players along with him.
Meanwhile, Sourav Ganguly led the most popular side of India. He led the team that was full of stars like Sachin Tendulkar, Rahul Dravid, VVS Laxman and Anil Kumble.
MS Dhoni Captaincy:
ODI Record: Matches: 199, Won: 110, Lost: 74, Tied: 4, No Result: 11, Winning Percentage: 59.57.
Test Record: Matches: 60, Won: 27, Lost: 18, Drawn: 15, Winning Percentage: 45.
T20I Record: Matches: 72, Won: 41, Lost: 28, Tied: 1, No Resut: 2.
MS Dhoni was handed over the captaincy in his young days of International career. Dhoni did justice to his role when he won the World Twenty20 Cup in 2007 with a young Indian team.
Later, Dhoni led India to the World Cup glory in 2011 and also the Champions Trophy final in 2013. In fact, he had the confidence to promote himself in the World Cup final despite having a mundane tournament with the bat. Thus, he was brave in his decision making.
Qualities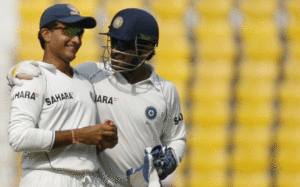 Dhoni always had leadership qualities, and he got better with experience. Moreover, Dhoni had a calm head on his shoulders which helped in making the best decisions during crunch situations of the match.
In fact, Dhoni reactions were always the same. He neither showed his disappointment nor his excitement whatever may be the result. He might feel the pressure within himself, but he will never put it on display for the opposition.
Dhoni was always one step ahead of the opposition. He knew what cards he should be playing at what time of the game. Therefore, he knew how he should get the best of his players.
Meanwhile, Dhoni's field placements were always entertaining and exciting in the same breath. He knew where a particular batsman would target his runs.
On the other hand, Dhoni was a bit defensive in the Test format, especially while playing in the overseas conditions. However, Dhoni was the king of the limited overs format. Consequently, he always led from the front in the white ball version.
It is often noted that Dhoni gets the accolades for guiding India to three major titles. However, Dhoni has always given credit to the collective team effort of the side.
In fact, a captain has to face criticism if his team fails to perform well. Similarly, a captain is praised when his team does well. Therefore, the skipper of the side is always under the radar.
Virat Kohli Captaincy: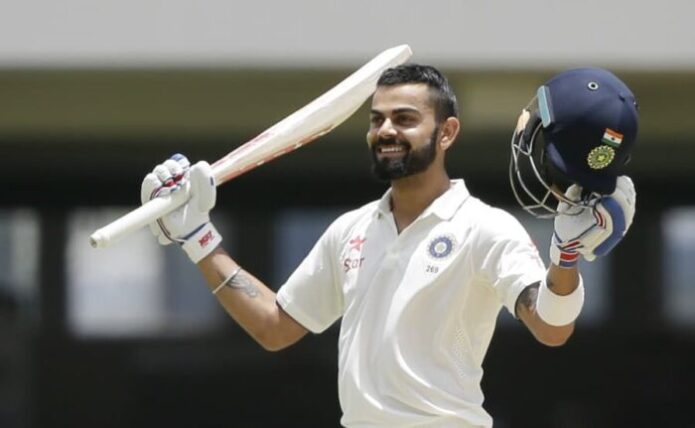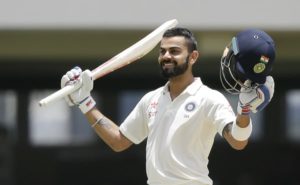 ODI Record: Matches: 95, Won: 65, Lost: 27, No Result: 3.
Test Record: Matches ,65, Won: 38, Lost: 16 Drawn: 11, Wins Home: 23 Wins Away: 15.
T20I Record: Matches: 50, Won: 30, Lost: 16, Tied/NR: 4.
The current Indian skipper loves to take the bull by its horns, and he loves to have a challenge.
Kohli always likes to go for a win which goes on to show his attacking mindset. He had shown the same promise when he went for the target in Adelaide and played two masterclass innings.
Meanwhile, Kohli is the most consistent batsman in the contemporary times and his batting has shown upward swing after he was handed over the captaincy reins.
However, Virat Kohli can be overaggressive with his captaincy. Thus, he can put extra pressure on his players. In fact, his record as the captain of the side is staggering, but he demands the same intensity from his players as he exhibits aggressiveness. In fact, it is crucial to respect each other's game.
Virat Kohli's has got a right side, and his captaincy will be judged on the success rate in overseas conditions. Indian bowlers have done well for him, and the Indian skipper will want more application from his batsmen.
Statistical Overview:
Captaincy Record
| | | | | | | |
| --- | --- | --- | --- | --- | --- | --- |
| CAPTAINS | MATCHES | WON | LOST | DRAW | WIN% | OVERSEAS WINS |
| | | | | | | |
| V KOHLI | 65 | 38 | 16 | 11 | 58.46 | 15 |
| MS DHONI | 60 | 27 | 18 | 15 | 45.00 | 6 |
| S GANGULY | 49 | 21 | 13 | 15 | 42.85 | 11 |
| M AZHARUDDIN | 47 | 14 | 14 | 19 | 29.78 | 3 |
| N PATAUDI | 40 | 9 | 19 | 12 | 22.50 | 2 |
There is enough evidence for Virat's success as captain in the longer format. But, does it make him the best ever Indian Test captain yet?
Maybe not. It is not fair to compare players of different eras. The likes of Sourav and MSD captained completely different teams, in aspects of experience.
It is true that this Virat's team started to build up in MSD's time. Most of the leading players in this team came into picture under MSD; even Virat. And, Ganguly is the one, who installed faith and braveness in the Indian Test camp.
Most Runs as Indian Captain in Test cricket
| | | | | | |
| --- | --- | --- | --- | --- | --- |
| PLAYERS | RUNS | INNINGS | AVERAGE | BEST | 100 |
| | | | | | |
| VIRAT KOHLI | 5667 | 107 | 56.10 | 254* | 20 |
| MS DHONI | 3454 | 96 | 40.64 | 224 | 5 |
| SUNIL GAVASKAR | 3449 | 74 | 50.72 | 205 | 11 |
| M AZHARUDDIN | 2856 | 68 | 43.94 | 192 | 9 |
| S GANGULY | 2561 | 75 | 37.66 | 144 | 5 |
Virat Kohli is already topping the list as the leading run scorer as Indian captain in Test cricket.
MS Dhoni despite being played as captain in most of the matches on the list, he played mostly at No.7 position in tests whereas others in the list have the advantage of playing at top 4.
Indian Captain with the Highest Winning Percentage
Let's say the debate for the most successful captain in Test can be analyzed out with the attribute of win percentage.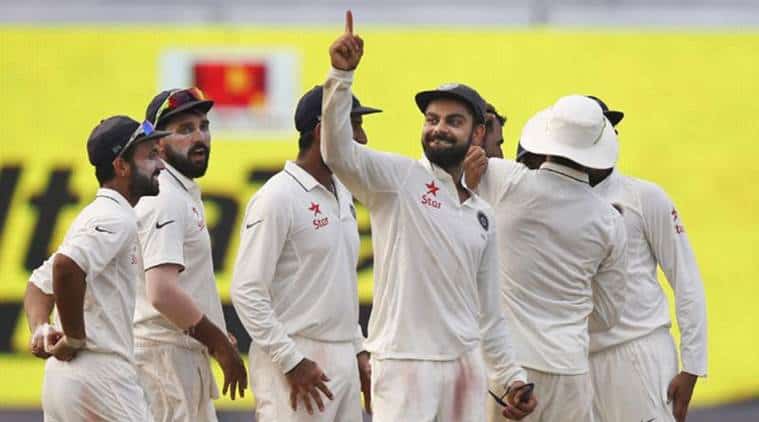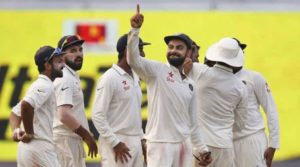 With Win% in focus, Virat has already passed his past compatriots already, with a mighty lead.
Next, comes the Captain Cool, MS Dhoni at 45% and the Dada, S Ganguly at 42.85%. Don't forget Dhoni was also bearing the responsibility of being the Wicket Keeper too, in all 3 formats.
Most Successful Captains after the first 23 Tests!
I added this table to show how good a start Virat Kohli has achieved as Test captain. He is up there only behind the great Steve Waugh and his team of early 2000s. Also you can find out Virat's ODI Captaincy record here.
Check the Test Captains record after their first 23 tests.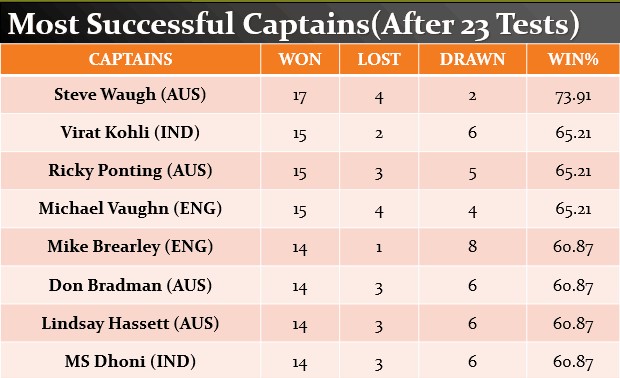 In the postscript, it could understand that Sourav Ganguly, MS Dhoni and Virat Kohli have done wonders respectively for its nation.
Conclusion
It's really difficult to pick one as the best. Kohli, undoubtedly, has the best numbers. However, his performance as a leader in SENA countries, as well as his batting failures in ICC knockout games, is a major cause of concern. Ganguly can be considered the better Test leader of the three for he was the one who made India believe they can win abroad. Dhoni, undoubtedly, takes the best ODI skipper crown having won the World Cup and Champions Trophy. Kohli is still waiting for that one magical moment which will lift him into the elite league. All of Sourav Ganguly, MS Dhoni and Virat Kohli have done wonders in their respective time.