Know everything about Chennai Super Kings – "Whistlepodu"
Chennai Super Kings, the most consistent IPL team has always been regarded as potential champions for every season. Under MS Dhoni's leadership and Stephen Fleming's guidance, the team has achieved several heights. Their success is not just limited to IPL as they have proved themselves in an international franchisee tournament also. They have also gone through the agonizing period of a two-year ban. However, right after the ban, they had their redemption which not only announced their comeback but also shut the mouth of the critics.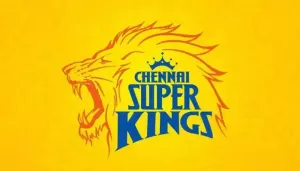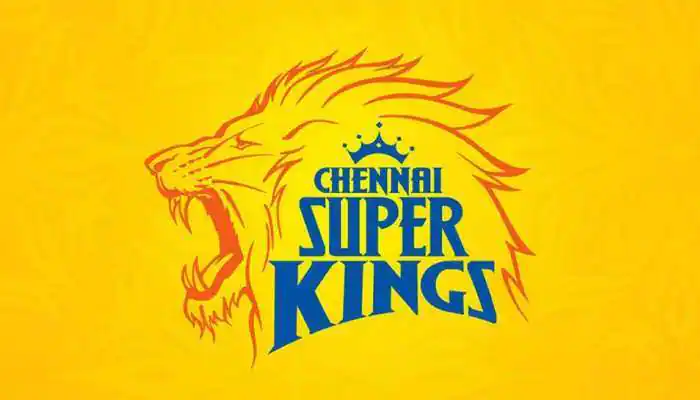 How was the CSK franchise formed?
The Chennai franchise was sold to the India Cements for $91 million, making it the fourth most expensive team in the league behind Mumbai, Bangalore, and Hyderabad. 
MS Dhoni, 'The Thala' became the face of the team and obviously, the Dhoni lovers fell in love with CSK as well. The 'Yellow Army' also went through the tough patch along with the team, but their loyalty never faltered even a bit. 
Also Read: Who is Anukul Roy, Biography, Early Life, Home, Domestic Career, U-19 Performace, IPL career, stats?
Story of CSK love for playoffs since the start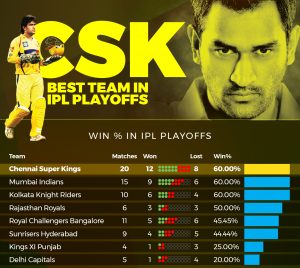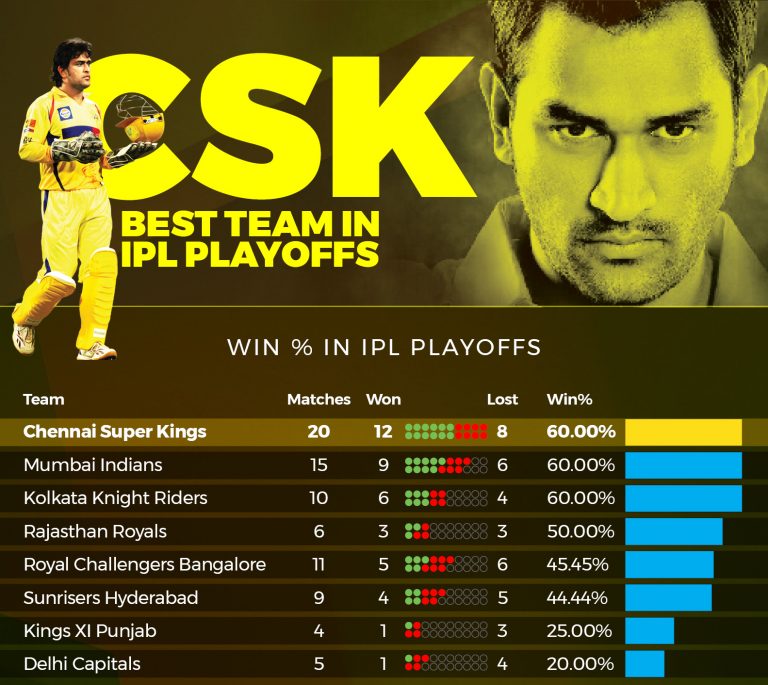 For the majority of the season, IPL has been an 8 team tournament, where teams finishing in the top 4 will qualify for the playoffs. There has never been any team in IPL that can be categorized as an out and out weaker side. Even the 8th place team can spoil the party of the 1st place team.
Though, CSK never seemed to be bothered by such neck-to-neck competition. Out of 11 IPLs, they made it to the Playoffs 10 times. That is a truly unbelievable number. This is the reason they are called the most consistent team who is never out of the Playoffs race. 
Back to back titles for Chennai Super Kings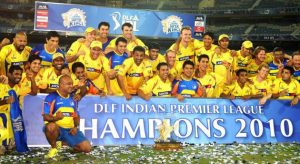 In the very first season, they were defeated by Shane Warne's Rajasthan Royals in the Final.
CSK being CSK, bounced back with two titles in a row in 2009 and 2010. In 2010, they won the Double by winning the title of Champions League Twenty20 along with the IPL title. That's where CSK started its legacy. 
The form continues 
Since 2011, they have reached the Playoffs every time, just could not manage to have a final punch with the title for the third time. In 2014, they registered their second Champions League Twenty20 title. 
Heart-wrenching ban
It was unfortunate for MS and his entire team to face the ban of 2 years due to some misdoings by Gurunath Meiyappan, one of their top official. The team had nothing to do with what Maiappan had done, but they also had to go through the two toughest years. Rajasthan Royals was another team that was banned by the Lodha panel.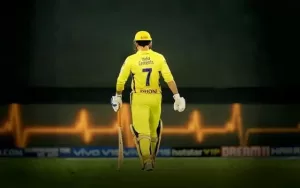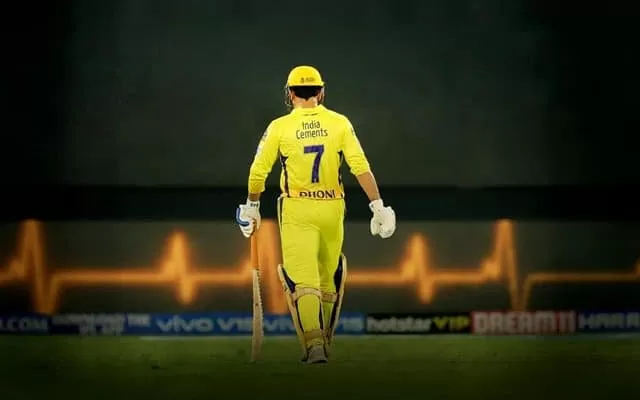 As there was no fault of players, they were distributed across the two new teams Rising Pune Super Giants and Gujarat Lions. These two teams had a contract of 2 years with IPL. CSK players were divided among these two teams, but everyone's heart was beating for CSK. 
Also Read: Who is Avesh Khan, Biography, Age, Home, Domestic career, U-19 World cup, IPL teams, Cricket stats & Info?
Chennai Super Kings: A fairytale comeback 
Finally, the day came when the ban on CSK and RR was lifted. Fans were in ecstasy and so were the players. The emotional moment even got better for MS Dhoni, as he was in tears and choked a bit saying 'We are back'.
They were certainly back and back with a boom. They snatched a victory from the jaws of defeat in the very first match after the ban which was against their rivals Mumbai Indians at the Wankhede Stadium.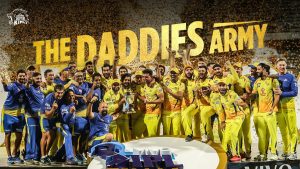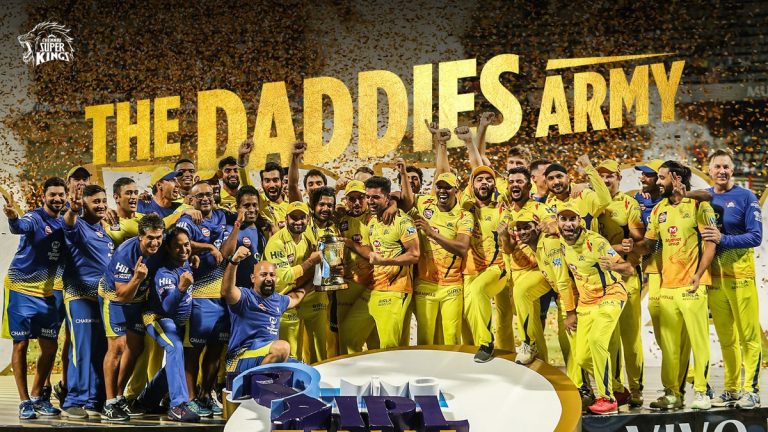 CSK marched on to win the tournament. Can you believe it? It has been 3 years and still, it's hard to digest that the team went on to win the league right after the uplifting of the ban. CSK and fans could have never asked for a better comeback. They were taunted as 'Daddy Army', experts gave them no chance at the start of the tournament, surely this victory has much more significance than the previous two titles. 
In 2019, they ended up as runner-ups.
Woes of 2020
The pandemic hit the entire world in 2020. IPL took place in UAE with all the precautions of the biosecure bubble. 
Surprisingly, during the IPL 2020, nothing went right with CSK. They had the covid cases in their camp. Their vice-captain, Suresh Raina, pulled out himself from the tournament due to personal reasons. Obviously, it did affect the team's performance. Bowlers were getting thrashed, batters had been out of form, they had some injury concerns and they were sliding down the table. It was a miserable year for CSK. They finished in 7th position. For the first time in the entire history of IPL, CSK failed to qualify for Playoffs. 
Goosebumps moment for the fans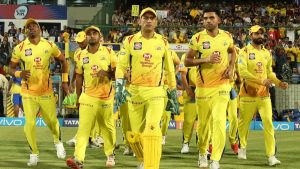 Despite all wretchedness, the thing that lifted the morale of the entire CSK fan base was MS Dhoni's cheeky little reply to Danny Morrison. The Kiwi commentator asked MS during the toss of the last game of the 2020 season 'Could this be your last game ever in Yellow?; MS replied with a smile and blush " Definitely not". 
Good start to the 2021 season
The 2020 season was a wake-up call for CSK. Good to see that, they have learned from their mistakes and when IPL 2021 halted, they were sitting in 2nd place. Let's see how they will resume the tournament after the big break. Best wishes to the Yellow Army! 
Also Read: What are the different types of Ducks in cricket? Origin and Explanation
Records of Chennai Super Kings
CSK is the only team to have won the Double followed by another IPL title. They won IPL and CLT20 in 2010 and in the next year they defended their IPL title.
CSK has defended the lowest total in entire IPL history. In 2009, CSK posted a below-par total of 116 against Punjab Kings who were Kings XI Punjab then. CSK restricted the opponent to just 92 runs in 20 overs.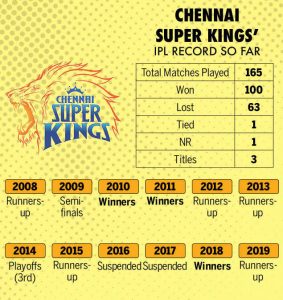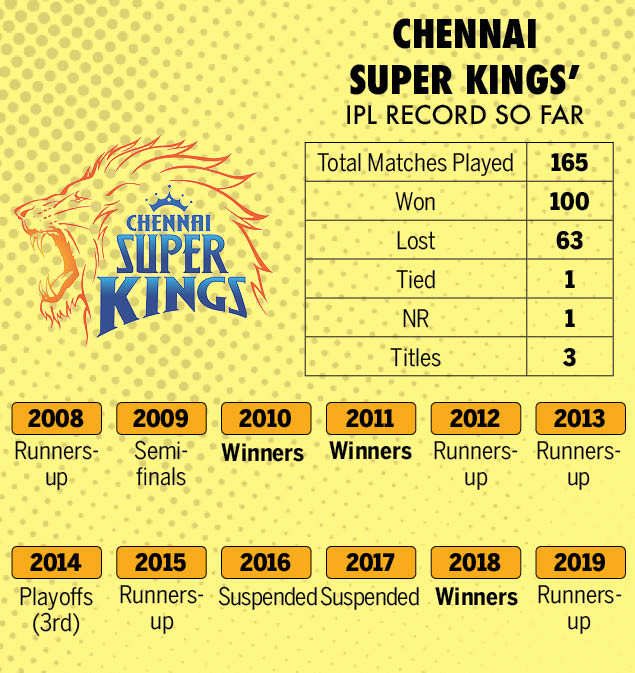 Dwayne Bravo took very little time to become a fan favorite. The calypso king entertains the crowd with his singing and dancing skills. Though it's not only about entertainment, Bravo means business too. In 2013, Bravo picked 32 wickets. This number is the highest by any bowler in the tournament. Bravo, with those 32 scalps also became the first bowler to go past the 30 wicket mark in the tournament. The second best is Rabada's 30 wickets in 2020. 
Most runs for Chennai Super Kings
| | | | | | | | | |
| --- | --- | --- | --- | --- | --- | --- | --- | --- |
| Player | Matches | Innings | Runs | Best | Average | Strike Rate | 100s | 50s |
| Suresh Raina | 195 | 190 | 5492 | 109* | 33.69 | 139.07 | 2 | 38 |
| MS Dhoni | 205 | 182 | 4544 | 84* | 40.21 | 138.74 | 0 | 22 |
| Faf du Plessis | 91 | 84 | 2619 | 96 | 34.92 | 132.13 | 0 | 19 |
| Mike Hussey | 64 | 63 | 2213 | 116* | 40.98 | 122.80 | 1 | 17 |
| Murali Vijay | 89 | 89 | 2205 | 127 | 25.94 | 123.46 | 2 | 10 |
Most wickets for Chennai Super Kings
Player
Matches
Innings
Wickets
Best
Average
Economy
Strike Rate Rate
4-fer
5-fer
Dwayne Bravo

113

110

127

4/42

23.72

8.31

17.1

1

0

Ravichandran

 

  Ashwin

121

118

120

4/18

23.70

6.66

21.3

1

0

Ravindra Jadeja

137

124

102

5/16

28.07

7.74

21.7

3

1

Albie Morkel

92

89

91

4/32

25.90

7.97

19.4

1

0

Mohit Sharma

58

57

69

4/14

22.55

7.95

17.0

2

0
For more such interesting & unheard facts about cricket and sports, please visit thesportslite.com frequently.
Thank you for visiting. Have a good day ahead 🙂