The most-awaited match of the summer is here! The Indian Premier League 2023 Final which will feature MS Dhoni-led Chennai Super Kings and Hardik Pandya-led Gujrat Titans locking horns at the Narendra Modi Stadium in Ahmedabad! It started with 10 teams but 73 games later, its down to two now! The winner will walk away with glory tonight! Will CSK lift their fifth title?.. or will GT defend their crown?
CSK vs GT: Live Score and Update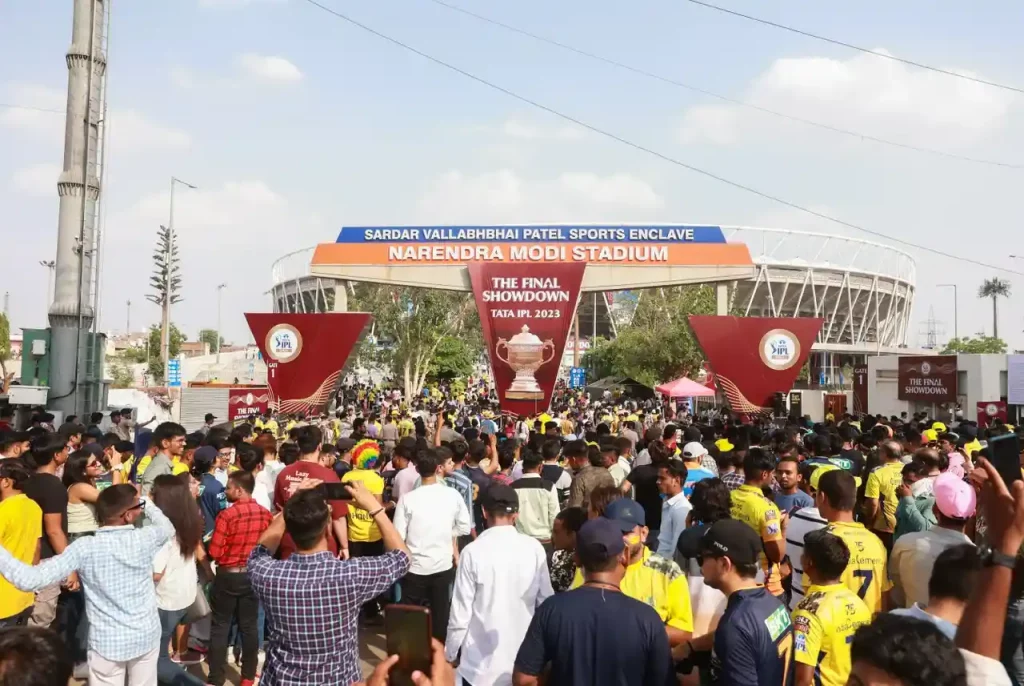 It's Time for Presentation Ceremony! A lot of Awards to be given away!
Emerging Player of the Season: – Yashasvi Jaiswal (625 runs in 14 games)
Tiago.ev Super Striker of the Season – Glenn Maxwell (SR – 183)
Dream11 Game Changer of the Season – Shubman Gill
Most Valuable Player of the Season – Shubman Gill
RuPay On-the go Fours of the Season – Shubman Gill (85 fours)
Longest Six of the Season Award – Faf du Plessis (115 m six vs LSG)
Active Catch of the Season Award – Rashid Khan (GT vs LSG game)
FairPlay Award of the Season – Delhi Capitals
Purple Cap Winner – Mohammed Shami (28 wickets)
Orange Cap Winner – Shubman Gill (890 runs)
Best Ground-staff Award – Eden Gardens & Wankhede Stadium
CSK vs GT: CSK lift their fifth title!
We have waited for two nights for a result! It came down to the last ball and we have our champions! THE CHENNAI SUPER KINGS HAVE WON THE IPL 2023! What A Fabulous Game of Cricket! A fitting end to the Indian Premier League 2023! A late, truncated chase but worth every penny spent by the patient crowd that stayed back for it. A chase that was truncated down to 15 overs, got off to a solid start with their openers Ruturaj and Devon Conway getting them a top start once again. Then cameos from Rahane, Dube, Rayudu and Jadeja finished the chase for CSK with a four and a six off the last ball! What A Game! WHAT A FAREWELL BASHING BY AMBATI RAYUDU!
CSK vs GT: Evenly Poised Contest with last five overs left!
Ajinkya Rahane has just came out and continued the run flow! Shivam Dube has tried but hasn't been able to get the big hits as of now! This in anyone's game now with CRR at 11.20 and RRR at 11.80! CSK are 112/2 after 10 overs and need 59 runs in 30 balls!
Noor gets both the openers!
What a Over by the Young Afghan spinner! He gets both the set openers! A break in the momentum and the required rate is just under 12! CSK are 78/2 after 7 overs and need 93 runs in 48 balls!
Impact Player (CSK): Shivam Dube is the impact player for CSK! He replaces Pathirana! He comes out to bat as Ruturaj Gaikwad is dismissed for 26 by Noor Ahmed!
CSK vs GT: A solid powerplay for CSK!
Chennai Super Kings are rattling along at 13 RPO, which is above their required rate at the moment. Just the start they needed after the delay! Conway has played some lovely shots! Ruturaj too getting in the grove with a four and a six of Rashid! CSK are 52/0 after 4 overs. The powerplay ends and Super Kings need 119 runs in 66 balls.
Play Begins!
The Gujrat Titans are in the huddle and out come the two openers Ruturaj Gaikwad and Devon Conway! Their Revised Target is 171 from 15 overs! CSK were 4/0 in 0.3 overs!
Play Resumes at 12:10 AM!
The umpire seems to be happy with field now and we'll start at 12:10 AM! It will be a 15-over game and the target for CSK is 171! 4 overs of powerplay and a maximum of 3 overs per bowler. We will be witnessing a 3-day T20 match!
Their equation would be: 167 runs in 87 balls!
Next Inspection at 11:30 PM!
The ground-staff has done a great job to dry the outfield. However, the practice pitch has taken some unintended watering and is a little muddy now! It is way better than what it was half-an hour ago! The next inspection is at 11:30 PM! We still have 45 minutes before we start losing overs.
Rain Stops, Pitch Inspection at 10:45 PM!
The covers are being removed. One of the practice pitches appears to have absorbed a significant amount of water, and groundstaff is working hard to dry it up. According to reports, the next official update will be around 10:45 PM.
And the Rain is here again!
The slight drizzle has now converted now into a heavy rain! The covers are coming on! Strong winds are blowing at the ground and the ground-staff are having a hard time keeping the covers on! CSK are 4/0 (0.3 overs) at the interruption!
Impact Player (GT): Joshua Little is in for B Sai Sudharsan!
CSK vs GT: Sai Sudharsan demolishes CSK bowling!
A brilliant 96-run knock has powered the Gujrat Titans to 214/4 in 20 overs. GT will be extremely happy with this score. Runs on the board in a pressure game always come in handy! CSK had a day to forget in the field! They dropped catches, missed run-outs and were sloppy in stopping balls!
The target for Chennai Super Kings is 215 runs to 120 balls. A big task if MSD's men have to lift their fifth title! They have three purple cap contenders to tackle with! Gujrat Titans are well-placed to win their second cup! But a wise man once said, "Cricket is a funny game" Can CSK make a game out of this?… It has been a competitive season, it would only be fair if it ends with a competitive and close game!
CSK vs GT: GT in firm control!
Despite Saha's wicket GT are well placed here! Sai Sudharsan is playing a gem of knock here! The 21-year old started nervously but is playing some confident strokes now! GT are 143/2 after 15 overs. The visitors need to keep chipping away with wickets now and prevent GT getting a big total!
Saha departs!
Deepak Chahar sends Wriddhiman Saha back in the hut! Saha has played his part! Only his second fifty of the season but what a time to do it! The big Finale of IPL! CSK needed this breakthrough! GT are 131/2 after 14 overs.
Lightning fast MS gets Gill!
The dropped catch doesn't cost much. Jadeja and Dhoni outsmart Shubman Gill. A sharp away-turner at a quick pace from Jadeja to beat Gill. Brilliant glovework from MSD as well. Dhoni collects the ball and whips the bails off in a flash. Important wicket for CSK in the Finals! GT are 67/1 after 7 overs.
CSK vs GT: A wonder batting powerplay!
Chahar dropped Gill early and now he is making the most of it. He has raced off to 36 runs in 17 balls. A good powerplay for the Gujrat Titans. Saha is also taking the attack to CSK bowlers. GT are 62/0 after 6 overs.
Has Chahar dropped the trophy?
Chahar made a costly error by dropping Gill in the second over! Chahar had a reasonably simple chance at backward square leg. Dhoni made a fantastic field placement by keeping a guy there instead of a short fine. Dropping a guy who is in such good form may be really important. All CSK fans and Chahar would now hope the drop catch doesn't cost much!
Impact Subs
CSK: Shivam Dube, Mitch Santner, Subhranshu Senapati, Shaik Rasheed, Akash Singh
GT: Josh Little, Odean Smith, KS Bharat, Shivam Mavi, R Sai Kishore
Gujarat Titans Playing XI: Wriddhiman Saha(w), Shubman Gill, Sai Sudharsan, Hardik Pandya(c), Vijay Shankar, David Miller, Rahul Tewatia, Rashid Khan, Mohit Sharma, Noor Ahmad, Mohammed Shami
Chennai Super Kings Playing XI: Ruturaj Gaikwad, Devon Conway, Ajinkya Rahane, Moeen Ali, Ambati Rayudu, Ravindra Jadeja, MS Dhoni(w/c), Deepak Chahar, Matheesha Pathirana, Tushar Deshpande, Maheesh Theekshana
Toss Update: Chennai Super Kings have won the toss and opted to field!
Pitch report | Simon Doull and Matthew Hayden: The pitch is in the centre of the square. Slight changes today in the atmospheric conditions – it's cooler this evening. I think that's going to help the ball swing around a little bit. Has much changed from yesterday? Not really. I predict it's going to be around 180 (par score). Whatever happens though, you have to have a bat!
Welcome to IPL Final Reserve Day!
Hello All! And Welcome Again to the live feed for CSK vs GT game, the Final of IPL 2023. Persistent rain washed the game out yesterday. But Here we go again on the Reserve Day! Luckily, It hasn't rained since last night and the weather looks pleasant! We hope to see a cracker of a game to end this dramatic season of the IPL!
Game postpones!
It's Official: The match is postponed! The IPL 2023 final has been moved to the reserve day at 7:30 PM, 29th May. We'll have to wait another day to find out who'll lift the IPL trophy. The forecast suffers to be decent for tomorrow. Let's hope the rain stays away tomorrow!
The wait goes on!
The rain has eased off a bit but it is still coming down steadily. The stadium has started to look like a pond. The excitement of the fans is also washing away now. Have to feel for them! A 10:30 start (15-over game) also looks unlikely now. We can have an 13-over game at 11:00 PM. The match will move to the reserve day of if we fail to start before 12:06 AM (midnight.)
Rain Returns!
And all the exuberance fades as the rain returns. It's been that kind of an evening! We continue to wait. Fans are running for shelter at the stadium. The chances of having a full 20-over game is finished now. A 10:00 PM start would be an 17-over game. A 10:30 PM start would be an 15-over game.
Good News!
The rain has finally stopped. The covers have been taken-off completely. Efficient Ground-staff are in action. They are rolling the pitch and a super sopper drying the outfield. Players are exchanging pleasantries. The toss is expected to take place soon. We'll start losing overs after 9:35 PM.
According to Reports,
A 9:45 PM start would be an 19-over game.
A 10:00 PM start would be an 17-over game.
Update!
The rain has reduced to a drizzle, but still heavy to keep the players off the ground. The fans at the stadium and million viewers at their home continue to wait for the game to begin. We do have a reserve day, but there is a rain forecast tomorrow as well!
There's news that Ambati Rayudu has announced retirement! Have a read here while we wait!
Buzz-killing News!
It's raining in Ahmedabad! The toss has been delayed due to persistent rain. The fans would hope this is just a passing shower. The crowd at Ahmedabad are chanting Dhoni, Dhoni in unison! The cut-off time for a full 20-over game is 9:40 PM IST. There is a reserve day. 12:06 AM is the cut-off for a five-over contest. If the reserve day is washed out too, Gujrat Titans will win the title!
Build-Up..
The Indian Premier League 2023 began with Gujarat Titans facing Chennai Super Kings at the Narendra Modi Stadium in Ahmedabad and will conclude with the two teams squaring off in the Indian Premier League final. Can MS Dhoni win his fifth championship as captain and eventually tie Rohit Sharma's record, or will Hardik Pandya become the third captain to win the trophy in two years in a row? Follow the feed for CSK vs GT: Live Score and Update.
Chennai Super Kings overcame Gujrat Titans in the first qualifier to go to the final. After losing the toss, they batted first and scored 172 runs for the cost of seven wickets in 20 overs. Devon Conway and Ruturaj Gaikwad, the openers, continued their excellent form this season, adding 87 runs for the first wicket. In response, GT managed just 157 runs and lost the game by 15 runs.
Titans faced Mumbai Indians in the second qualifier on Friday and batted first after losing the toss. Shubman Gill scored 129 runs at a tremendous strike rate of 215 and contributed to GT scoring 233 runs for the loss of three wickets. MI lost three wickets in the PowerPlay in response. On the other hand, Tilak Varma, Cameron Green, and Suryakumar Yadav brought steadiness to the innings. The other batters were helpless. MI were all out for 171 runs in 18.2 overs, losing the game by 62 runs.
Thank you for reading it. Leave us a comment if you liked it.
Do follow us on: Google News | Facebook | Instagram | Twitter | Youtube | LinkedIn
Have a good day ahead 🙂