The Summer of 2022 is all set to be exciting as the high-voltage T20 extravaganza returns home. Finally, the BCCI has announced the schedule of TATA IPL 2022. The league will be played across 4 international standard venues – CCI Stadium(Brabourne), DY Patil Stadium, Wankhede Stadium in Mumbai, and the MCA Stadium of Pune. The 15th edition of the league will feature a total number of 70 league fixtures including 12 double headers alongside the 4 Playoffs matches in 65 days.
IPL 2022 Schedule: the key face-offs
Like the previous two editions, the day matches will begin at 3:30 pm while the evening clashes will start from 7:30 pm. Henceforth, IPL 15 will kick off on Saturday, March 26, 2022. The season opener will be a re-match of the IPL 2021 finale between reigning champions CSK and 2-times IPL winners KKR in Wankhede Stadium, Mumbai. March 27 will stage the first double-header when the finalists of IPL 2020 will face each other at Brabourne followed by a blockbuster contest between PBKS and RCB. The two new teams Lucknow Super Giants and Gujarat Titans will make their debut in a cracking conflict on March 28 in DY Patil Stadium. The last league match will be between Punjab Kings and Sunrisers Hyderbad on the 22nd of May.
Read Also: Chennai Super Kings – History, Players, Records and all you need to know
IPL 2022 Schedule: 10 Teams divided in 2 groups
For a change, the league stage will see the 10 sides divided into 2 virtual groups. Moreover, each team will play 2 matches against the members of their respective group but will encounter the rest of the teams only once. Like before, the top 4 teams on the points table will make it to the playoffs. Overall, each franchise will play a total of 14 league matches(7 home and 7 away fixtures). The schedule and venue of the playoffs have not yet been formally announced. However, the final of IPL15 will be played on the 29th of May.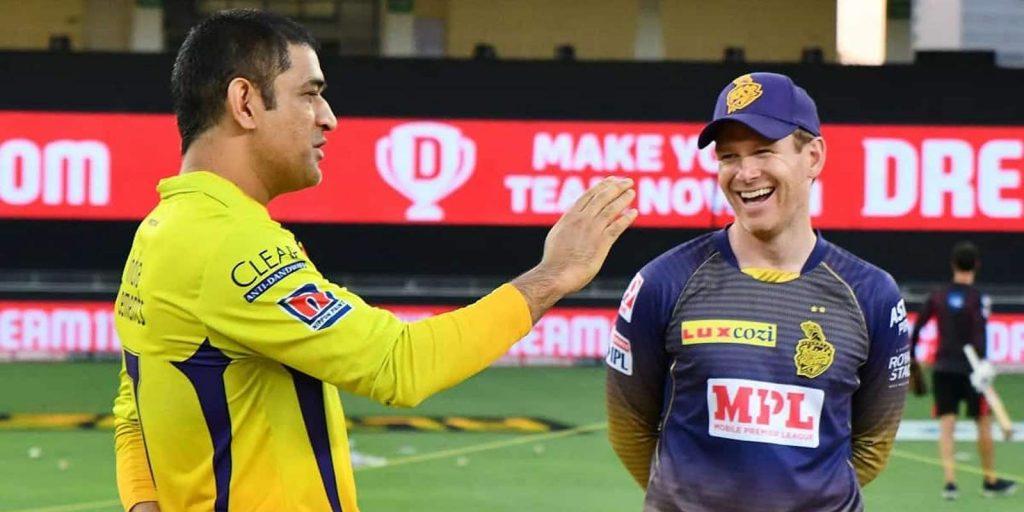 IPL 2022 SCHEDULE IN DETAIL
| | | | | | | |
| --- | --- | --- | --- | --- | --- | --- |
| MATCH NO. | DAY | DATE | HOME TEAM | AWAY TEAM | TIME | VENUE |
| 1 | Sat | 26-Mar-22 | Chennai Super Kings | Kolkata Knight Riders | 7:30 PM | Wankhede Stadium |
| 2 | Sun | 27-Mar-22 | Delhi Capitals | Mumbai Indians | 3:30 PM | Brabourne – CCI |
| 3 | Sun | 27-Mar-22 | Punjab Kings | Royal Challengers Bangalore | 7:30 PM | DY Patil Stadium |
| 4 | Mon | 28-Mar-22 | Gujarat Titans | Lucknow Super Giants | 7:30 PM | Wankhede Stadium |
| 5 | Tue | 29-Mar-22 | Sunrisers Hyderabad | Rajasthan Royals | 7:30 PM | MCA Stadium, Pune |
| 6 | Wed | 30-Mar-22 | Royal Challengers Bangalore | Kolkata Knight Riders | 7:30 PM | DY Patil Stadium |
| 7 | Thu | 31-Mar-22 | Lucknow Super Giants | Chennai Super Kings | 7:30 PM | Brabourne – CCI |
| 8 | Fri | 01-Apr-22 | Kolkata Knight Riders | Punjab Kings | 7:30 PM | Wankhede Stadium |
| 9 | Sat | 02-Apr-22 | Rajasthan Royals | Mumbai Indians | 3:30 PM | DY Patil Stadium |
| 10 | Sat | 02-Apr-22 | Gujarat Titans | Delhi Capitals | 7:30 PM | MCA Stadium, Pune |
| 11 | Sun | 03-Apr-22 | Chennai Super Kings | Punjab Kings | 7:30 PM | Brabourne – CCI |
| 12 | Mon | 04-Apr-22 | Sunrisers Hyderabad | Lucknow Super Giants | 7:30 PM | DY Patil Stadium |
| 13 | Tue | 05-Apr-22 | Rajasthan Royals | Royal Challengers Bangalore | 7:30 PM | Wankhede Stadium |
| 14 | Wed | 06-Apr-22 | Kolkata Knight Riders | Mumbai Indians | 7:30 PM | MCA Stadium, Pune |
| 15 | Thu | 07-Apr-22 | Lucknow Super Giants | Delhi Capitals | 7:30 PM | DY Patil Stadium |
| 16 | Fri | 08-Apr-22 | Punjab Kings | Gujarat Titans | 7:30 PM | Brabourne – CCI |
| 17 | Sat | 09-Apr-22 | Chennai Super Kings | Sunrisers Hyderabad | 3:30 PM | DY Patil Stadium |
| 18 | Sat | 09-Apr-22 | Royal Challengers Bangalore | Mumbai Indians | 7:30 PM | MCA Stadium, Pune |
| 19 | Sun | 10-Apr-22 | Kolkata Knight Riders | Delhi Capitals | 3:30 PM | Brabourne – CCI |
| 20 | Sun | 10-Apr-22 | Rajasthan Royals | Lucknow Super Giants | 7:30 PM | Wankhede Stadium |
| 21 | Mon | 11-Apr-22 | Sunrisers Hyderabad | Gujarat Titans | 7:30 PM | DY Patil Stadium |
| 22 | Tue | 12-Apr-22 | Chennai Super Kings | Royal Challengers Bangalore | 7:30 PM | DY Patil Stadium |
| 23 | Wed | 13-Apr-22 | Mumbai Indians | Punjab Kings | 7:30 PM | MCA Stadium, Pune |
| 24 | Thu | 14-Apr-22 | Rajasthan Royals | Gujarat Titans | 7:30 PM | DY Patil Stadium |
| 25 | Fri | 15-Apr-22 | Sunrisers Hyderabad | Kolkata Knight Riders | 7:30 PM | Brabourne – CCI |
| 26 | Sat | 16-Apr-22 | Mumbai Indians | Lucknow Super Giants | 3:30 PM | Brabourne – CCI |
| 27 | Sat | 16-Apr-22 | Delhi Capitals | Royal Challengers Bangalore | 7:30 PM | Wankhede Stadium |
| 28 | Sun | 17-Apr-22 | Punjab Kings | Sunrisers Hyderabad | 3:30 PM | DY Patil Stadium |
| 29 | Sun | 17-Apr-22 | Gujarat Titans | Chennai Super Kings | 7:30 PM | MCA Stadium, Pune |
| 30 | Mon | 18-Apr-22 | Rajasthan Royals | Kolkata Knight Riders | 7:30 PM | Brabourne – CCI |
| 31 | Tue | 19-Apr-22 | Lucknow Super Giants | Royal Challengers Bangalore | 7:30 PM | DY Patil Stadium |
| 32 | Wed | 20-Apr-22 | Delhi Capitals | Punjab Kings | 7:30 PM | MCA Stadium, Pune |
| 33 | Thu | 21-Apr-22 | Mumbai Indians | Chennai Super Kings | 7:30 PM | DY Patil Stadium |
| 34 | Fri | 22-Apr-22 | Delhi Capitals | Rajasthan Royals | 7:30 PM | MCA Stadium, Pune |
| 35 | Sat | 23-Apr-22 | Kolkata Knight Riders | Gujarat Titans | 3:30 PM | DY Patil Stadium |
| 36 | Sat | 23-Apr-22 | Royal Challengers Bangalore | Sunrisers Hyderabad | 7:30 PM | Brabourne – CCI |
| 37 | Sun | 24-Apr-22 | Lucknow Super Giants | Mumbai Indians | 7:30 PM | Wankhede Stadium |
| 38 | Mon | 25-Apr-22 | Punjab Kings | Chennai Super Kings | 7:30 PM | Wankhede Stadium |
| 39 | Tue | 26-Apr-22 | Royal Challengers Bangalore | Rajasthan Royals | 7:30 PM | MCA Stadium, Pune |
| 40 | Wed | 27-Apr-22 | Gujarat Titans | Sunrisers Hyderabad | 7:30 PM | Wankhede Stadium |
| 41 | Thu | 28-Apr-22 | Delhi Capitals | Kolkata Knight Riders | 7:30 PM | Wankhede Stadium |
| 42 | Fri | 29-Apr-22 | Punjab Kings | Lucknow Super Giants | 7:30 PM | MCA Stadium, Pune |
| 43 | Sat | 30-Apr-22 | Gujarat Titans | Royal Challengers Bangalore | 3:30 PM | Brabourne – CCI |
| 44 | Sat | 30-Apr-22 | Rajasthan Royals | Mumbai Indians | 7:30 PM | DY Patil Stadium |
| 45 | Sun | 01-May-22 | Delhi Capitals | Lucknow Super Giants | 3:30 PM | Wankhede Stadium |
| 46 | Sun | 01-May-22 | Sunrisers Hyderabad | Chennai Super Kings | 7:30 PM | MCA Stadium, Pune |
| 47 | Mon | 02-May-22 | Kolkata Knight Riders | Rajasthan Royals | 7:30 PM | Wankhede Stadium |
| 48 | Tue | 03-May-22 | Gujarat Titans | Punjab Kings | 7:30 PM | DY Patil Stadium |
| 49 | Wed | 04-May-22 | Royal Challengers Bangalore | Chennai Super Kings | 7:30 PM | MCA Stadium, Pune |
| 50 | Thu | 05-May-22 | Delhi Capitals | Sunrisers Hyderabad | 7:30 PM | Brabourne – CCI |
| 51 | Fri | 06-May-22 | Gujarat Titans | Mumbai Indians | 7:30 PM | Brabourne – CCI |
| 52 | Sat | 07-May-22 | Punjab Kings | Rajasthan Royals | 3:30 PM | Wankhede Stadium |
| 53 | Sat | 07-May-22 | Lucknow Super Giants | Kolkata Knight Riders | 7:30 PM | MCA Stadium, Pune |
| 54 | Sun | 08-May-22 | Sunrisers Hyderabad | Royal Challengers Bangalore | 3:30 PM | Wankhede Stadium |
| 55 | Sun | 08-May-22 | Chennai Super Kings | Delhi Capitals | 7:30 PM | DY Patil Stadium |
| 56 | Mon | 09-May-22 | Mumbai Indians | Kolkata Knight Riders | 7:30 PM | DY Patil Stadium |
| 57 | Tue | 10-May-22 | Lucknow Super Giants | Gujarat Titans | 7:30 PM | MCA Stadium, Pune |
| 58 | Wed | 11-May-22 | Rajasthan Royals | Delhi Capitals | 7:30 PM | DY Patil Stadium |
| 59 | Thu | 12-May-22 | Chennai Super Kings | Mumbai Indians | 7:30 PM | Wankhede Stadium |
| 60 | Fri | 13-May-22 | Royal Challengers Bangalore | Punjab Kings | 7:30 PM | Brabourne – CCI |
| 61 | Sat | 14-May-22 | Kolkata Knight Riders | Sunrisers Hyderabad | 7:30 PM | MCA Stadium, Pune |
| 62 | Sun | 15-May-22 | Chennai Super Kings | Gujarat Titans | 3:30 PM | Wankhede Stadium |
| 63 | Sun | 15-May-22 | Lucknow Super Giants | Rajasthan Royals | 7:30 PM | Brabourne – CCI |
| 64 | Mon | 16-May-22 | Punjab Kings | Delhi Capitals | 7:30 PM | DY Patil Stadium |
| 65 | Tue | 17-May-22 | Mumbai Indians | Sunrisers Hyderabad | 7:30 PM | Wankhede Stadium |
| 66 | Wed | 18-May-22 | Kolkata Knight Riders | Lucknow Super Giants | 7:30 PM | DY Patil Stadium |
| 67 | Thu | 19-May-22 | Royal Challengers Bangalore | Gujarat Titans | 7:30 PM | Wankhede Stadium |
| 68 | Fri | 20-May-22 | Rajasthan Royals | Chennai Super Kings | 7:30 PM | Brabourne – CCI |
| 69 | Sat | 21-May-22 | Mumbai Indians | Delhi Capitals | 7:30 PM | Wankhede Stadium |
| 70 | Sun | 22-May-22 | Sunrisers Hyderabad | Punjab Kings | 7:30 PM | Wankhede Stadium |
71
Read Also: Mumbai Indians – History, Records, Players, and all you need to know