The Atlanta Hawks and guard Dejounte Murray have agreed to a four-year, $120 million contract extension, according to a source who knows the circumstances. In this article we are going to take a look at Dejounte Murray Contract Extension with Hawks.
Murray hinted at the agreement on his Twitter after posting Thursday "ATLANTA. Been Locked In From The Moment Y'all Accepted Me" and added " LOYALTY OVER EVERYTHING Let's Gooooooooooooooo!!!!!!
Dejounte Murray's Blockbuster Deal: A Detailed Breakdown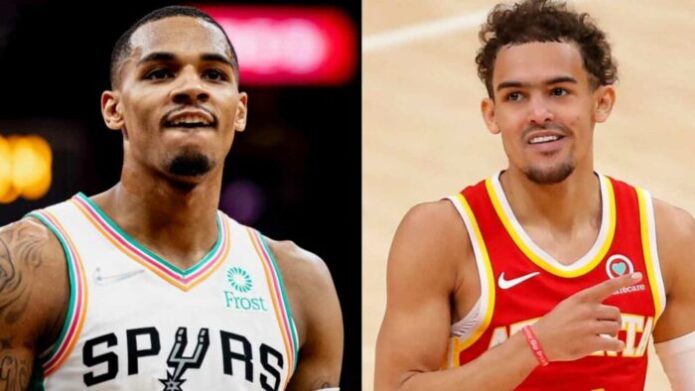 On June 26, the Hawks traded forward John Collins to the Utah Jazz, freeing cap room for the deal. In return, they acquired veteran player Rudy Gay and a conditional 2026 second-round draught selection. A $25.3 million for the 2023-24 season is guaranteed for Collins, while Gay, 36, is owed approximately $6.5 million. Read More: Top 5: Michael Jordan's Highest-Scoring Games in NBA History
The Hawks formally confirmed the Collins deal on Friday night, creating a $25.3 million trade exception for Atlanta. Teams can utilize the exception to acquire a player within one year for a future contract. This exception is currently the largest in the NBA.
The Hawks needed the deal more than ever after making a substantial investment to Murray. The Hawks acquired Murray from the San Antonio Spurs on June 29, 2022, in a trade that involved sending Danilo Gallinari and three first-round selections.
Last season, Murray, 26, contributed an average of 20.5 points and 6.1 assists for the Hawks, forming a high-scoring backcourt partnership with Young. However, the Hawks failed to advance past the first round of the playoffs despite their efforts. They made a coaching change during the season, replacing Nate McMillan with Quin Snyder as his successor.
The Hawks ended 41-41, failing to reclaim the promising form that saw them get to the Eastern Conference finals in 2021.
Thank you for reading it. Leave us a comment if you liked it.
Do follow us on: Google News | Facebook | Instagram | Twitter | Youtube | LinkedIn
Have a good day ahead 🙂