The 2023 NBA Draft has concluded, and the first days of free agency are underway, setting the stage for on-court action of NBA Summer League.
NBA Summer League, also known as Las Vegas Summer League, kicks off on Friday, July 7, in Las Vegas. The recent coronation of the Denver Nuggets as NBA Season 2022-23 champions adds anticipation to the summer league. Basketball fans can expect a thrilling showcase with 58 potential prospects and trade rumors swirling on social media. Exciting prospects like Victor Wembanyama, Brandon Miller, and Scoot Henderson aim to make an impact. Additionally, the event provides an opportunity for lesser-known players to impress and potentially earn roster spots for the upcoming season.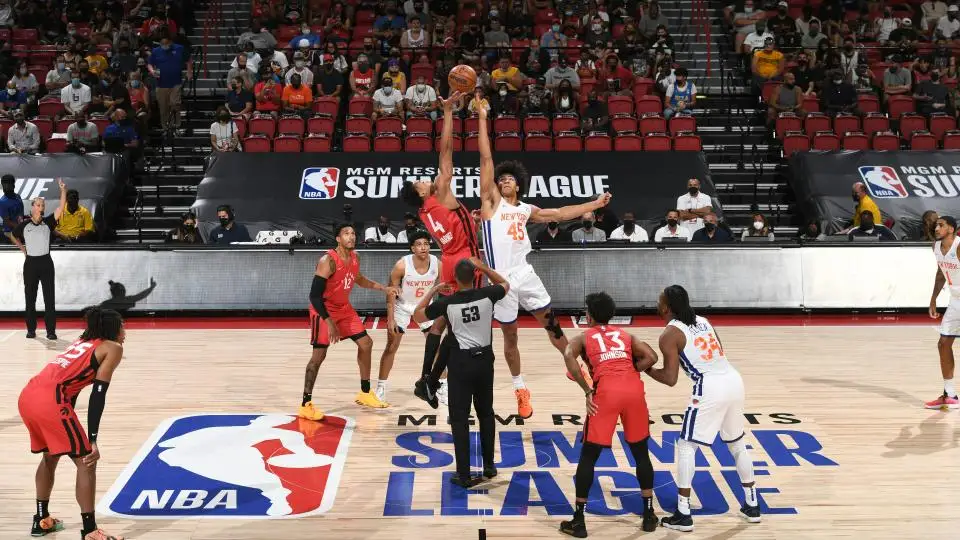 In this article we breakdown all the important details you need to know about NBA Summer League 2023.
NBA Summer League 2023: Details
Dates: July 7-17
Location: Las Vegas at Thomas & Mack Center, Cox Pavilion
Teams: All 30 NBA teams
NBA Summer League 2023: Schedule
Over the course of 11 days in Las Vegas, 76 games will be played at the Thomas & Mack Centre and Cox Pavilion, both of which are located on the campus of the University of Nevada (UNLV). Read More: Dejounte Murray Contract Extension with Hawks – Detailed Breakdown
Friday, July 7: 8 games
Saturday, July 8: 8 games
Sunday, July 9: 8 games
Monday, July 10: 6 games
Tuesday, July 11: 6 games
Wednesday, July 12: 8 games
Thursday, July 13: 8 games
Friday, July 14: 8 games
Saturday, July 15: 7 games
Sunday, July 16: 8 games
Monday, July 17: 1 game (The Grand Finale)
Format
There will be a total of 76 games played. Each club will play at least five games, with four of those games taking place between July 7 and July 14.
After four games, the top four teams will proceed to the playoffs and play in a semifinal game on July 16th. The two semifinal winners will progress to the title game (July 17). The top four playoff seeding will be selected based on winning percentage, with tiebreakers available here. The remaining 26 Summer League clubs will play a fifth and final game on either July 15 or July 16. Read More: Top 7 Greatest Trios in NBA History
How & Where to Watch
All 76 games of the 11-day tournament will be broadcast on ESPN networks and NBA TV. All games will be accessible on the NBA App as well.
NBA Summer League 2023 tickets are officially on sale. Fans may get tickets by going to NBAEvents.com. They can buy single-day tickets or season tickets that encompass all 11 days of activity. Each ticket entitles the holder to all games played on the specified day, up to eight games per day across the two venues.
Thank you for reading it. Leave us a comment if you liked it.
Do follow us on: Google News | Facebook | Instagram | Twitter | Youtube | LinkedIn
Have a good day ahead 🙂