In Test cricket, partnerships make up the match. The team which produces longer partnerships, strengthens its hold on the match. There have been many partnerships in the history of Test cricket so far, which are historic. In Tests so far, 15 times the batsmen have made partnerships of 400 or more runs, in which five times the figure has reached 450 and twice the figure has crossed 500. In this special article we take a closer look on the top five biggest partnerships of Test cricket:
5) Mudassar Nazar, Javed Miandad – 451 Runs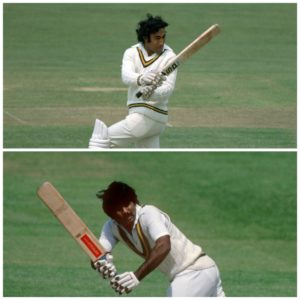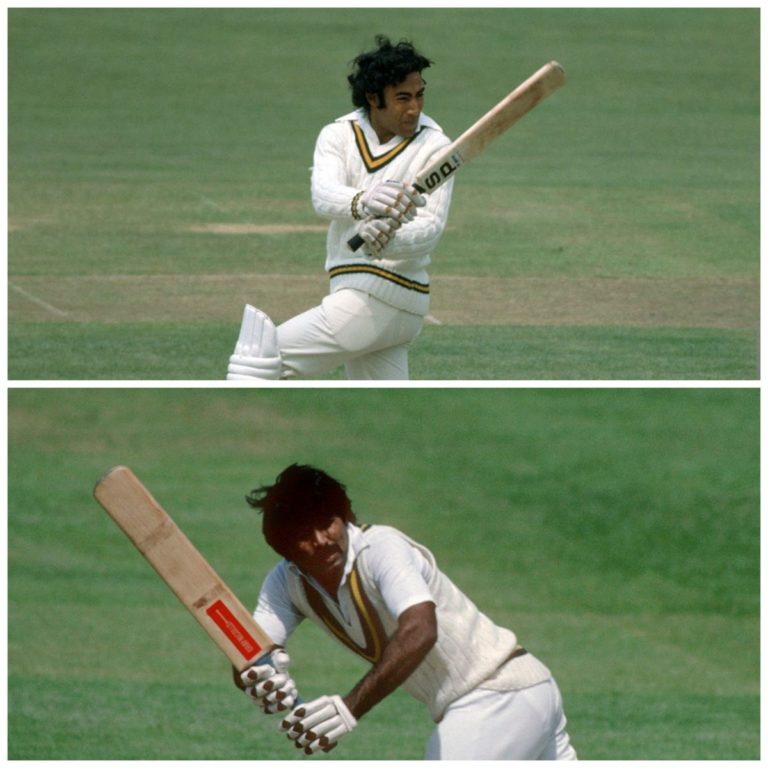 Javed Miandad and Mudassar Nazar shared 451 runs for the third wicket for Pakistan in the Hyderabad Test against India in 1983. Pakistan won the toss and decided to bat first in this match played in Sindh province of Pakistan. Javed Miandad scored an unbeaten 280 and Mudassar Nazar scored 231 runs. Pakistan scored 581/3 in a single innings. After that, the Pakistani bowlers annihilated the Indian batting lineup. As a result, the Indian team could only score 189 and 273 runs. And the hosts won the match comfortably by a huge margin of an innings and 119 runs.
Also Read: Top Five Indian Players with Fastest Fifty in Test Cricket
4) Bill Ponsford, Don Bradman – 451 Runs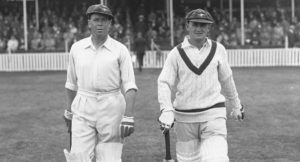 In the 1934 Oval Test against England, Australia's Bill Ponsford and legendary Don Bradman shared 451 runs for the second wicket. This was the first partnership of 400 runs for any wicket in Test cricket. The Kangaroo team scored 701 in the first innings as a result of Bill Ponsford's 266 and Don Bradman's 244. But in response to this English team only managed to score 321 runs. Australia scored 327 runs in the second innings and set a target of 708 runs for England to win, in response to which the hosts were all out after scoring just 145 runs. Consequently, Australia won the match comprehensively by 562 runs.
3) Andrew Jones, Martin Crowe – 467 Runs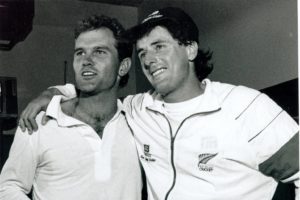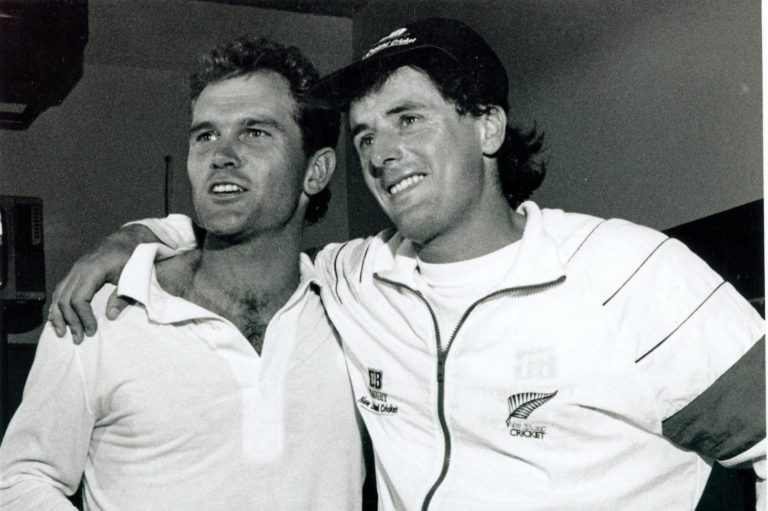 In the Test match held in Wellington, the Kiwi Batters Andrew Jones and Martin Crowe shared a 467-run partnership for the third wicket against Sri Lanka. It was the highest partnership in Test cricket at that time. Batting first in this Test match held in 1991, the Kiwi team's first innings was reduced to 174 runs. In response to which, Sri Lanka scored 323 runs in their first innings. However, the Kiwis made a memorable comeback in the second innings and scored 671/4, thanks to Jones' 186 and Crowe's 299. The match ended in a draw.
2) Sanath Jayasuriya, Roshan Mahanama – 576 Runs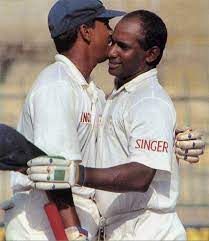 Sri Lanka created history against India in the 1997 Test match in Colombo. It was written by Sri Lankan cricket stalwarts Sanath Jayasuriya and Roshan Mahanama. These two batsmen shared a partnership of 576 runs for the second wicket. This was the first partnership of over 500 runs in Test cricket. Batting first, Team India declared the innings by scoring 537 runs for 8 wickets. In reply, Sri Lanka scored 952/6 wickets with the help of Jayasuriya's 340 and Mahanama's 225. It is still the highest test score by a team.
Also Read: Top 5 players with highest average in T20 International
1) Kumar Sangakkara, Mahela Jayawardene – 624 Runs
Former Sri Lankan captain Kumar Sangakkara and Mahela Jayawardene stand first in this list of top five highest partnerships of Test cricket. In the 2006 Colombo Test against South Africa, Jayawardene and Sangakkara put on a record partnership of 624 runs for the third wicket. Jayawardene played a gem of an innings with 374 runs while Sangakkara scored a brilliant 287. Sri Lanka posted a mammoth score of 756/5 in reply to 169 of South Africa's first innings and took a lead of 587 runs. South Africa were all out after scoring 434 runs in the second innings. As a result, the hosts won the match by an innings and 153 runs.
| | | | |
| --- | --- | --- | --- |
| Rank | Players Involved | Country | Runs Added |
| 5 | Mudassar Nazar – Javed Miandad | Pakistan | 451 |
| 4 | Bill Ponsford – Don Bradman | Australia | 451 |
| 3 | Andrew Jones – Martin Crowe | New Zealand | 467 |
| 2 | Sanath Jayasuriya – Roshan Mahanama | Sri Lanka | 576 |
| 1 | Kumar Sangakkara – Mahela Jayawardene | Sri Lanka | 624 |