Building a good partnership while batting is a key factor every team aims at. The sport becomes more entertaining when the partnership between two batsmen seems unbreakable. And what's even more engaging is that when the crowd witnesses last wicket partnerships. When 9 are already down, one really doesn't expect that team to keep going for much longer. But time and again, against all odds, our dear cricketers have ensured they give it their all till the end. Some didn't know what possible wonders could their last partnership do! The Test cricket quite often put the players to test. One of the most entertaining tests has been that of how long could you go with the last wicket partnership! Well, not keeping you in suspense here, here we unveil the best performances till date. Skim through the list of 5 biggest last wicket partnerships in test cricket history.
5. Denesh Ramdin and Tino Best (West Indies) – 143 runs
It was in the Birmingham's Test of 7th June, 2012 that England seemed to have an upper hand over West Indies. England's bowling attack of Steven Finn, Graham Onions, and Tim Bresnan were effective enough to halt them at 283/9. However, no one expected the last wicket to add ample amount of runs. Wicketkeeper, Denesh Ramdin and Number 11 Tino Best played a memorable knock. Surprisingly, they added 143 runs to the total. Moreover, Tino Best scored 95, the highest score by a Number 11 in Tests at that time. Although the match was drawn, West Indies recorded their 400+ in the series against England. Best even took away the Man of the Match Award that day!
4. Azhar Mahmood and Mushtaq Ahmed (Pakistan) – 151 runs
The hosts were struggling on 6th October, 1997 in Rawalpindi against South Africa. Azhar Mahmood and Mushtaq Ahmed stepped in tight and became the game changers. The all-rounder Mahmood thrashed an unrivalled 128 on his debut. With immense support from Ahmed, Pakistan went on to score a massive 456 in the innings. His contribution of 59 runs took the last wicket partnership to 151 runs. As a result, this Test became one of the most unforgettable matches in Pakistan's cricketing history. Just when South Africa thought they had them, Pakistan came up with a bang and drew the match.
Also Read: Top Five Biggest Partnerships in ODIs
3. Brian Hastings and Richard Collinge (New Zealand) – 151 runs
In Auckland, Pakistan garnered a mammoth 402 runs in the first innings, giving the Kiwis a good challenge. Sadly, New Zealand crumbled from 203/2 to 251/9 within the blink of an eye! By god's grace, New Zealand found new strength in the partnership of Hastings and Collinge on 16th February, 1973. Hastings scored 110 runs, while Collinge played a not-out knock of 68 runs. Similar to the above two instances, the match was a drawn affair. Both put in the best of their efforts and added 151 runs for the final wicket. They surely did an amazing job against the then intimidating side of Pakistan.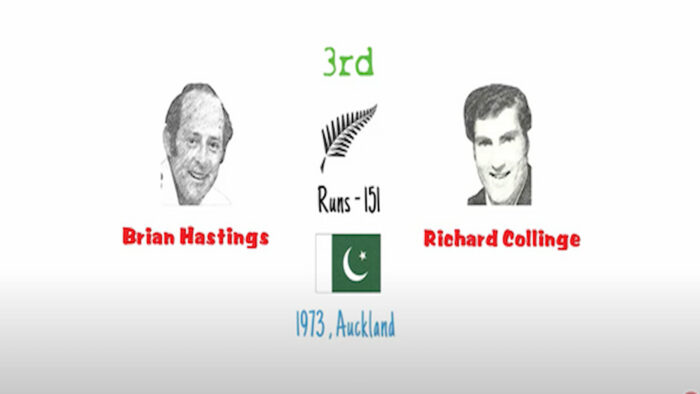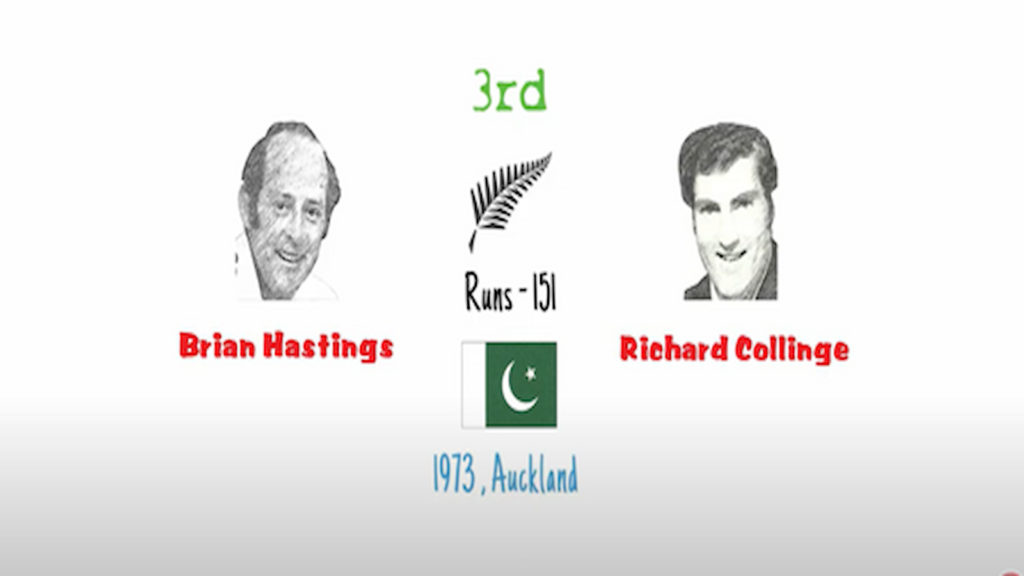 2. Phil Hughes and Ashton Agar (Australia) – 163 runs
This feat was achieved in no ordinary match. Phil Hughes and Ashton Agar proved their mettle in The Ashes! The Trent Bridge Cricket Ground in Nottingham witnessed history being made in front of it on 10th July, 2013. The match was pretty intense. England only managed 215 runs in their first innings. On the other hand, Australia was performing poorer than them and were at 117/9. Taking the English side by surprise, Hughes and Agar computed 163 runs for the last wicket. Agar could not have asked for a more exciting debut than this! Along with Hughes 81*, he scored 98, just missing out on his hundred by 2 runs. In addition to this, his 98 is the highest Test score by a Number 11 till date! Their phenomenal knocks took Australia to 280, thereby furnishing them a lead of 65 runs after the first innings.
Also Read: 29th July in Cricket History: The 624 Runs Partnership Between Sangakkara and Jayawardene
1. Joe Root and James Anderson (England) – 198 runs
Finally, we have Joe Root and James Anderson topping the list of 5 biggest last wicket partnerships in Test cricket history. This record too came into existence at the Trent Bridge Cricket Ground in Nottingham. This last wicket partnership record was made against India on 9th July, 2014. The Indians accrued a total of 457 in the first innings. Almost on the verge of a complete collapse on 298/9, England made a comeback. Therefore, Root's 154* and Anderson's career-best 81 fabricated a record-breaking partnership. They partnered for 198 runs, surpassed India's 457, and took a lead of 39 runs. Despite a draw, Anderson grabbed the Man of the Match Award for his exceptional all-round performance!
5 Biggest Last Wicket Partnerships in Test Cricket History (Table Summary)
| | | | | | | |
| --- | --- | --- | --- | --- | --- | --- |
| S. No. | Batsmen | Partnership Runs | Team | Opposition | Venue | Match Date |
| 1. | Joe Root and James Anderson | 198 | England | India | Nottingham | 9 July, 2014 |
| 2. | Phil Hughes and Ashton Agar | 163 | Australia | England | Nottingham | 10 July, 2013 |
| 3. | Brian Hastings and Richard Collinge | 151 | New Zealand | Pakistan | Auckland | 16 February, 1973 |
| 4. | Azhar Mahmood and Mushtaq Ahmed | 151 | Pakistan | South Africa | Rawalpindi | 6 October, 1997 |
| 5. | Denesh Ramdin and Tino Best | 143 | West Indies | England | Birmingham | 7 June, 2012 |
For more such interesting content, please keep visiting thesportslite.com