Giuseppe Meazza, the Italian striker was born on 23rd August 1910 in Milan.
He had lost his father in World War I. He lived with his mother in Milan and had a habit to play football barefooted.
Rejected by one Milan but taken up by another Milan
He was a Milan fan, unluckily was rejected by them. However, the rivals Inter Milan pounced on the opportunity and started to invest in this young talented player.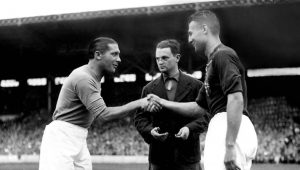 The investment did pay dividends and some great dividends.  In the 1929-30 season, he made his Serie A debut for Inter Milan and since then never looked back. Across the 10 seasons with Inter he scored 282 times in 391 games. He was an integral part of Inter Milan when they won the Serie A in 1929–30, 1937–38, 1939–40.
Different clubs
He then moved to his childhood favorite club Milan and played two seasons there. Then he went to Juventus, Varese, Atalanta and played a single season for each of them. He again went to his first club Inter Milan and after one season there, said goodbye to this beautiful game.
In total, 511 appearances with various clubs have generated 313 goals.
Also Read: History of Football Rivalry between England vs Germany at Wembly
The World Champion:
Giuseppe Meazza
Giuseppe Meazza played 55 games for Italy and scored 33 goals. He has not only scored the goals but helped the team also to win the all-important World Cup not once but twice.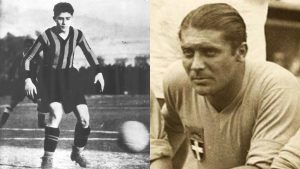 He was the man who could humiliate the best of the defenders with his dribbling and many times had carried the ball almost from the center of the pitch and ultimately scored a goal.
This Italian legend died due to pancreas failure just two days before his birthday in 1979.
Records
Serie A top scorer for 1929–30, 1935–36, 1937–38.
He is one of the three Italian players to have won the World Cup 2 times.
Mitropa Cup top scorer in 1930, 1933, 1936.
He is the youngest player ever to score 100 goals in Serie A, the 100th goal came when he was just 23 years and 32 days old.
Interesting facts about Giuseppe Meazza
During the time with Gloria F.C, a fan gave Meazza his first pair of football boots.
In his first managerial stint with Beşiktaş JK, they finished the season in the 2nd spot, just 2 points behind the winners Galatasaray SK.