FIFA World Cup 2022 Round of 16: The Group stage of FIFA World Cup 2022 has concluded and the also knockout stage start with the Round of 16 starting from December 3, 2022. Additionally, The first game will be played between Netherlands and USA at 8.30 PM IST (3 PM GMT). So, Let us have a look at the fixture that has lined amazing and mouth watering match ups for the audience worldwide.
FIFA World Cup 2022 Round of 16 Fixtures
Saturday, December 3
Sunday, December 4
Monday, December 5
Tuesday, December 6
Wednesday, December 7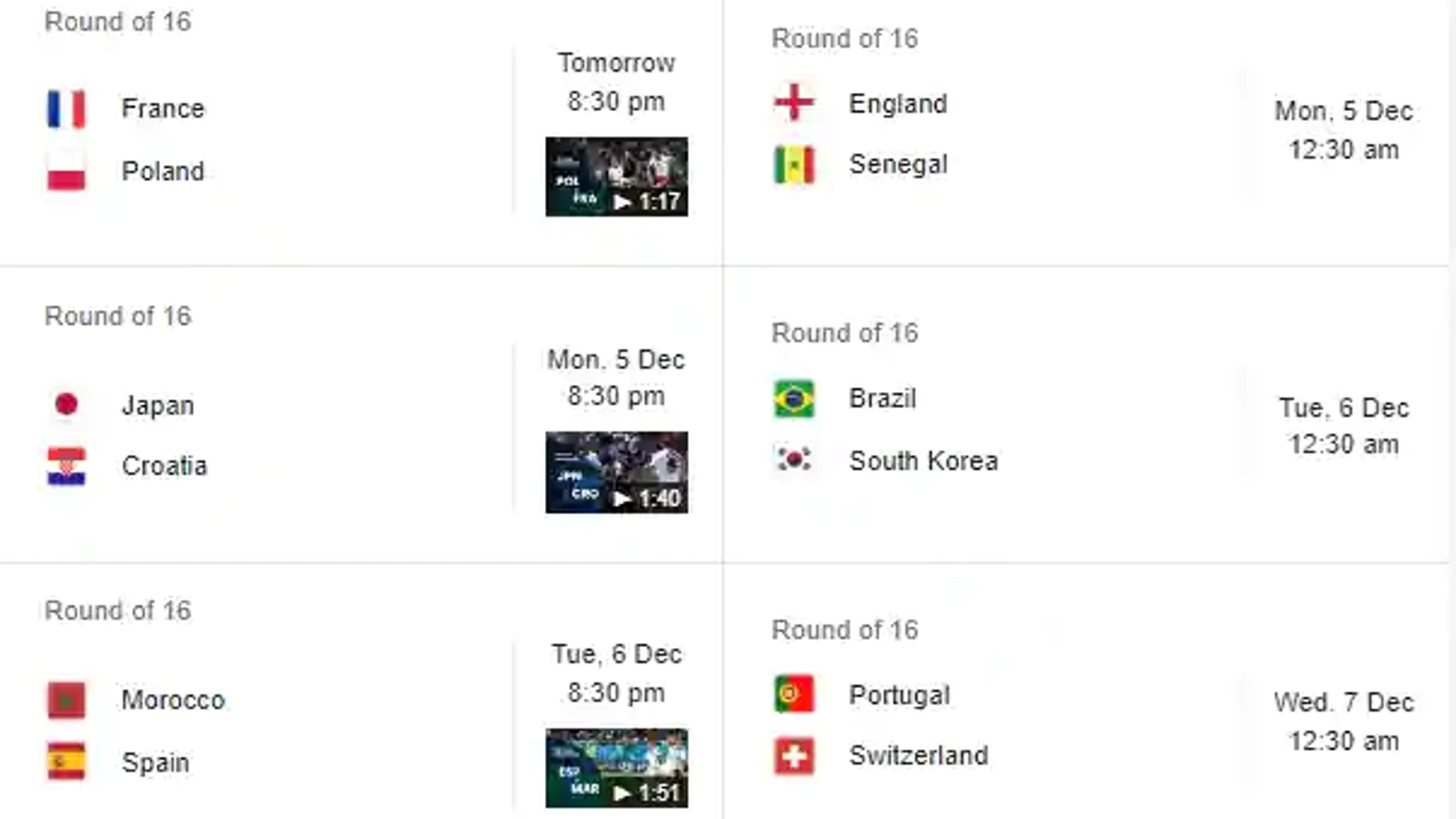 Also Read: FIFA World Cup 2022: Denzel Dumfries masterclass shows USA the exit door.
FIFA World Cup 2022 Quarter Final Fixtures
Friday, December 9
Quarter-final 1 – 8.30 PM IST (3 PM GMT)
Saturday, December 10
Quarter-final 2 – 12.30 AM IST (Dec 9, 7 PM GMT)
Quarter-final 3 – 8.30 PM IST (3 PM GMT)
Sunday, December 11
Quarter-final 4 – 12.30 AM IST (Dec 10, 7 PM GMT)
Germany vs Japan teaches that Football is more than just a sport
FIFA World Cup 2022 Semi Finals Fixtures
Wednesday, December 14
Semi-finals 1 – 12.30 AM IST (Dec 13, 7 PM GMT)
Thursday, December 15
Semi-final 2 – 12.30 AM IST (Dec 3, 15 PM GMT)
FIFA World Cup 2022 Final and Third Place Fixtures
Saturday, December 17
Third place match – 8.30 PM IST (3 PM GMT)
Sunday, December 18
Final – 8.30 PM IST (3 PM GMT)
FIFA World Cup 2022 Round of 16 Results
FIFA World Cup 2022 ROUND OF 16
Match Day
Fixture
Winner
3rd December 2022
Netherlands vs USA
Netherlands
4th December 2022
Argentina vs Australia
Argentina

France vs Poland
France
5th December 2022
England vs Senegal
England

Japan vs Croatia
Croatia
6th December 2022
Brazil vs South Korea
Brazil

Morocco vs Spain
Morocco
7th December 2022
Portugal vs Switzerland
Portugal
Also Read: 5 Best Dribblers in Football history