Virat Kohli is currently in South Africa for the South Africa tour. His wife Anushka Sharma and daughter Vamika accompany him in South Africa. And after winning the first Test against South Africa, Virat Kohli is seen enjoying in South Africa with his family. Anushka took to Instagram to share a view she is enjoying in a lush green park with daughter Vamika. She also wrote, "Best way to spend my last 2021 evening". In the video Vamika can be heard saying "Mumma". Anushka shared an adorable video in which Virat Kohli and Anushka Sharma daughter speaks for the first time.
The video which the actor shared on her Instagram story doesn't feature Vamika but she can be heard in the background. Virat Kohli and Anushka Sharma haven't shared the identity of Vamika in public. In December, Anushka praised the media for protecting the privacy of their child. Virat and Anushka have been very protective of Vamika's privacy. Watch the video of Vamika calling Anushka Sharma "Mumma".
Also Read: Watch! "Baby ka photo mat lena," Virat Kohli asks Photographers not to take daughter Vamika's photos
Anushka and Virat enjoying a Vacation in South Africa
From the past few days, Anushka is treating her fans with constant pictures from her vacation. Anushka shared glimpses of her New Year celebration also with Virat Kohli and wishes all her fans Happy New Year 2022. The actor shared a bunch of pictures on her Instagram from a party at their hotel. Watch Instagram posts of Anushka Sharma in which she is seen enjoying her vacation.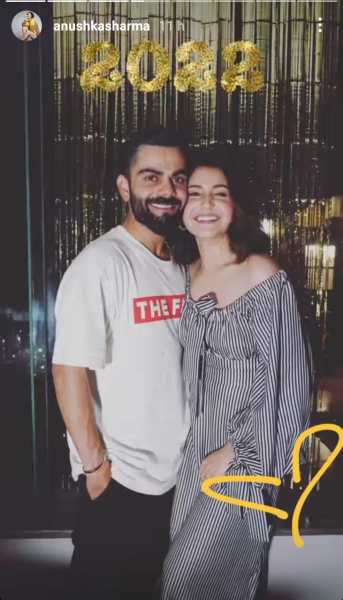 Earlier, when India defeated South Africa in the first Test, Virat Kohli was seen waving to his daughter Vamika who was present in the stands. Anushka and Vamika cheered for Virat and Team India throughout the game. Vamika is set to turn one year in ten days on January 11. The Indian Team is currently in South Africa. So it is likely that Vamika's first birthday celebration will be with the Indian Cricket Team. Watch the video of Virat waving to Vamika and Anushka in India's historic Test win over South Africa.