The IPL is a 1000 match old now! This milestone game will feature Mumbai Indians going up against the Rajasthan Royals at the iconic Wankhede Stadium in Mumbai. This would be the 42nd game of the season. Refresh or swipe up to catch the latest updates from the MI vs RR clash!
MI vs RR: Live Score and Update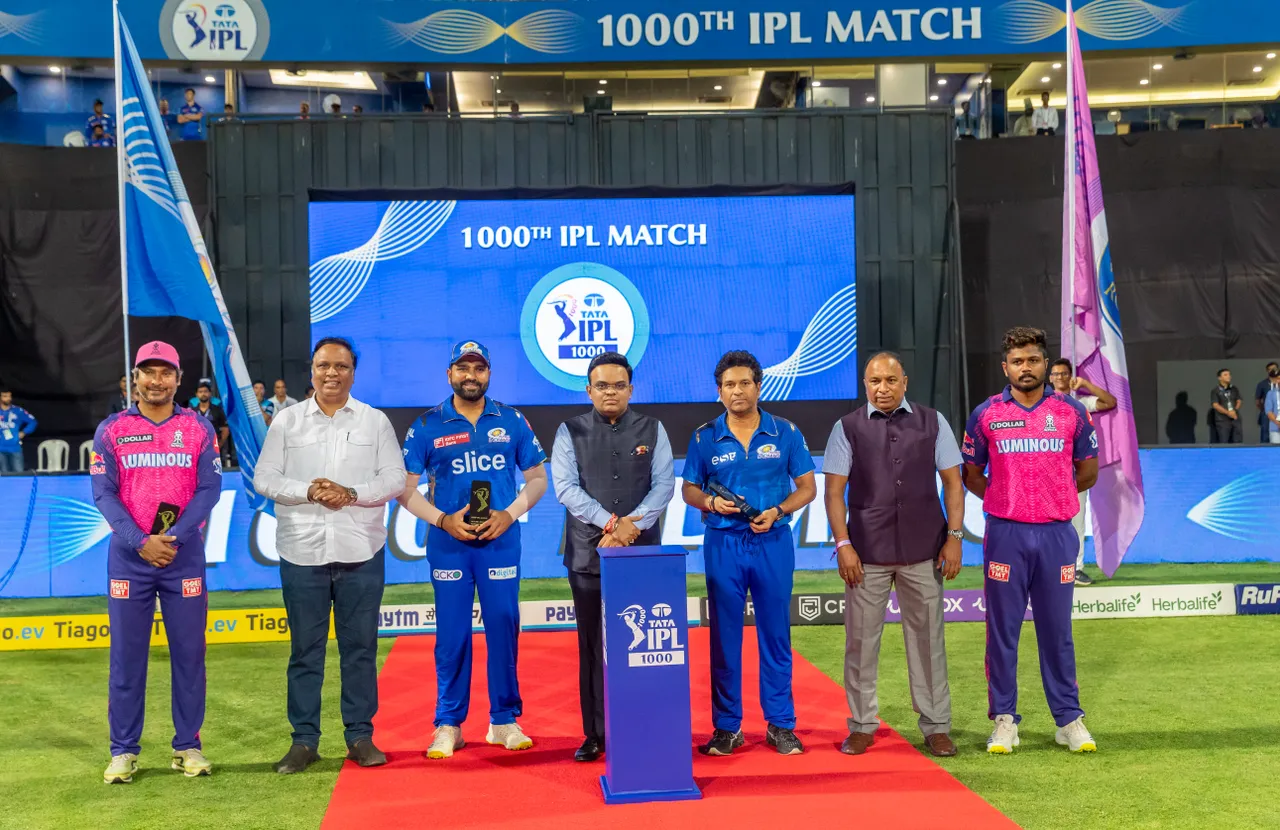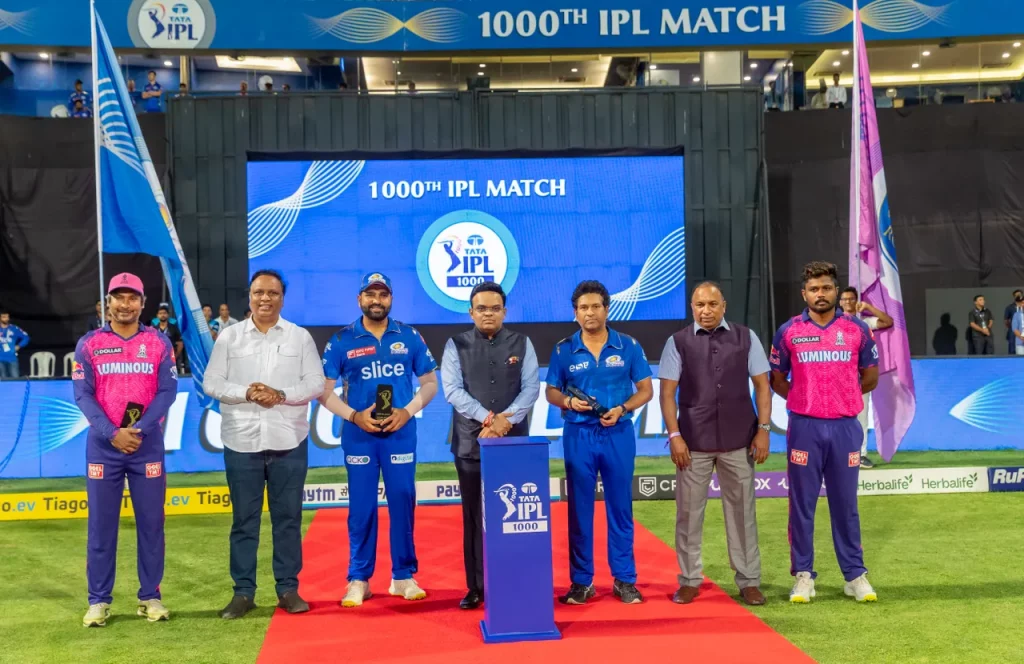 MI vs RR: MI achieve the highest successful chase at Wankhede!
Tim the Goliath sized David has delivered it for Mumbai Indians. 17 runs needed from 6 balls and he did in it 3! Three sixes back-to-back. This has been a brilliant run-chase. The first time a 200+ total has been chased at the Wankhede Stadium. 1000th game of the IPL and it deserved something like this… A spectacular chase by the home side. You have to feel for Yashasvi Jaiswal, A knock for the ages but ends up on the losing side!
Equation: 17 runs | 6 balls. Jason Holder to bowl, Tim David and Tilak Varma at crease!
Do we have a twist?
Sandeep Sharma has held onto a blinder to dismiss the dangerous SKY! WHAT A MOMENT IN THE GAME!! They brought Boult to get wickets and he has scalped the biggest one perhaps. But this is more fielder's wicket than bowler's. SKY went for a ramp but didn't time it. It was enough to clear the circle but Sandeep Sharma ran back and put in a full-stretched dive to hold onto that. This moment has tilted it in RR's favour and might even decide the result of the match. Tim David and Tilak Varma are in the middle for MI!
Equation: 57 runs | 24 balls ….A thriller brewing at the Wankhede!
MI vs RR: 150 up for MI!
RR scored 69 runs off the last five overs. MI need 63 runs from the last five. RR were 143/4 and MI are 150/3. The match has been neck-to-neck thus far. This game is still wide open and what a match are we having in the 1000th IPL game! SKY has played a big hand here getting to his fifty in just 25 balls. Tilak Varma has also shown intent at the other end. MI are 150/3 after 15 overs.
Ashwin picks up a huge wicket!
RR turned to Ashwin to bowl his last over in a quest for a breakthrough. And the veteran off-spinner has delivered for his side. This is his 300th wicket in T20s. He has dismissed the dangerous Cam Green for 44. The delivery was full and on the leg stump. Green tried to clear the deep mid-wicket area and found the safest pair of hands at the boundary. He finishes with 2/27 and is off the field. Riyan Parag is the substitute fielder.
After 11 overs: MI are 101/3, RR were 103/3. Just 2 runs separating the two sides at this moment. Mumbai have done well to keep up and would hope SKY continues to keep those big hits coming!
MI vs RR: SKY turning on the heat!
Ishan Kishan wasn't quite connecting it after the powerplay. He was dismissed for a 23-ball 28 off a tossed-up delivery by Ashwin. And that wicket meant the entry of the blazing Suryakumar Yadav and he made his intentions clear straightaway. He got off the mark with a six on his first ball of the innings. He then launched his supla shot against Holder. MI still very much in control of the required rate. And if Suryakumar is playing like this, no target can be safe. MI are 98/2 after 10 overs. They 115 runs from 60 balls.
MI vs RR: Cam Green revives the powerplay!
Mumbai Indians have put up 58 runs in the powerplay. The Royals were 65 at the end of the powerplay. Ishan and Green have batted well after the loss of Rohit. Cam Green has raced off to 30 off just 16 deliveries. The visitors have a lot of runs to play with but need to careful with this pair around. MI 58/1 after 6 overs.
Rohit gone!
That was a knuckle ball, the batter backed away and missed the slower delivery to be bowled. The ball just kissed the top of off and curtains for Rohit Sharma. Poor Start for Team in Blue, but a huge wicket for Team in Pink!
Impact Player(RR): Kuldeep Sen has came in for Dhruv Jurel!
MI vs RR: Yashasvi's ton powers RR past 210!
The extras were the second-highest run-scorer for the Royals tonight. This tells you how loose Mumbai Indians were with the ball. This also tells you how good young Jaiswal was with the bat. He finished with a score of 124 in just 62 balls. No other Royal batter got even 20 runs. A one-man demolition has allowed RR to end with 212/7 after 20 overs.
The target for Mumbai Indians is 213 runs from 120 balls. The ball did grip and turn for spinners but dew is expected to make an entry in the second innings. So we'll have to wait and watch. Anyways Wankhede has always favoured the chasing team so Mumbai Indians should fancy their chances and must come out with a positive intent. This could turn into a thrilling finish so stay tuned!
100 for Yashasvi Jaiswal!
Yashasvi Jaiswal has scored his maiden hundred. His first but surely not his last. He has kept Rajasthan Royals in the hunt for 200 single-handedly. This has been one of the finest knocks this season. This has been a scintillating knock. He has had the criticism of giving it away after a fifty. But today he has had a field day. He has played the field so well. Has put almost everything into the gap.
MI vs RR: RR set up for a competitive total!
Jofra Archer has delivered a blazzing 15th over. Only a solitary run off a wide and the wicket of Jason Holder. He was expensive in the early overs but has bowled really well tonight. He also gets a wicket to his name. RR are 143/4 after 15 overs with Yashasvi Jaiswal firmly holding one end with his blistering 77 unbeaten runs.
Double strike for Mumbai!
The 10th over saw Sanju Samson chipping a slower bowl to deep mid-wicket. And then in the 11th over, Chawla out-foxes Padikkal with a googly. The pitch is surely not a batting belter. The pitch is slowing down and the ball is gripping. If Rajasthan end up around the 190 mark then the chase might get tricky for Mumbai. RR are 103/3 after 11 overs.
Chawla strikes!
Buttler attempts to loft a flighted googly that is too full in length, but the bat spins on impact, skews it off the inner half, and smashes it straight to long-on. He smashed a six off Kumar Kartikeya but looked scratchy for most parts of the innings. RR lose their first wicket and captain Sanju Samson is in the middle.
MI vs RR: Powerplay Done!
Poor Powerplay for MI. They have been terrible with the ball and the RR opener taking full toll of them. Too many gifts and extras which has allowed RR to get off to a flier even with Butller striking at a S/R of 78. Buttler is struggling while Jaiswal is keeping the tally going allowing Buttler to breathe easy. RR 65/0 after 6 overs.
Mumbai Indians Impact Subs: Nehal Wadhera, Ramandeep Singh, Vishnu Vinod, Shams Mulani, Arjun Tendulkar
Rajasthan Royals Impact Subs: Donovan Ferreira, Murugan Ashwin, Riyan Parag, Kuldip Yadav, Kuldeep Sen
Rajasthan Royals Playing XI: Yashasvi Jaiswal, Jos Buttler, Sanju Samson(w/c), Devdutt Padikkal, Dhruv Jurel, Shimron Hetmyer, Ravichandran Ashwin, Jason Holder, Trent Boult, Sandeep Sharma, Yuzvendra Chahal
Mumbai Indians Playing XI: Rohit Sharma(c), Ishan Kishan(w), Cameron Green, Suryakumar Yadav, Tilak Varma, Tim David, Jofra Archer, Piyush Chawla, Kumar Kartikeya, Riley Meredith, Arshad Khan
Toss Update: Rajasthan Royals have won the toss and will bat first!
Build-Up..
The 42nd match of the Indian Premier League 2023 would feature Mumbai Indians against Rajasthan Royals. This match will take place in Mumbai's Wankhede Stadium. This would also be the 1000th game in the Indian Premier League. Follow the feed for MI vs RR: Live Score and Update.
So far, the Mumbai Indians' season has been a roller coaster ride. They started with two losses, then three victories in succession, but then went back to losing ways. Their batting is coming together, but their death bowling has been a source of concern in the previous two games. Jasprit Bumrah's absence is felt, while Jofra Archer has missed more games than he has played this season.
Aside from those back-to-back losses to LSG and RCB, the Rajasthan Royals have been on a roll. They have beaten CSK twice and the defending champions GT, whom they had not beaten in three years. In eight games, the Rajasthan Royals had five victories and three defeats. Read the full preview here.
Thank you for reading it. Leave us a comment if you liked it.
Do follow us on: Google News | Facebook | Instagram | Twitter | Youtube | LinkedIn
Have a good day ahead 🙂