One of the greatest wicket-keepers to ever lace a pair of boots, the legend of MS Dhoni still remains unparalleled in cricket. The former Indian skipper has wowed us with his outlandish feats of brilliance on the field over the last decade and a half. Owing to his innumerable accomplishments, MS continues to be one of the most decorated athletes in the world of sports. Despite batting in the lower order for a vast portion of his career, Dhoni has had multiple centuries to his name in ODIs. This article provides a detailed look into the list of all centuries by MS Dhoni in ODIs.
Have a look at List Of All MS Dhoni Centuries In Onde Day Internationals (ODIs)
148* vs Pakistan, Vishakhapatnam, 2005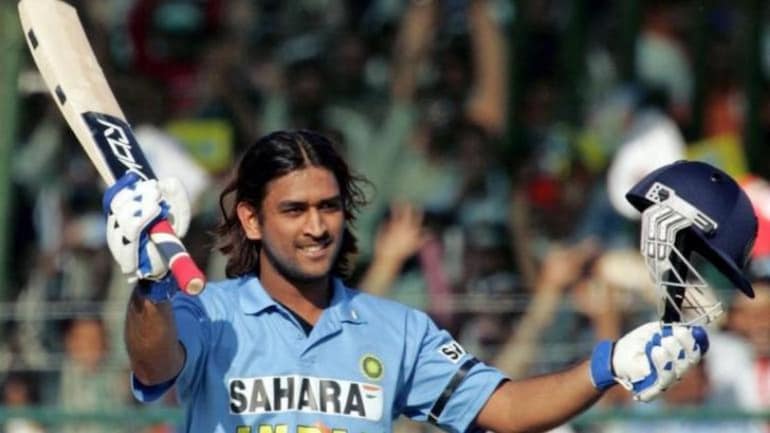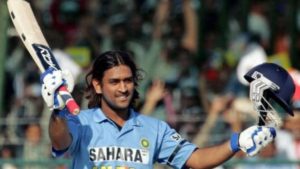 Having registered scores of 0, 12, 7*, and 3 in his first four international outings, Dhoni announced himself on the biggest stage with a stroke-filled 148 off 123 balls. The fierce assault included 15 fours and four sixes before he was eventually dismissed in the 42nd over. His innings powered the team to a match-winning 356/9, as India completed a comprehensive 58-run win against arch-rivals Pakistan to take a 2-0 lead in the series.
183* vs Sri Lanka, Jaipur, 2005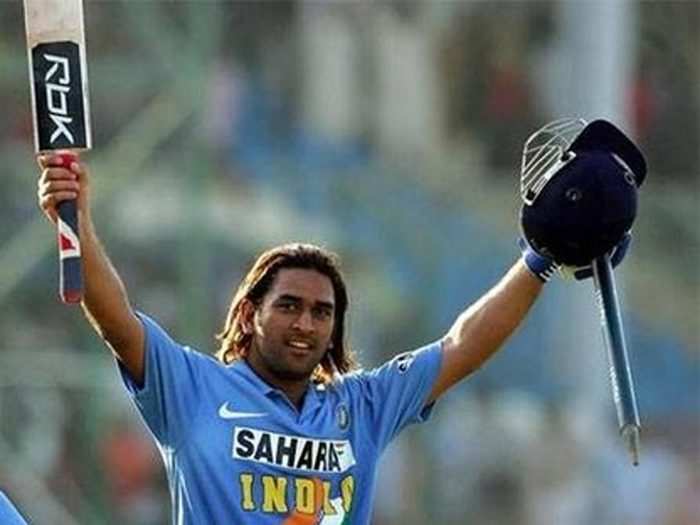 Dhoni's match-winning innings of 183* against Sri Lanka broke all kinds of records. With Tendulkar dismissed in the very first over of a stiff run-chase, Dhoni came in at No.3 to keep the required run-rate within India's reach. He hit 15 fours and 10 sixes in a brutal display of ball striking. His tally of 10 sixes was a record for an Indian batsman in ODIs until Rohit Sharma bettered it during his double century against Australia in Bangalore in 2013.
Check out: 5 Most shameful & embarrassing records hold by MS Dhoni
139* vs Africa XI, Chennai, 2007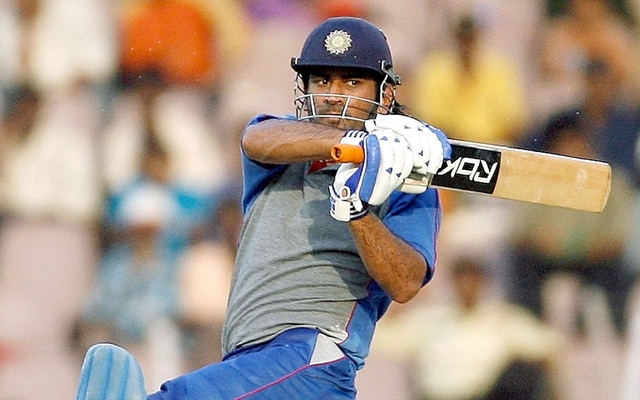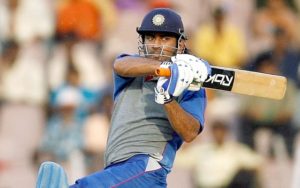 MS Dhoni had a fantastic outing with the bat during the third match of the Afro-Asia Cup 2007. After being stuck at 72/5, Asia XI's innings were helped by a power-packed performance by the legendary duo of Mahela Jayawardene and MS Dhoni. The pair forged a 218-run partnership for the 6th wicket before Jayawardene's dismissal for 107. However, MS continued the onslaught and returned to the dressing room not-out at 139. Packed with 15 fours and 5 sixes, Dhoni powered Asia XI to a massive total of 331, which seemed almost impossible at one stage.
109* vs Hong Kong, Karachi, 2008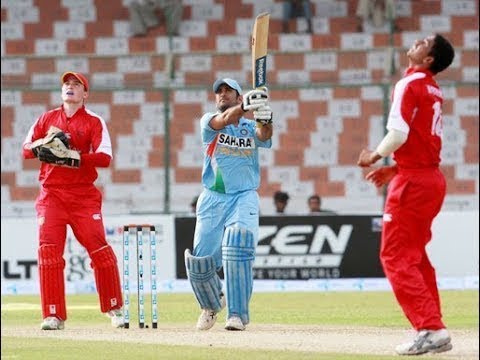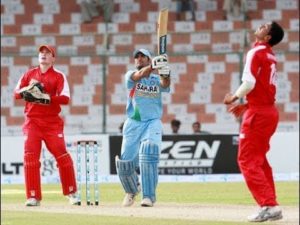 Owing to a great start by openers Gambhir and Sehwag, the Indians were riding the tide of momentum. MS Dhoni and Suresh Raina took the game further away from newcomers Hong Kong as they sealed an impressive 166-run partnership. The CSK boys registered their first centuries away from home as India posted a staggering total of 374/4. Mahi's fascinating innings of 109* was aided by 6 fours and as many sixes. It certainly didn't come as a surprise that India beat their opponents by a comprehensive margin of 256 runs.
Also have a look at: MS Dhoni half-centuries in T20I
124 vs Australia, Nagpur, 2009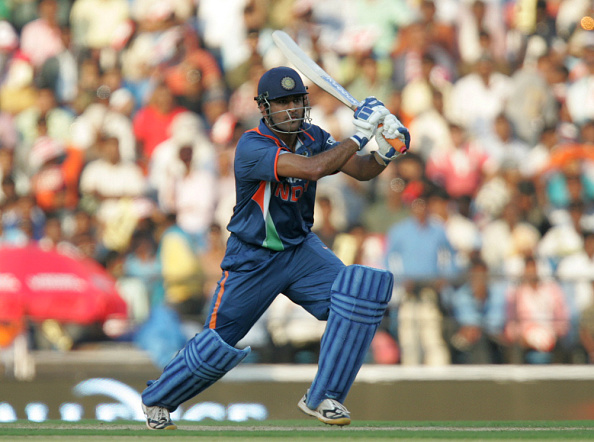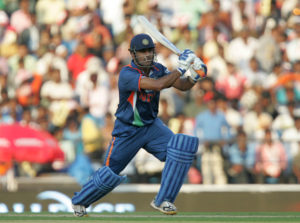 After losing the first match of the 7-game ODI series in a thriller, India came back guns blazing in their second encounter at Nagpur. After Yuvraj's dismissal in the 16th over, MS walked to bat as a man possessed. Dhoni put up two century-plus stands with first Gambhir and then Raina. His blitzkrieg of an innings of 124 included 9 fours and 3 sixes as the Indian skipper helped fuel India's total to 354/7. As a result, India was able to fend off the Aussies by 99 runs and level the series 1-all.
Also Read: MS Dhoni Net Worth, Endorsements And Sponsorships In 2021
107 vs Sri Lanka, Nagpur, 2009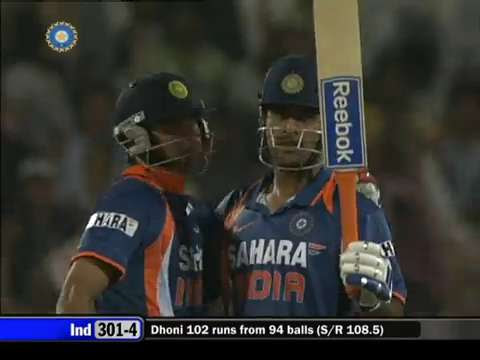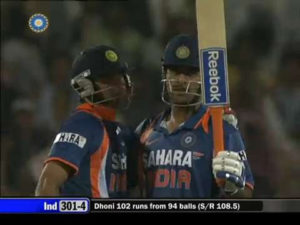 MS Dhoni's dream run with the bat in 2009 continued as he scored yet another ton against their neighbors South of the border. Dhoni's watchful innings of 107 were quintessential in stabilizing the run rate and making sure India posted a respectable total. Batting for over 2 hours in the scorching Nagpur heat, the Ranchi-born scored a breathtaking ton of 107 runs. His innings included 8 fours and 2 sixes as India posted 301 runs on the board. This, however, wasn't enough as Sri Lanka was able to pull off a heist in a last-over thriller.
101* vs Bangladesh, Dhaka, 2010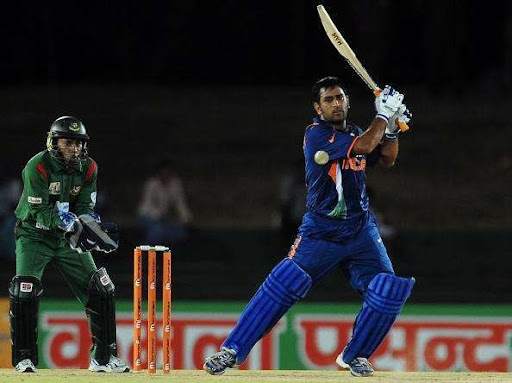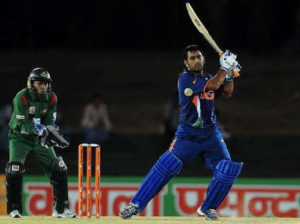 Chasing a massive total of 297 against Bangladesh, India looked to be in troubled waters at 51/3. Walking in to bat at number 5, MS Dhoni joined hands with a relatively new Virat Kohli and put all of Bangladesh's hopes to rest. The legendary duo added 152 runs for the 4th wicket as India was not only out of danger but also held a tight grip over the match. Dhoni went on to make an unbeaten 101 including 9 fours as India went on to win the match by 6 wickets.
Do you want to know, check out here : MS Dhoni's centuries outside India & Asia
112* vs Pakistan, Chennai, 2012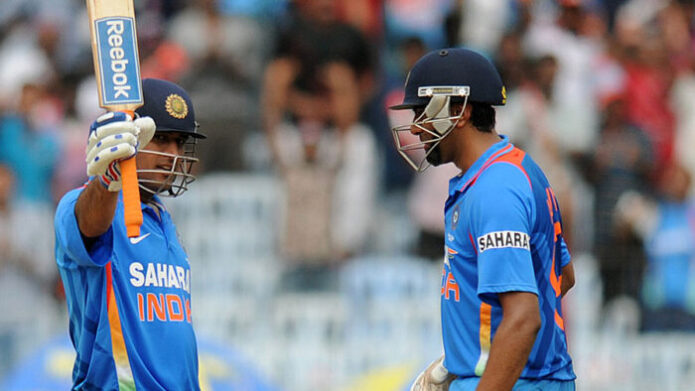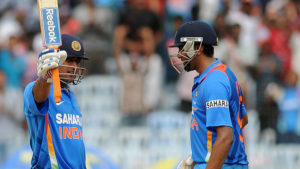 Dhoni's 113* against Pakistan, after his side were reduced to 29/5 in the 10th over, will go down as one of the best innings played by a No.7 batsman. Battling the Chennai heat and a tough bowling opposition, his 40-over stay at the crease showcased resistance and grit of the highest quality. At one point, when even 150 seemed impossible, Dhoni's counter-attack powered India to a respectable total of 227/6. However, Pakistan was able to fend off the meager total and powered its way to a win with Jamshed's 101.
139 vs Australia, Mohali, 2013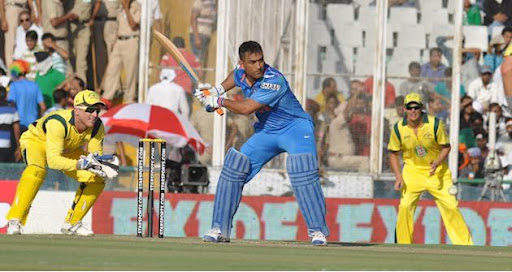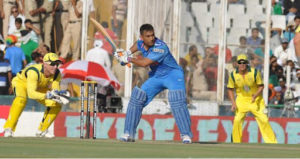 In a high-scoring ODI series, India and Australia went to Mohali with the series locked at 1-1. With India struggling at 76/4 in the 13th over, Dhoni held the innings together. When his 72-run stand with Kohli ended, the younger partner dismissed for 68 in the 30th over, India's chances of posting a commanding total seemed bleak. However, Dhoni, with all his calmness and experience, worked the gaps, ran well between the wickets, and put the loose ones away before unleashing a late flourish. Batting with the lower order, his 121-ball 139* helped India reach 303/9. However, this wasn't enough as James Faulkner's power-packed 64 helped the Kangaroos topple the men-in-blue.  
Have a look at: All Dhoni's records as T20 captain
134 vs England, Cuttack, 2017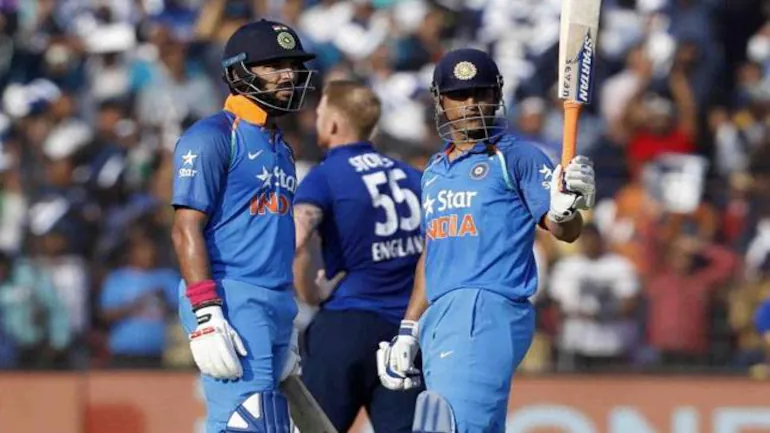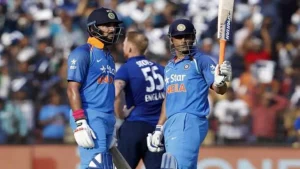 With India having lost their top three by the fifth over, Dhoni joined hands with Yuvraj to take India to a position of strength. The dynamic middle-order duo turned back the clock, adding 256 for the fourth wicket as India finished on 381/6. Dhoni played second fiddle to Yuvraj's entertaining stroke-play (150) early in the innings, before unleashing some big hits himself. India completed a 15-run win, securing an unassailable 2-0 lead in the three-match series.
List Of All MS Dhoni Centuries In ODIs
| | | | | | |
| --- | --- | --- | --- | --- | --- |
| Serial Number | Opponent | Venue | Fours | Sixes | Runs |
| 1 | Pakistan | Vishakhapatnam | 15 | 5 | 148* |
| 2 | Sri Lanka | Jaipur | 15 | 10 | 183* |
| 3 | Africa XI | Chennai | 15 | 5 | 139* |
| 4 | Hong Kong | Karachi | 6 | 6 | 109* |
| 5 | Australia | Nagpur | 9 | 3 | 124 |
| 6 | Sri Lanka | Nagpur | 8 | 2 | 107 |
| 7 | Bangladesh | Dhaka | 9 | – | 101 |
| 8 | Pakistan | Chennai | 7 | 3 | 112* |
| 9 | Australia | Mohali | 12 | 5 | 139 |
| 10 | England | Cuttack | 10 | 6 | 134 |