The Indian U19 Cricket Team is into the finals in the world cup, after beating Australia. They will face England in the finals. The whole Indian Cricket fraternity wished Indian U19 team before finals against England. Virat Kohli met with members of the Indian side. Ahead of the forthcoming final against England in the ongoing U19 World Cup. In addition, he knows what it's like to be on top of the world. Also when one does not perform to one's full capacity after winning a world prize, Virat Kohli understands how it feels. And no one knows better than Virat Kohli what it's like to be a world-beater at the highest level.
Virat Kohli wished Indian U19 team
Rajvardhan Hagargekars, Kaushal Tambes, and Yash Dhulls connected on a zoom call from their respective hotel rooms in Antigua. One of their role models was waiting to "congratulate them" and also chat to them about what it meant to play in a U19 World Cup final.
The India U-19 team, led by Yash Dhull, will face England. In the fourth consecutive final at this level since 2016.
Virat Kohli has also won a high-pressure final at the junior level. When his squad defeated South Africa in Kuala Lumpur on a beautiful evening in 2008.
After fourteen summers, Kohli has risen to captaincy. Also, is now a former senior team skipper with over 20k international runs to his name.
"It was really good to interact with you virat kohli bhaiyya. Learnt some important things about life and cricket from you which will help us in getting better in upcoming times,"

Rajvardhan Hangargekar, the team's best pace-bowling all-rounder, posted on his Instagram stories.
Also read: Yash Dhull Led India Once Again Into U19 WC Final
Spinner Kaushal Tambe wrote,
"Some valuable tips from the GOAT before the final."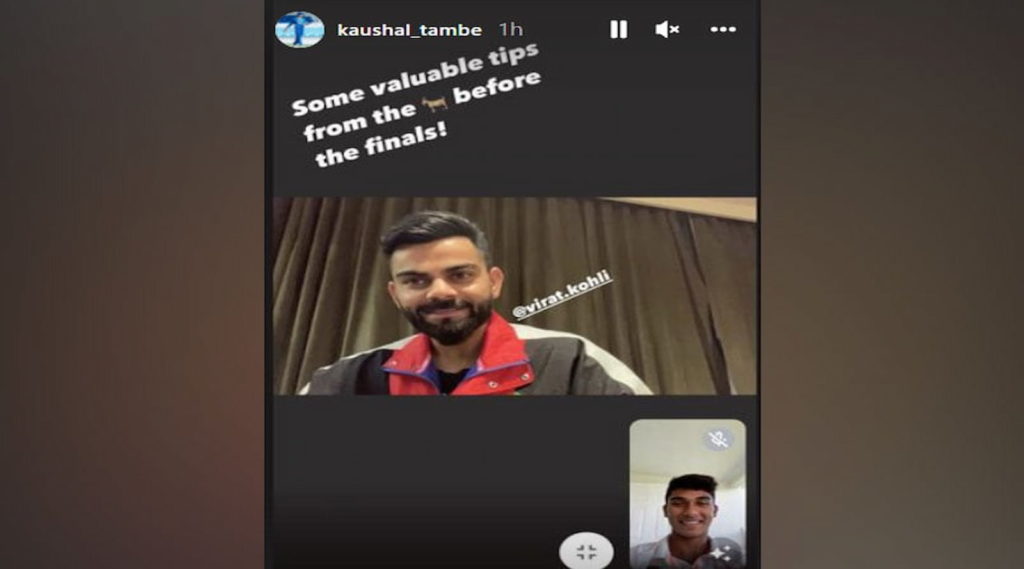 Here's how Twitter wished the young boys
The Indian Cricket fraternity has also come to the support of the under 19 team by extending their wishes on twitter and here is a look of it.