Sharad Kumar was born on the 1st of March in Patna, Bihar. He is an Indian para-athlete who competes in the track and field discipline of High Jump. He competes in the T42 Classification.
Sharad made his international debut during the 2010 Asian Para Games in China. He again participated in the 2014 Asian Games and there he reclaimed his World No. 1 ranking.
Like most other Indian Para Athletes even Sharad Kumar is supported by GoSports Foundation through the Para Champions Programme.
Early Life of Sharad Kumar
At a very tender age of two, Sharad Kumar suffered paralysis of his left leg after taking a suspicious Polio medicine at a local Polio eradication drive.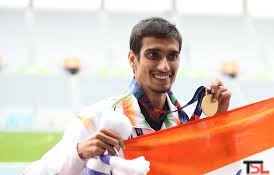 Sharad later went on to study in Darjeeling where he commenced trying his hand at High jump.
Interestingly, here Sharad broke the school and district records while he was competing against able-bodied athletes. Later he moved to Delhi to pursue his higher education at Delhi University's Kirori mal College.
International Achievements
Sharad qualified for the 2012 Paralympic Games when he jumped to a height of 1.64 meters. This qualification gave him a massive boost of confidence as he did not look back.
Sharad recorded a jump of 1.75m at the Malaysian Open Para Athletics Championships, by virtue of this jaw-dropping performance Sharad became the World No 1 at the young age of 19.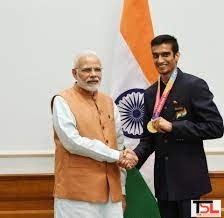 Unfortunately, he missed a shot at a Paralympic medal when he was banned after testing positive for a drug.
He later made his comeback in the year 2014 when he cleared the height of 1.80 m in Incheon, South Korea on his way to breaking the 12years old Asain record. Finally, Sharad got to participate in the Paralympics in 2016 in Rio de Janeiro where he finished a creditable sixth.
Sharad also went on to win the silver medal at the 2017 World ParaAthletics Championships. Another milestone moment beckoned him when he won the gold at the 2018 Asain Para Games.
He jumped to a jaw-dropping height of 1.90 m as he broke the Game record as well as the Continental Record.
Performance at Tokyo Paralympics 2020
Sharad Kumar qualified for the Tokyo Olympics. In the National Stadium he produced a scintillating performance as he bagged the bronze medal.
This was a sort of redemption for Sharad as he had not been able to participate in Rio as he was banned for using a banned substance.
For more such news, keep visiting The SportsLite