Suryakumar Yadav is an Indian batter and is currently the backbone of the Indian Cricket team in white ball cricket. He made his international debut recently on 14th March 2021 against England. Suryakumar has represented the country in over 23 ODIs and 48 T20Is. In the matches, he scored 433 and 1675 runs with the highest score being 64 and 117 respectively. He is the most consistent performer in the IPL. Earlier, he played for KKR but now he represents Mumbai Indians. He has contributed immensely to the team in the past years. Therefore, the team retained him before the IPL Mega Auction 2022. His consistency over the years has been remarkable. When not playing cricket SKY likes to spend time with family. He even gives a lot of credit to his wife for his career. Check out all you need to know about Suryakumar Yadav wife Devisha Shetty.
Who is Suryakumar Yadav Wife? Devisha Shetty?
Devisha Shetty is Suryakumar Yadav Wife who is his longtime friend. She is the person who has pushed SKY to what he is. Even Surya praises and mentions her name whenever people ask him about his great success in white ball cricket. They are a great couple together and she always supports him in every decision of their life.
Suryakumar Yadav and Devisha Shetty Love Story: How did the couple meet?
The couple first met in college back in 2012. Both of them attended the RA Podar College in Mumbai. SKY tried talking to Devisha but she didn't get too friendly with him at the beginning. However, Suryakumar constantly sent messages and they finally started talking. Within a few days of talking they started to get along well together. At first, they took things slowly but eventually they went on to become life partners.
See how SKY narrates his love story
"In college, I was sitting and talking to another girl and was facing the other side. She (Devisha) was walking from behind me. A friend called out from behind and I turned around he said hi to me and also to someone on the side. I was confused who he was saying hi to. He came to meet me and I asked him if she was his friend. Everything else is fine, but is she your friend? You can at least introduce me to her. He went to her, they spoke for 5 mins and she walked away. I told my friend that he was useless and told him to forget about it.

BBM was big in those days, I told him to give me her BBM pin so things can move forward. He said that he'd try. The next day I kept sending her requests and she kept turning them down. I sent her a Facebook request and she accepted, so I felt that I have a chance. She began asking me what I do. I proudly told her I play for Mumbai Indians and thought she'd be impressed. Her replies were plain, "Ok".

I'm thinking such cold replies it's better to just meet. We met and began chatting, we used to fight a lot. We'd been talking for 15-20 days but we'd always find a way to make up. 'Okay it's done now, let's take it ahead slowly' and the rest is history."

Suryakumar Yadav on how he met Devisha
Devisha and Suryakumar Yadav's wedding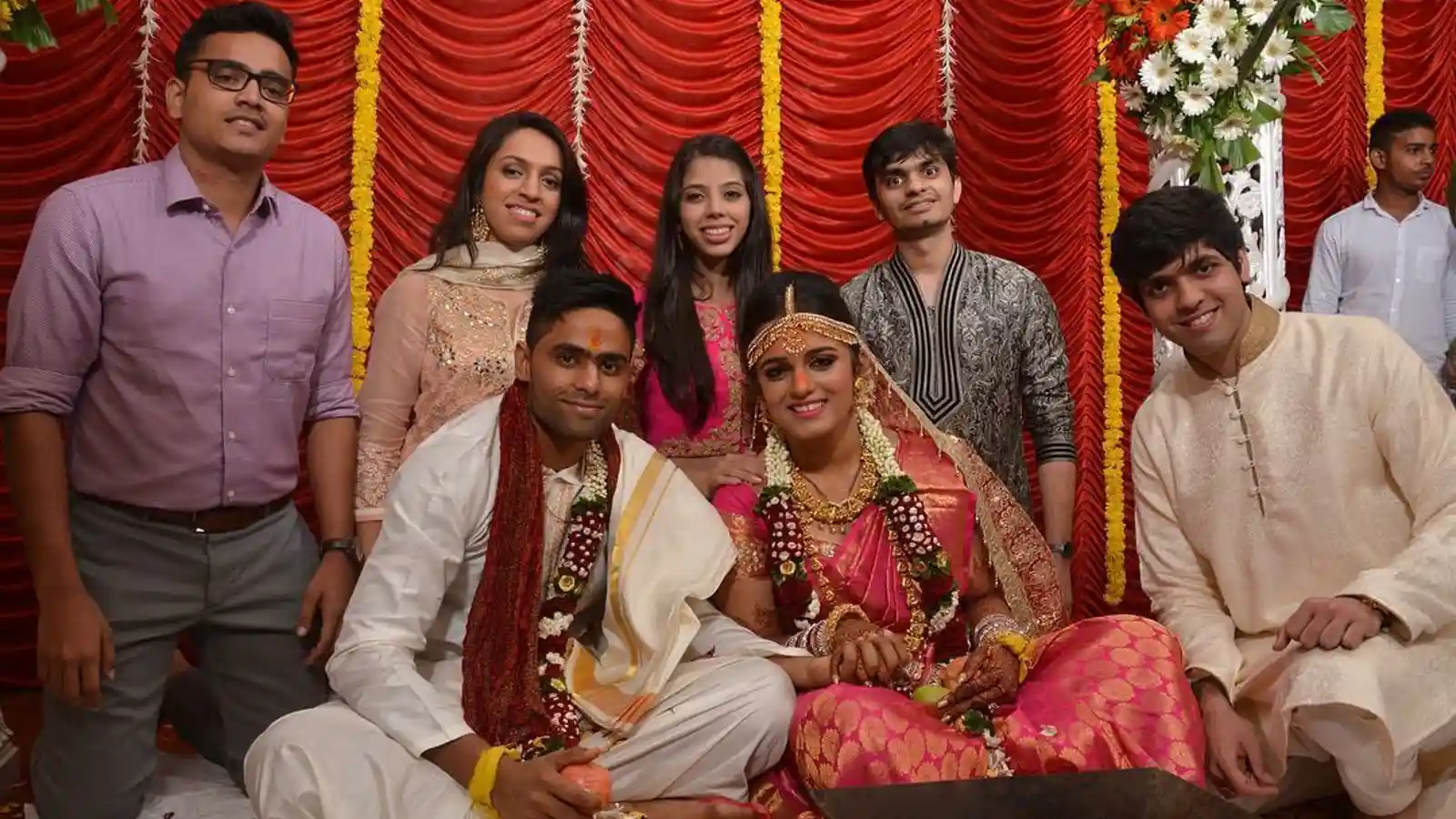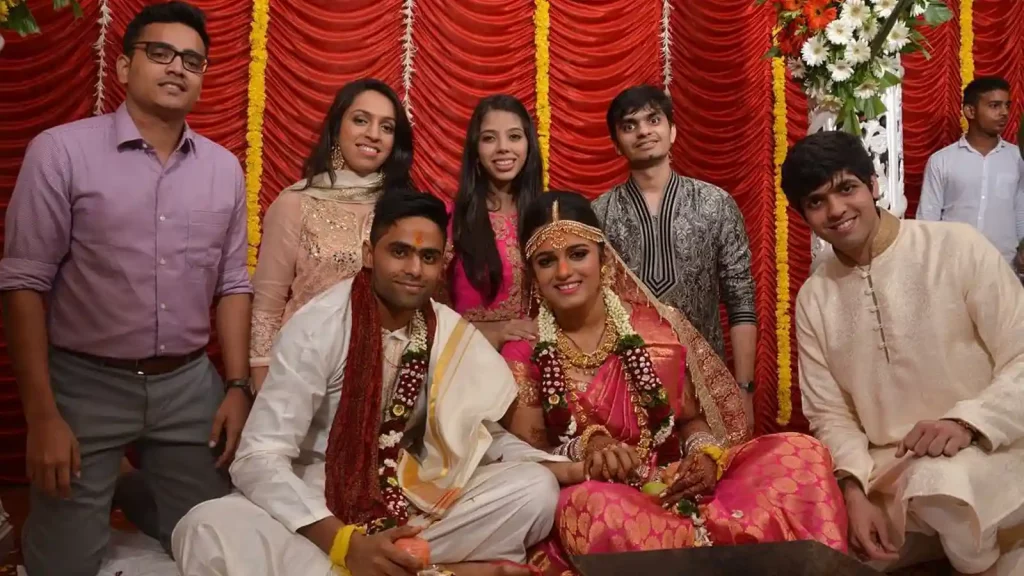 After dating for more than 5 years, SKY and Devisha tied the knot on July 7th, 2016. Earlier, the couple got engaged in May, the same year. The couple got married in a low-key ceremony with only close friends and family. Devisha has played an important role in shaping his career. Moreover, she had advised him to consult a nutritionist, a batting coach as his career got stagnant at a point. She also asks him to lead a disciplined life except for the weekdays. Even Indian skipper Rohit Sharma credits Suryakumar Yadav's wife as a turning point in his life.
Know all about Devisha Shetty
Suryakumar Yadav's wife Devisha was born in a well-to-do South Indian family in Mumbai. Her father Devdas Shetty is a Hotelier. In addition, Devisha has an elder sister, Deeksha who has been very supportive. She completed all her schooling in Mumbai and later completed her education at RA Podar and HR Colleges of Mumbai. It is also said that Devisha is a dance coach in Mumbai. Moreover, Devisha runs a home-based bakery DessertsbyDevisha. Devisha got married to cricketer Suryakumar Yadav on July 7th, 2016 after dating for a long time. In addition, Devisha has volunteered for 'The Lighthouse Project' an NGO from 2013 to 2015. She is an avid dog lover and is a dog mom of 2.
Know about Surya Kumar Wife, Devisha Shetty
Name
Devisha Shetty
Date of Birth
17 November 1993
Nationality
Indian
Education
RA Podar College of Commerce and Education, Mumbai
HR College of Commerce and Economica, Mumbai
Profession
Home baker
Parents
Devdas Shetty and Lata Shetty
Siblings
Deeksha Shetty [elder sister]
Spouse
Suryakumar Yadav
Married on
7 July 2016
Children
None
Thank you for reading it. Leave us a comment if you liked it.
Do follow us on: Google News | Facebook | Instagram | Twitter | Youtube | LinkedIn
Have a good day ahead 🙂