Ashish Nehra is a former Indian fast bowler. He made his debut for India in 1999 in a Test against Sri Lanka. However, his career has been very inconsistent because of recurring ankle injuries. Since Nehra was a fast bowler, he believed injuries were very normal for his career. Ashish Nehra is popularly known as The Comeback King because he didn't let his career end despite several injuries. However, it was challenging for him to miss important tournaments owing to the injuries. His wife has been his support system in difficult times. Let us look at who is Ashish Nehra's wife, Rushma Nehra.
Ashish has represented India in 17 Tests picking 44 wickets. While his ODI career has been pretty impressive, playing 120 ODI matches he picked 157 wickets. In the 2003 world Cup, Nehra picked 6 wickets giving only 23 runs, which is still the best bowling figure in ODI. Moreover, Ashish had played 27 T20Is and 88 IPL matches, picking 34 and 106 wickets respectively. In IPL he had played for Mumbai Indians, Delhi Daredevils, Pune Warriors, Chennai Super Kings, and Sunrisers Hyderabad. Nehra announced that he will be retiring from all forms of cricket after the first T20I against NZ. Ashish Nehra played his last match at Feroz Shah Kotla in Delhi on November 1, 2017.
Who is Ashish Nehra's wife Rushma Nehra?
Rushma Nehra, Ashish Nehra's wife is an artist. She is a loving wife and never fails to recognize her husband's contribution to Indian cricket. She frequently shares his images from their family outings. Rushma, a mother of two, is also a doting mom, she loves cooking and baking for her kids. Ashish Nehra first met Rushma on tour to England in 2002. He fell in love with her at the first sight. Rushma had come to watch the match at The Oval. Nehra got her number and they soon started seeing each other. This is how their love story blossomed.
Rushma had been a constant support for him. Since Nehra has had several injuries in his career he is known as Mr. Glass of Indian cricket. In 2005, Nehra had to return from the Zimbabwe tour because of a back and ankle injury. He underwent surgeries. It was Rushma who stood by him and supported him in this difficult time. The couple was in a long-distance relationship, but she tried everything she could to be there for him.
After 7 years of dating, Nehra proposed to Rushma on 23rd March 2009, when they were out with friends. However, at first, she thought he is playing a prank and had not answered him. It was only when Ashish repeated his question the next day, that she said a yes! Within the next 10 days, the couple was married. However, they got married in a short time, their marriage was still grand. The couple tied the knot on April 2, 2009. It was on their second anniversary that Nehra was a part of the 2011 WC winning team, giving her the best gift ever.
Also read: Who Is Yuzvendra Chahal's Wife? Know All About Dhanashree Verma Chahal
Does Ashish Nehra have kids?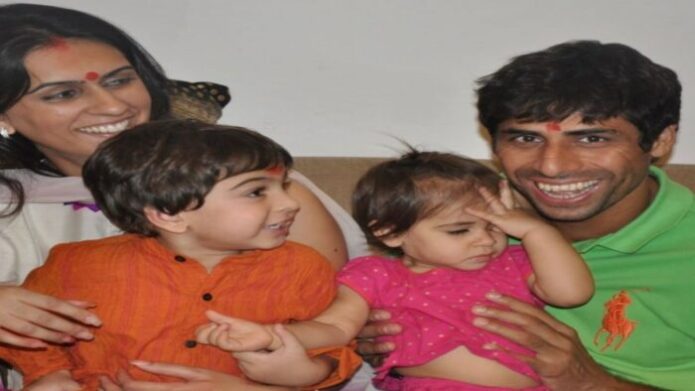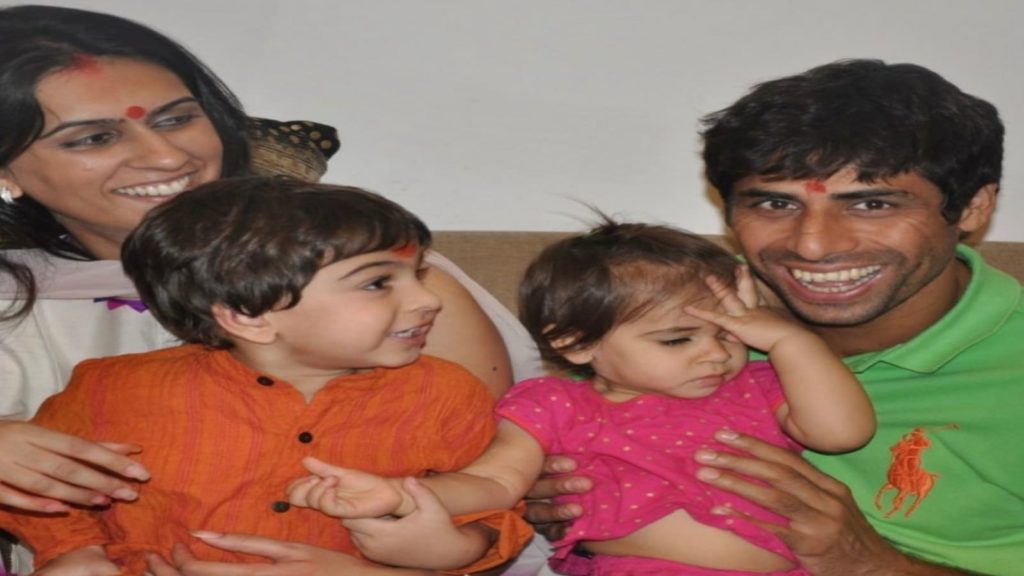 Being married for almost 13 years now, the couple is parents to 2 kids. Ashish and Rushma were blessed with a baby boy named Arush Nehra. A couple of years later, their daughter, Ariana Nehra was born. The couple is very serious about their kids' health and education. Moreover, they also encourage their kids to be engaged in adventurous activities like learning how to live on a tree. Ashish and Rushma Nehra want to keep their kids away from the limelight and want to give them a normal life. Despite their father being a big cricketer, Arush and Ariana lead a normal life like any other kid, away from the public eye.
Also read: Who Is Faf Du Plessis's Wife? Know All About Imari Visser
All you need to know about Rushma Nehra?
Rushma Nehra is an artist by profession. She is also very passionate about baking and cooking. Rushma frequently shares images of bread she bakes, including sourdough, banana bread, waffles, and pies. In addition, she also is a nature enthusiast. Rushma can be seen capturing birds and flowers. She also encourages kids to plant saplings, herself being enthusiastic about gardening. The couple has settled in Goa amidst green plants in their backyard. Rushma and Ashish wanted to have a green, pollution-free environment for their kids. Thus, they settled in Goa post Ashish's retirement from cricket.
Name
Rushma Dalla Nehra
Date of Birth
10 May 1983
Profession
Homemaker
Artist
Birthplace
Gujarat
Nationality
Indian
Spouse
Ashish Nehra
Married on
2 April 2009
Children
Ariana Nehra and Arush Nehra