The England all-rounder Moeen Ali has been representing the national side since his debut in 2014. Apart from the game other things also bring Moeen to the limelight. Moeen Ali has been involved in several controversies. Also, his father has been seen speaking on controversial statements made about him. Once the England Cricket Board has been alleged of racism. However, Moeen Ali had denied facing racism in his career so far. In 2014, Moeen had worn "Save Gaza" and "Free Palestine" bands, which were believed to be against ICC codes. However, the ECB had stood by Moeen Ali. That one person who has stood beside him is his wife. Let us look at who is Moeen Ali's wife Firoza Hussain?
Moeen Ali had played 67 Tests with 2,914 runs the highest score being 155*. Moreover, he also has a five-wicket haul to his credit. The English cricketer has also played 112 ODIs and 49 T20Is, scoring 1,877 and 637 runs and picking 87 and 33 wickets respectively. The all-rounder has been an important part of the team since his debut. He was a part of the 2019 World Cup-winning England team. Moeen had announced his retirement from Test cricket in September 2021. In addition, he also plays in Pakistan and Indian Premier Leagues. Ahead of IPL Mega Auction 2022, Moeen Ali was retained by Chennai Super Kings for 8 crores INR.
Who is Moeen Ali's wife Firoza Hussain?
Firoza Hussain is English all-rounder Moeen Ali's wife. The couple got married at a young age. It is said that Moeen was only 21 when the two got married. However, they didn't break the news. It was only after an English Cricket correspondent had broken the news of their marriage. Social media was stirred by this information. Later, Moeen Ali had confirmed his marriage in an interview. Moreover, he also revealed that the marriage was arranged by their parents. It is widely believed that while Moeen was on a cricketing tour to Bangladesh, he had met Firoza.
Later, Moeen had asked his parents to go and talk to Firoza's parents about marriage. Soon after the couple tied the nuptial knot in a private ceremony. The ceremonies were kept low-key to attract no media and the marriage was kept private for a long time. Until a sports correspondent broke the news.
Also read: Who Is Faf Du Plessis's Wife? Know All About Imari Visser
Does Moeen Ali have children?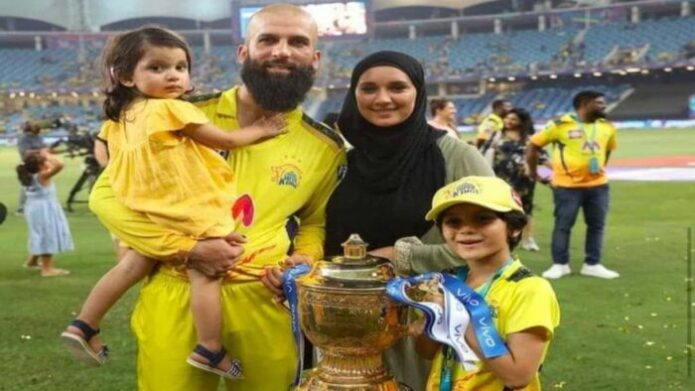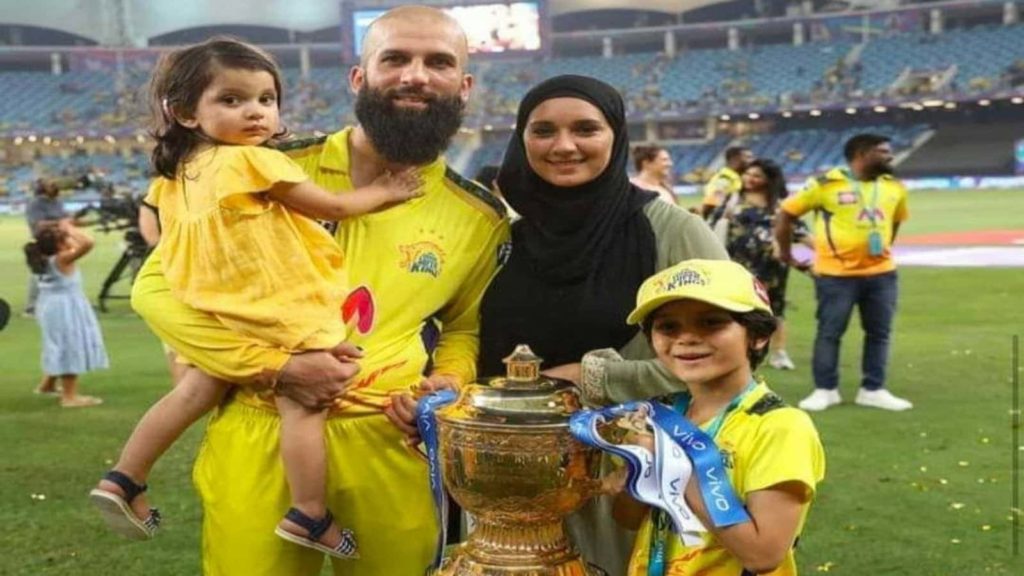 The couple has been married for over a decade now. Moeen Ali and Firoza are parents to two beautiful kids. The couple has a son and a daughter. Son, Abu Bakr is older than his sister Haadiya. Moeen's family likes to be present at important matches. His kids and wife also accompany him to T20 Leagues like IPL. Firoza can be seen with other cricketers' wives in the stands, supporting her husband. Abu Bakr has also shown interest in cricket and is said to have a bowling action similar to Lasith Malinga.
Also read: Who Is Glenn Maxwell's Girlfriend? Know All About Vini Raman
All you need to know about Firoza Hussain?
Firoza Hussain was born in Sylhet, a city in Bangladesh. Since her marriage to Moeen Ali, she has been living in Birmingham, England. She is a supportive wife and travels with Moeen Ali to his international and league matches. In addition, she is also a doting mother to kids Abu Bakr and Haadiya. Firoza prefers to stay away from the limelight. Moreover, she is also a very religious person. And can be seen donning the hijab, whenever in public. Not a lot of information about her early life and education is available because of the privacy she wants in her life. She also wants her son Abu Bakr to be a religious scholar.
| | |
| --- | --- |
| Name | Firoza Hussain |
| Birthplace | Sylhet, Bangladesh |
| Nationality | Bangladeshi |
| Occupation | Homemaker |
| Spouse | Moeen Ali |
| Married on | Not known |
| Children | Abu Bakr and Haadiya |