Test cricket came into being with the match between Australia and England in Melbourne in March 1877. Since then, Test cricket has seen many ups and downs, but even after 140 years, this format of cricket has not shaken from its place. In this era of T-20s and ODIs, Test matches have been successful in maintaining their popularity thus far. The greatest players of the world have demonstrated their skills due to this format of the game. This game, played in four innings for five days, is so alluring that it sometimes obliterates the thrill of T-20 and ODI before it. In the purest form of cricket, teams have piled tonnes of runs. So let's look at the 10 highest team scores in Test cricket.
10. West Indies – 751/5 d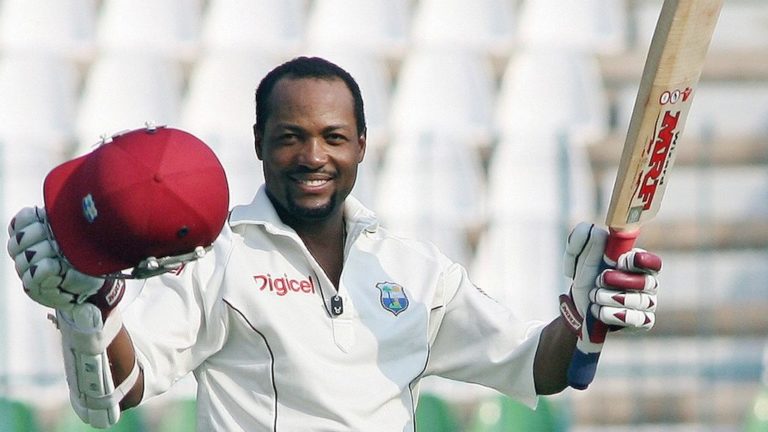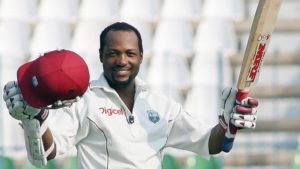 The West Indies cricket team holds the tenth highest team total in the history. In April 2004 the Caribbean team stockpiled a gigantic total of 751 runs against the formidable England in the first innings. West Indies team batted for a total of 202 overs and scored at a rate of 3.71 runs per over. Brian Lara scored a magnificent 400 not out, which remains the only quadruple century in international cricket till date. Brian Lara spent nearly 13 hours on crease during his marathon knock. Apart from Lara, Jacobs also scored a century.
Also Read: Virendra Sehwag's Six Unbreakable Cricket World Records
9. Sri Lanka 756/5 d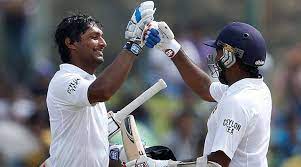 Bowling first, the Sri Lankan bowlers skittle out South Africa for 169 on day 1. Then Sri Lanka batted for a world record partnership of 624 runs between Sangakkara and Jayawardene. Both stalwarts of Sri Lankan cricket settled the things for Sri Lanka. It was a wonderful display of batting by both the batsmen. It was going to be tough for South Africa in the second innings, but despite that, they battled well to get the match to the fifth day. Though they couldn't dodge the defeat and lost the game by an innings and 153 runs.
8. Australia 758/8 d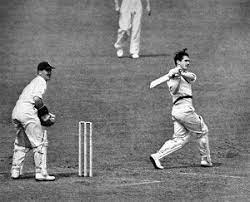 In the match played at Sabina Park, the Kangaroo batters toyed with the Caribbean bowling. Back at that time, when Australia set this record, it was the third-best score in a Test inning. Nell Harvey (204), Colin McDonald (127), Katen Miller (109), and Ron Archer (128) made useful contributions to the Aussies. Australia won the match by an innings and 82 runs.
7. India 759/7 d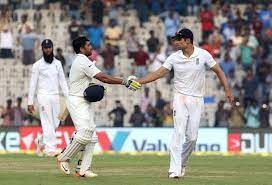 India appears on 7th among the top 10 highest team scores in test Cricket. The relentless Team India under the leadership of Virat Kohli made this record in the 5th Test match of the series against England, played in Chennai. Karun Nair (303 *) and KL Rahul (199) volunteered runs for India in this match. In response, England slumped like a drunk with sunstroke. They scored 477 in the first innings and 207 in the second innings. As a result, lost the match to India by a huge margin of an innings and 75 runs.
Also Read: Top 10 Greatest Off Spinners of all time
6. Sri Lanka 760/7 d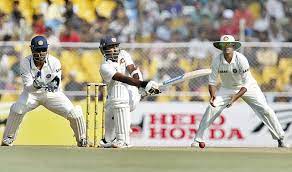 This match played at Ahmedabad saw 21 wickets and seven centuries in five days. Mahela Jayawardene scored 275 in this innings of 760 runs for Sri Lanka. At the same time, Prasanna Jayawardene (154 *) and Tillakaratne Dilshan (112) also scored centuries. The Indian bowling, on the other hand, seemed rather flat on an unresponsive track. However, the match ended in a draw, thanks to some final day heroics of Sachin and Gambhir.
5. Pakistan 765/6 d
In this Test match played in Karachi on 21 February 2009, Sri Lanka won the toss and batted first, thanks to excellent double centuries from captain Mahela Jayawardene and Samaraweera, scoring a mountain-like score of 644/7 in the first innings. Pakistan also gave a befitting reply, hanging 765/6 runs on the board. Younis Khan scored the first triple century of his Test career for Pakistan, while Kamran Akmal played a brilliant innings of 158 runs to support Younis Khan. Amid this pile of runs, no team was able to take 20 wickets of the opposition, and the match was drawn. Younis, who played a match-saving inning of 313 runs for Pakistan, was adjudged 'Man of the Match'.
4. West Indies 790/3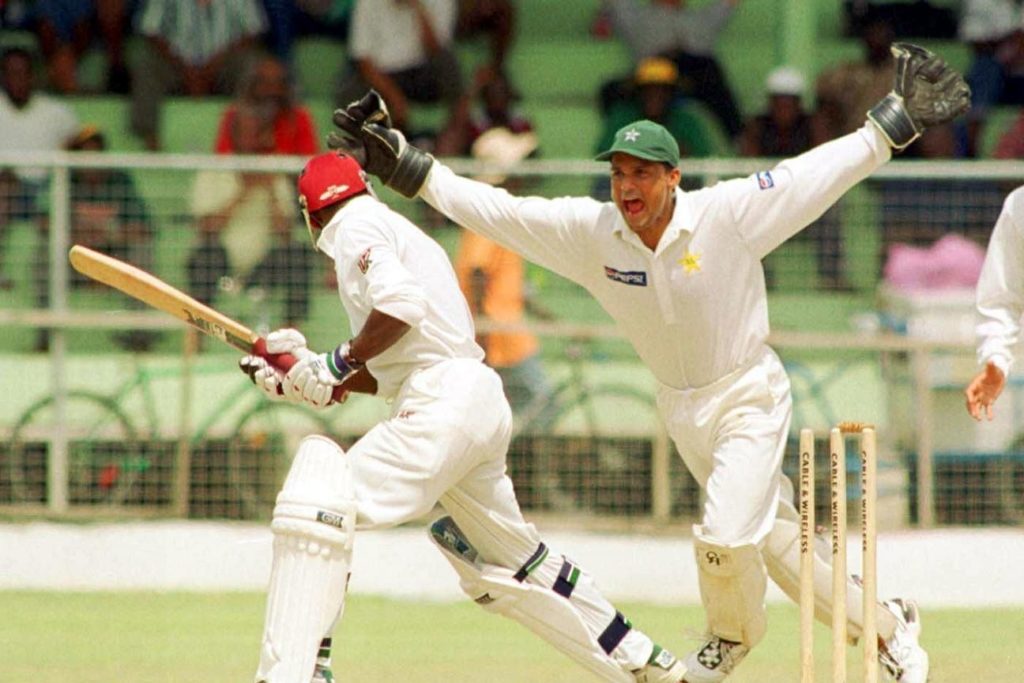 In this match played in Jamaica, West Indies defeated Pakistan by an innings and 174 runs. Batting first, Pakistan scored 328 runs in the first innings, with captain Imtiaz Ahmed scoring a century for Pakistan. In response, the West Indies team put 790 runs on the board for the loss of just 3 wickets and took a lead of 462 runs over the Pakistan team. Pakistan's second innings was also reduced to 288 and West Indies won the match by an innings and 174 runs. In this match for West Indies, Conrad Hunt scored a brilliant double century while Gary Sobers played a historic inning of 365 runs, which was the highest Test score of that era, which was later taken over by Brian Lara.
3. England 849-all out
In that era of cricket, test matches were played till the results come. In 1930, the England team went on the Caribbean tour. The match, that started in Jamaica on 3 April, saw England score 849 runs in the first innings while batting. Andy Sandhom's 325-run innings was responsible for England's score. Chasing England's 849, the West Indies team was reduced to just 286 runs in the first innings. England scored 272 runs in the second innings and set West Indies a target of 836 runs. After bowling for almost two days, when the England bowlers could not get the West Indies out, both the captains mutually declared the match a draw.
2. England 903/7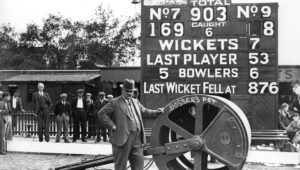 England won this fifth Test match of the Ashes series, which started at the Oval on 20 August 1938, on the fourth day itself. In the match, England won the toss and batted first, and scored 903 runs for the loss of 7 wickets, in response to which Australia could score a total of 324 runs in both innings. In this way, England defeated Australia and won the match by an innings and 579 runs. Sir Len Hutton played a historic inning of 364 runs for England in this match.
Also Read: Top Five Best Men's T20 Cricket leagues in the world
1. Sri Lanka 952/6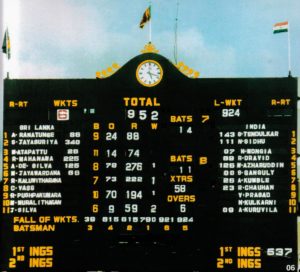 Sri Lanka tops the list of top 10 highest team scores in test Cricket. In this match held at Premadasa Stadium in Colombo, both the teams could play only one inning each. In the first Test match of the series, India won the toss and elected to bat first, thanks to centuries from Sidhu, Azhar, and Sachin, India declared on a score of 537/8. The Sri Lankan innings began in the final session on the second day of the match and continued till the fifth day of the match. Had there been a few more overs in the match, perhaps the Sri Lankan team would have tried to touch even the 1,000-run mark. Sri Lanka batted for more than 3 days and finished their first innings at 952 runs for 6 wickets.
This is the highest score in the history of Test cricket which is still intact. In this match, Jayasuriya scored the highest 340 runs for Sri Lanka while Roshan Mahanama scored 225 runs. In the entire 5 day's play, the bowlers of both teams could take only 14 wickets.
| | | | |
| --- | --- | --- | --- |
| Rank | Team | Score | Opponent |
| 10 | West Indies | 751/5 d | England |
| 9 | Sri Lanka | 756/5 d | South Africa |
| 8 | Australia | 758/8 d | West Indies |
| 7 | India | 759/7 d | England |
| 6 | Sri Lanka | 760/7 d | India |
| 5 | Pakistan | 765/6 d | Sri Lanka |
| 4 | West Indies | 790/3 d | Pakistan |
| 3 | England | 849/10 | West Indies |
| 2 | England | 903/7 d | Australia |
| 1 | Sri Lanka | 952/6 d | India |