Punjab Kings and Royal Challengers Bangalore lock horns in the 27th match of the Indian Premier League 2023 at Mohali. Refresh to catch all the updates from the PBKS vs RCB clash.
PBKS vs RCB: Live Score and Update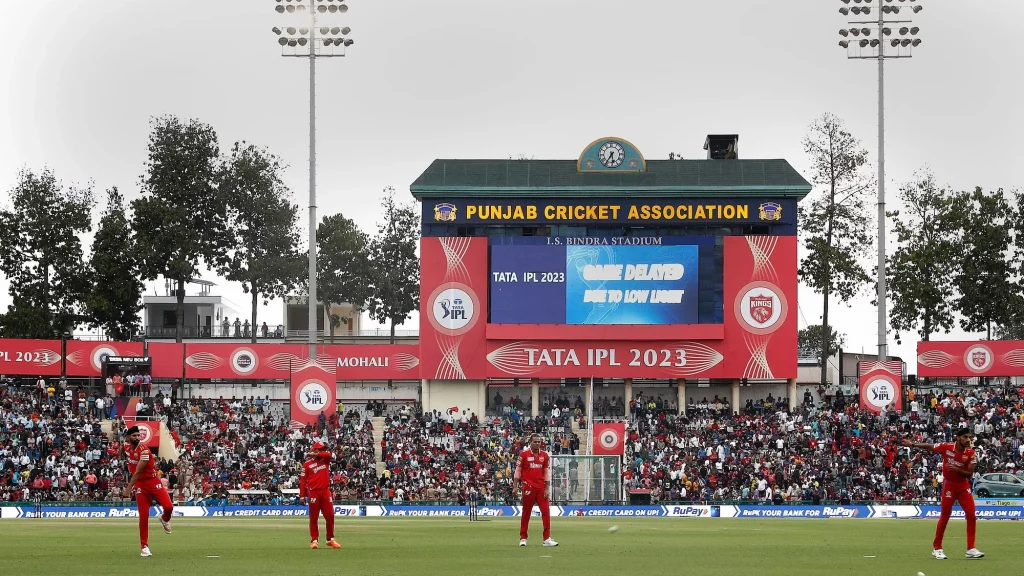 PBKS vs RCB: RCB claim valuable points!
Siraj has blown Punjab today with bowling. Champion Level stuff by him. He ended with 4/21 in his 4 overs. Punjab Kings kept losing wickets at regular intervals and that clearly came back to haunt them. Required Rate was never an issue for them, but they didn't had wickets in hand in the last 5. Jitesh tried his best to pull a miracle, he built a partnership with Brar. But Siraj removed Brar and Ellis in his last over to dismantle the recovery. Punjab have a lot of issues to address in their batting as they fall 24 short of RCB's total.
We shift our attention to the DC vs KKR game, where toss is delayed. There is light rain around at the ground. Switch tabs and catch all the updates.
Last 5 overs coming-up!
..How things stand!!
PBKS 125/7 (15) | CRR: 8.33 RRR: 10
Punjab Kings need 50 runs from 30 balls
Jitesh Sharma 25 (16)
Harpreet Brar 7 (6)
Can Jitesh pull this off??? Punjab Kings are slightly behind on the DLS par score at this stage of the game.
The big hitting SRK departs!
Hasaranga bowls a googly, Shahrukh charges down and misses. DK completes the stumping and RCB get their 7th wicket. The wind has picked up at the IS Bindra Stadium in Mohali. The sky is getting dull and more overcast. Amidst this weather Punjab Kings are struggling at 110/7 after 13 overs. They need Jitesh to play a blinder if they have to win from here, given the rain stays away for another 30-40 mins.
Parnell cleans up Prabhsimran!
Prabhsimran chrages down the wicket and gets no where near the pitch of the delivery. Ends up being cleaned-up loosing his off pole. Punjab Kings are keeping up with required rate but keep loosing wickets at untimely stages.
Shahrukh Khan ends the over in SRK style, pounding a maximum down the ground. PBKS 103/6 after 12 overs, need 72 runs from 48 balls.
PBKS vs RCB: Halfway Stage Update!
Punjab loose their captain Sam Curran due to lazy running. He is caught short of his crease at the bowling end. He though he would make it comfortably. Embarrasing dismissal for Curran.
PBKS 77/5 after 10 overs | CRR: 7.70 RRR: 9.80
Punjab Kings need 98 runs in 60 balls!
Prabhsimran Singh 39 (26)
Jitesh Sharma 0 (0)
PBKS vs RCB: Powerplay ends with PBKS 49/4!
Punjab Kings' innings has progressed rapidly – be it scoring runs or loosing wickets. Boundaries have flown to different parts of the ground and also many batters have came in and went out! An eventful powerplay. The sky has started to get a little overcast so both teams would have an eye on the DRS score, more so Punjab. Prabhsimran and Curran in the middle for them, they need 126 runs more from 84 balls!
Bullseye from Siraj!
Yes-no, stranded and Siraj smashes the stumps with a direct-hit. Harpreet Singh Bhatia is gone for 13. He proves that bowlers do have great aim. Punjab Kings loose 4 and captain is at the crease!
Another successful DRS, Siraj gets second!
Another appeal, Umpire said not out! Virat reviews and the review shows three reds on ball tracking. Not a happy return for Liam Livingstone as he dismissed for 2 runs. But RCB and Virat Kohli are elated. Just the start they would have wanted. Pressure on PBKS now, they have fallen in a similar situation like last game. PBKS 27/3.
Hasaranga strikes with his first ball!
Googly leads to Short's wicket again. He didn't pick the googly against Rashid, he doesn't pick it now too. Comes down the track and is beaten by spin. The ball crashes into the leg stump. PBKS 20/2.
Siraj strikes second ball!
A huge LBW appeal but the umpire didn't move his fingers. Virat reviews and the review shows the ball crashing into middle-leg. A successful DRS off the second ball and Siraj gets the first wicket. What a gun bowler Siraj has turned into.
0.2 Siraj traps Atharva Taide in front of the wicket! PBKS 4/1
0.1 Atharva Taide clips Siraj for a boundary!
Impact Player (PBKS): Prabhsimran Singh comes in for Rahul Chahar!
Impact Player (RCB): Vijaykumar Vyshak comes in for Faf du Plessis!
PBKS vs RCB: Target set for Punjab, 175 to chase!
Terrific comeback by Punjab Kings. RCB looked well set for a score of 185+. They have been restricted for 174/4. Last 5 overs: 44/4. They slowed down in the middle and this pressurized Maxwell and DK to get going from the first ball. They failed and the innings sort of had an anti-climax finish.
The target for Punjab Kings is 175 runs from 120 balls. Slower balls are gripping in the wicket. This being a day game, RCB don't have to worry about due. RCB have quality spin and bowlers with good cutters and pace-off deliveries. Remember PBKS have a slightly inexperienced batting order with a lot depending on Livingstone. Will PBKS chase this or will RCB defend this?
Virat Kohli today:
SR vs pace: 165 (26 balls)
SR vs spin: 76 (21 balls)
RCB 3-down, Faf gone!
Faf is dismissed by Nathan Ellis for 84. He hit a clean six on the previous delivery. He goes for another maximum because he has no other choice and holes out. Sam Curran pouching the catch in the deep. End of another brilliant knock by Faf du Plessis. RCB 154/3 after 18 overs. Faf's dismissal has certainly reduced 10 runs from what PBKs will chase.
Brar gets Kohli-Maxi off successive balls!
Brar breaks the openning partnership. Jitesh takes a sharp catch behind the stumps. Virat dismissed for 59 (47 balls). Then a flighted delivery ends up being sliced in the air and Taide takes a comfortable catch. Brar was on hattrick but he couldn't get past a clam DK to claim it. RCB 145/2 after 17 overs. How many will RCB get ?
PBKS hold the set batters, RCB look to finish well in last 5!
Punjab Kings have done extremely well. Overs 9-14 have only accounted for 34 runs. They haven't picked up a wicket but have kept the batters in check. Royal Challengers would hope Faf and Kohli start hitting it out of the park with only 30 balls remaining in the innings. They haven't lost a wicket and have lot of resources in the shed.
RCB 130/0 after 15 overs.
50 for Virat Kohli!
48th IPL fifty and 3rd against Punjab Kings for King Kohli. It has been an inning of two halves. In the powerplay he faced 19 balls and scored 29 runs off the. After the powerplay, he has only managed run-a-ball 21. In short he has slowed down after the powerplay!
Faf brings up 50 with RCB sailing smooth at the halfway stage!
Faf has notched up another half-century in this edition. This is 29th fifty in IPL. RCB are off to another good start and are looking good to go past 190. The spin is on in an attempt to strangle the batters and choke the runs. But it hasn't shown much effect as both batters milking singles and doubles easily with regular boundaries. RCB 91/0 after 10 overs.
PBKS vs RCB: End of the powerplay!
Familiar start for RCB! Faf and Virat not missing out on any soring opportunities. Faf is 27 off 17 and Virat is 29 off 19. The first two overs were quite, but then Faf and Kohli took on Arshdeep and Brar. The last 4 overs of powerplay were took for 48 runs. RCB 59/0 after the powerplay.
Impact Substitutes
PBKS – Prabhsimran Singh, Mohit Rathee, Shivam Singh, Rishi Dhawan, Sikandar Raza
RCB – Vyshak Vijaykumar, David Willey, Karm Sharma, Akash Deep, Anuj Rawat
Royal Challengers Bangalore Playing XI: Virat Kohli(c), Faf du Plessis, Mahipal Lomror, Glenn Maxwell, Shahbaz Ahmed, Dinesh Karthik(w), Wanindu Hasaranga, Suyash Prabhudessai, Harshal Patel, Wayne Parnell, Mohammed Siraj
Punjab Kings Playing XI: Atharva Taide, Matthew Short, Harpreet Singh Bhatia, Liam Livingstone, Sam Curran(c), Jitesh Sharma(w), Shahrukh Khan, Harpreet Brar, Nathan Ellis, Rahul Chahar, Arshdeep Singh
Toss Update: Punjab Kings have won the toss and will bowl first!
Virat Kohli is leading RCB today!.. Sam Curran will lead Punjab Kings. Faf will the impact sub for Vyshak informs Kohli at toss.
'A glorious afternoon in Mohali, there was a bit of rain yesterday night and there could be a bit of weather around today as well. Yesterday's rain has meant that the pitch hasn't been watered too much and that means the pitch is slightly dry. But there are plenty of runs on this surface and the spinners could come into the game later on,' say Daren Ganga and Rohan Gavaskar
Build-Up..
IS Bindra Stadium of Mohali hosts the 27th game of the Indian Premier League 2023. The Shikhar Dhawan-led Punjab Kings face the Royal Challengers Bangalore. Follow the feed for PBKS vs RCB, IPL 2023 Match 27 – Live Cricket Score and Update.
The hosts will enter the game fresh off a stunning victory against the Lucknow Super Giants. The side, led by Shikhar Dhawan, will be looking for another win in the forthcoming game against an already struggling Bangalore.
In the previous match, Royal Challengers Bangalore were defeated by Chennai by 8 runs while chasing an enormous target of 226. Both teams have been inconsistent this season. Punjab Kings have the edge over the Royal Challengers Bangalore winning 17 of the 30 games. Punjab Kings have won four of their last five games against RCB.
WHAT TO EXPECT?. Batters love playing at this surface. On this surface, a high-scoring contest is possible. Choosing to bowl first on the surface and chase the total might be a good move on the pitch.
For more such interesting content, please keep visiting thesportslite.com
Do follow us on: Facebook | Instagram | Twitter | Youtube | LinkedIn
Have a good day ahead 🙂