Delhi Capitals take on Kolkata Knight Riders in a quest of their first win in IPL 2023! This will be match 28 and will be played at Arun Jaitley Stadium in Delhi. Refresh to catch all the updates from the DC vs KKR game.
DC vs KKR: Live Score and Update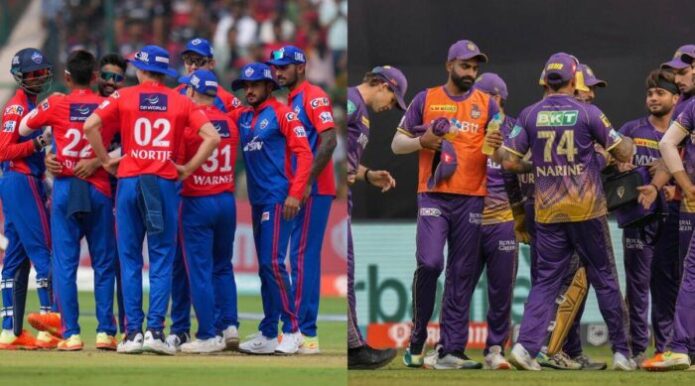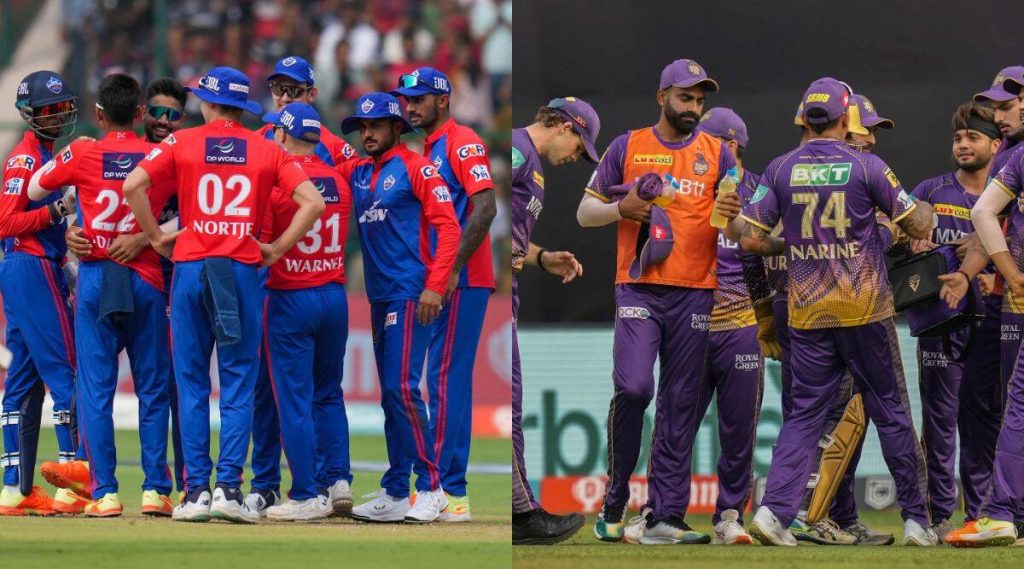 DC vs KKR: DC open their account!
The Delhi Capitals camp is more relived than happy. They have won their first points on the board, but they would imagine how did they let it get this close. From 61/1 after powerplay to 104/4 after 15 overs and eventually down to 7 off the last over. Delhi Capitals have won but have a lot of work to be done in the batting department. But for now they can smile as they taste victory for the first time. This may give them the much needed confidence that can help them perform better in coming matches.
7 runs | 6 balls… Hold on to your seats, we have a thriller at our hands!
DC 116/6 | 12 runs to win | 12 balls left
KKR are alive!
DC loose two more wickets in quick time. First Manish Pandey took the bait offered by Anukul Roy. He clipped the tossed-up delivery to long-on.
And then Nitish Rana bowls a beauty to dismiss Aman Khan for a duck! KKR are back in the game for sure. DC management must be scratching their heads. Kevin Pietersen maid a point on-air about the pressure of 5 defeats. Well it is showing as DC are panicking here! Nervous faces in DC camp.
DC 113/6 (17).. need 15 runs in 18 balls.
Warner gone!
The Delhi Capitals are certainly feeling the pressure now. Their captain David Warner who held the innings together has been dismissed. DC have Axar Patel and Manish Pandey at the crease. They would hope this pair can get them home.
DC have scored only 10 runs in the overs 12-14 that includes a maiden too. DC 104/4 after 15 overs. 24 more to get! …KKR would want one more wicket here and preferably Pandey!
Warner brings up his 4th fifty this season!
David Warner continues his terrific form this season hitting his 4th fifty in 6 innings. The most important thing is that he scored that fifty at strike of 150+. He has answered all issues on his strike rate today. However, he is yet to hit a six this IPL. Can he score his first maximum tonight?
Another one falls!
Phill Salt is dismissed off the third ball on his IPL debut. Salt drives this back to the bowler and Anukul Roy takes the catch. DC 69/3 now after 9 overs. Anukul came in as an impact player to create an impact with the bat, but he is doing it with the ball! KKR won't mind any of this.
Last 18 balls | 8 runs 2 wickets.
Failed with bat, strikes with the ball!
KKR skipper Nitish Rana gets the breakthrough. He failed with the bat but he delivers with the ball. Marsh drills this outside-off ball and man and long-on hops and holds the catch. DC 67/2 after 8 overs.
DC vs KKR: Powerplay Ends!
Delhi Capitals 61/1 (6 overs) | CRR: 10.16 RRR: 4.78
Capitals need 67 runs in 84 balls (Target 128)
David Warner 45 (25)
Mitch Marsh 1 (1)
Shaw chops on!
Prithvi Shaw had a great chance to put his demons behind him and score some runs this season. But he fails once again. It is still not working for him. Shaw tries to cut but the delivery is too close to cut, and he edges it back on the stumps. DC 44/1 after 5 overs.
DC vs KKR: KKR bowled out for 127!
A good bowling performance by the Delhi Capitals. Warner could have bowled Kuldeep earlier and closed the game, but nevertheless, they have restricted them to a chasable target. Russell has given them something to bowl at with his innings. KKR threw wickets away in the powerplay and in the middle and paid the price. They should have built partnerships on this track.
The target for Delhi Capitals is 128 runs from 120 balls. The pitch isn't the easiest to bat on. The ball might swing in the early overs. Delhi batters need to be cautious and play sensibly. Also they have the pressure of losing their first five games playing on their mind. For KKR, the total is certainly defendable but they would need to take wickets in the powerplay. What happens next? ..Do DC get their maiden points?…. The reply coming up shortly.
Roy departs for 43!
Kuldeep Yadav gets the set batter of KKR. He fought hard in trying to decipher a way to attack on this pitch. He failed to figure one. In all due respect, The pitch isn't the easiest one to bat and wickets falling around him haven't helped. But he should have carried on and built a partnership with Russell.
KKR bring in the impact player Anukul Roy in for Venkatesh Iyer. And he only lasted one delivery. Kuldeep trapped him in front of the wicket. DRS failed to save him as it showed 2 reds and 1 umpire's call. KKR 94/8 after 15 overs.
Impact Player (DC): Prithvi Shaw IN, Ishant Sharma OUT!
Rinku gone!
Half of the side back in the hut now for KKR. Rinku Singh is latest to depart. Axar Patel picks up the wicket. This ball was tossed up on middle and leg and Rinku sweeps straight to deep square leg.
Ishant Sharma gets Sunil Narine the very next over. Just one boundary off Axar Patel in the six deliveries he faced. He tried to muscle another one but picks out the fielder at deep mid-wicket. KKR sink further, 70/6 now in 11.2 overs. Dre Russ comes out to bat with 51 balls remaining in the inning.
DC vs KKR: How things stand at halfway mark!
KKR 64/4 (10) | CRR: 6.40 Projected Score: 137
Jason Roy 34 (30)
Rinku Singh 6 (6)
Axar removes Mandeep!
Mandeep tries to scoop but misses the ball. The ball hits the top of the middle stump and Mandeep would have to walk back. His poor run this season continues. KKR 54/4 (9 overs).
DC vs KKR: Powerplay ends, KKR captain departs!
Another wicket inside the powerplay, Delhi Capitals take a decent start in the powerplay. Nitish Rana wanted to break the shackles and tried to launch this down the ground. He fails to connect and good catch by Mukesh Kumar at mid-on. We have seen Warner being electric in the field this powerplay!
KKR 35/3 after 6 overs.
Centurion departs for a duck!
Second wicket for Delhi Capitals. Venkatesh Iyer is gone for a second-ball duck. A proper test match dismissal this, Edged and Taken in first slips. Anrich Nortje is off and running in the match. KKR 25/2.
DC strike first blood!
Mukesh Kumar bowls a short ball and Litton goes for a hook. He top edges this and it spoons to square leg. KKR 15/1 after 2 overs.
Impact Subs
DC: Prithvi Shaw, Yash Dhull, Sarfaraz Khan, Chetan Sakariya, Ripal Patel
KKR:  Anukul Roy, Vaibhav Arora, David Weise, Suyash Sharma, Narayan Jagadeesan
Kolkata Knight Riders Playing XI: Jason Roy, Litton Das(w), Venkatesh Iyer, Nitish Rana(c), Mandeep Singh, Andre Russell, Rinku Singh, Sunil Narine, Kulwant Khejroliya, Umesh Yadav, Varun Chakaravarthy
Delhi Capitals Playing XI:  David Warner(c), Philip Salt(w), Mitchell Marsh, Manish Pandey, Axar Patel, Aman Hakim Khan, Lalit Yadav, Kuldeep Yadav, Anrich Nortje, Ishant Sharma, Mukesh Kumar
Toss Update: Delhi Capitals have won the toss and will bowl first!
News!
Update: Toss will be at 8:15 PM and the match will start at 8:30 PM. No reduction in overs. Yay!
7:45 PM: The covers came off around 7:35 PM and an inspection was due at 7:45 PM. But rain is back!
7:22 PM: The covers were started to be removed. But the rain appeared again. The wait will continue. DC Players were warming-up near the square half-an-hour ago. The pitch and runup areas are the only areas to be under cover.
Toss Update: Light rain has delayed the toss at Arun Jaitley Stadium.
Looks like a very good surface, it's a bit dry underneath. There shouldn't be a huge amount of spin, particularly later in the day. The ball can swing a little early on in the powerplay if it's pitched in the right areas… says Aaron Finch in Pitch Report.
Build-Up..
The Delhi Capitals' quest for their first IPL 2023 victory continues as they face the Kolkata Knight Riders in the 28th league match at the Arun Jaitley Stadium. Follow the feed for DC vs KKR, IPL 2023 Match 28 – Live Score and Update.
The hosts enter the game on the tail of five consecutive defeats and appear to be the early favourites for this year's wooden spoon. Meanwhile, their impending opponents, the Kolkata Knight Riders, are hoping for a much-needed win after two consecutive defeats. Nitish Rana's team has faltered to be decisive in the tournament's 16th edition, with bowling proving a glaring weakness for the two-time champions.
A victory would serve well for both teams but more so to Delhi Capitals.
WHAT TO EXPECT?….
The slower bowlers had significant help in the last encounter at this location. Given the sluggish nature of the surface and the potential of dew affecting bowlers in the second innings, the side winning the toss in Delhi will be likely to bat first.
For more such interesting content, please keep visiting thesportslite.com
Do follow us on: Facebook | Instagram | Twitter | Youtube | LinkedIn
Have a good day ahead 🙂