Hello and a warm welcome to the 43rd league game. It's the Lucknow Super Giants taking on the Royal Challengers Bangalore locking horns at the Ekana Stadium in Lucknow. Refresh or swipe up to catch the latest updates from the LSG vs RCB clash!
LSG vs RCB: Live Score and Updates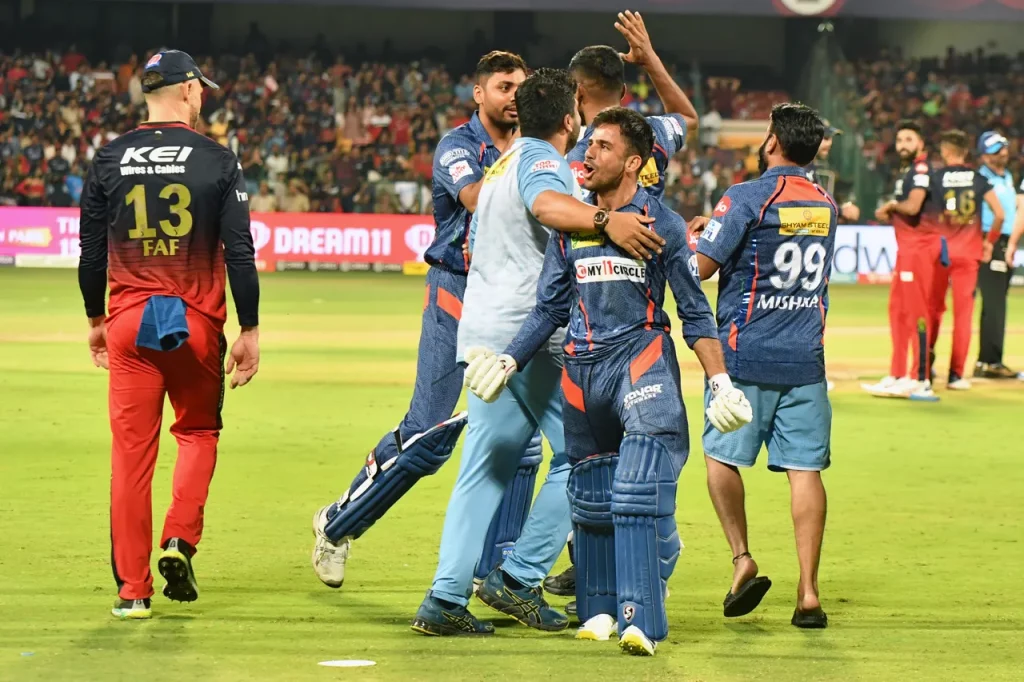 LSG vs RCB: RCB win easily!
These two teams produced a 425-run thriller earlier in the season, but today it was a complete struggle for the batters on a very difficult pitch. But in the end RCB walk away with a win. They had 126 to defend and they made it look like plenty. LSG never got going in the chase. They wanted to maximize the powerplay and ended up loosing 8 wickets eventually being bowled-up for 108. RCB win by 18 runs.
KL out to bat despite injury!
KL Rahul finally comes in to bat with LSG needing 24 runs off 8 balls. He has came to bat even with an injury. Naveen-ul-Haq is caught behind in an attempt to ramp Hazlewood.
LSG vs RCB: LSG are sinking!
Bishnoi and Mishra are struggling to get singles. The required rate has crept up to 9 RPO. And the pressure transformed into another run-out. Bishnoi gone trying to take a second, and LSG are eight down! It was reverse-swept to backward point where it went just over Hazlewood's head. Harshal runs in from short third gathers the ball and throws straight to Karthik who dislodges the bail to catch a diving Bishnoi short of the crease. LSG 8 down now. Naveen-ul-Haq comes out to bat. KL is padded-up to come in next! LSG are 78/8 after 15 overs and need 49 runs from 30 balls.
Gowtham is runout!
Krishnappa Gowtham was batting so well but has to depart after being caught guilty of casual running. He pushes it through backward point and runs hard. It's tight on the second run with the fielder charging across, but Gowtham risks it. And he pays. He took the second run casually. He didn't stretch his arm nor put in a dive. Poor cricket this from Gowtham and LSG! They lose their 7th wicket for the score of 66. Need 61 runs from 53 balls.
Partnership broken!
Karn floats the leg-break wide outside off, Stoinis is tempted to go after it and goes for a big lofted shot. The ball grips and then turns catching the outside edge. It ends up being up a slice rather than a shot and Prabhudessai catches the ball comfortably. LSG lose 6 for 65. Bishnoi comes out to bat! KL is seen wearing his gear. He might be in to bat if a wicket falls.
Impact Player(RCB): Harshal Patel replaces Anuj Rawat!
LSG vs RCB: Stoinis-Gowtham stitching a stand!
A partnership is building for Lucknow Super Giants which is 25 off 18 right now between Marcus Stoinis and Krishnappa Gowtham. 21 off them has been scored by K Gowtham who is taking his chances to score big. LSG are not allowing the required rate to climb but they did lose 5 wickets in doing that. They are 63/5 after 10 overs. 64 more runs needed from 60 balls. wonder if they keep looking for sixes!
LSG lose half their side!
Full delivery outside leg stump and Pooran tries to hit that on the highway. This was bound to happen. Right from ball one you could sense that Pooran was here to counter attack. He picked the right ball but just didn't get the desired timing. Lomror takes the catch at deep square. Half the side back in the hut for the home side. LSG 38/5 after 7 overs.
LSG vs RCB: Wickets falling as bowling pins!
The Lucknow Super Giants are losing wickets in a hurry. They went hard in the powerplay and lost wickets. RCB has bowled with discipline and are hence reaping rewards. Deepak Hooda is the latest to depart. Googly tossed up nicely on a length just outside off stump. Hooda goes searching for it and plays all over it as the ball snakes past the inside edge. Karthik whips off the bails in a flash. LSG are 34/4 at the end of the powerplay! They need 93 runs in 84 balls.
RCB all over LSG!
Another one bites the dust and it is Badoni this time. We have a match on our hands folks. In the slot outside off stump and Badoni's eyes light up. He tries to go inside out but does not quite get the elevation he is after. Virat leaps and catches the ball. RCB skipper is pumped! LSG 21/3.
Maxi strikes!
Krunal Pandya bites the dust. Just a tiny bit of air and on a length outside off stump. Krunal dances down the track but fails to arrive at the pitch of the ball. Finally, he chips it straight to Kohli at long off, who makes no mistake! LSG in a spot of bother now with 21/2 after 4 overs.
Mayers gone!
Mayers bags a two-ball duck. He has failed to score against RCB in both matches now. Siraj getting him twice in the season. Excellent start for RCB. Just the start you desire when your are defending a low total. LSG 0/1
Impact Player (LSG): Ayush Badoni is in for Yash Thakur. And he is opening the innings for the first time in IPL! They haven't substituted injured KL. This means he might bat in this innings if required. He is seen limping with a bat towards the dugout on the sidelines.
LSG vs RCB: RCB end with 126/9!
Only 8 boundaries have been struck tonight by RCB. This is the fewest numbers of boundaries hit by a team this season. RCB slipped from 62/0 to 90/4 in a span of 40 deliveries. There was very little intent shown by the batters. Everytime a batter tried to express his intent he lost his wicket. LSG have bossed the first innings as RCB end with 126/9. They would feel they are 10-15 runs short.
The target for Lucknow Super Giants is 127 runs from 120 balls. They should fancy chasing this but they cannot take this target for granted. LSG would remember what happened last time when they were chasing at this ground. KL Rahul might not bat tonight. Powerplay would be the key and they would have to keep the momentum going!
Faf gone!
Amit Mishra gets the RCB skipper. A well tossed-up leg break spins away from Faf as he was trying to go down the ground. It catches a thick outside edge and Krunal Pandya pouches a brilliant catch. RCB are 110/5 after 17 overs. Can RCB score 30 runs in these last 18 balls ?.. DK is the key.
Great News: The shower has passed. Play will resume at 21:15 with no overs lost. 
Update: The drizzle has gotten heavier and the players are going off. The covers are on. Hope this just a short interruption. RCB were 93/4 in 15.2 over when rain stopped play.
LSG vs RCB: RCB 93/4 after 15 overs!
RCB lose another wicket and are losing their way to spin. This one was slower on the stumps, Prabhudessai goes on the back foot, forces it flat, and goes straight to Gowtham. Misjudged that at long-off initially as he was hanging back then had to dive forward and takes a good catch diving forward. Spinners are taking control of the innings. It has been 7 overs since the last boundary. Royal Challengers have Faf and DK at the crease and they need a strong finish. The rain is coming down but yet they are playing on. RCB are 93/4 after 15 overs.
2 wickets in 2 overs!
A good passage of play for the Lucknow Super Giants. First Anuj Rawat picks out deep mid-wicket while pulling a slower outside-off ball. The very next over Bishnoi got Maxwell leg-before as he missed the reverse sweep. He reviewed it but it was just clipping the stumps. Umpire's call working in LSG's favour. RCB 82/3 after 13 overs.
LSG vs RCB: Kohli gone, RCB scoring at 6.5 RPO at the halfway!
Kohli wants to show intent and he is gone. A slight error in judgement as he chose the wrong ball to step down. The googly tossed well outside-off and Kohli missed the drive. The ball spins in and Pooran completes an easy stumping. Kohli departs for 31, RCB 65/1 after 10 overs.
STAT: 50+ partnerships for RCB in IPL 2023: 8, 50+ partnerships for RCB involving Du Plessis in IPL 2023: 7! Just tells you how important the RCB skipper has been with the bat for his side!
LSG vs RCB: Slow but Steady start for RCB!
Royal Challengers Bangalore has accumulates 42 runs in the powerplay. This a good powerplay given the pitch we are playing on. LSG need a wicket. But they'll be worried more about KL and whether he can bat. KL Rahul limped off the field with a hamstring issue. Bad Signs for LSG and they would hope the injury is not severe. Krunal Pandya is captaining the team in KL's absence. RCB are 42/0 after 6 overs.
LSG Impact subs: Ayush Badoni, Daniel Sams, Avesh Khan, Quinton De Kock and Prerak Mankad.
RCB Impact subs: Harshal Patel, Shahbaz Ahmed, Vijaykumar Vyshak, Bracewell and Sonu Yadav.
Royal Challengers Bangalore Playing XI: Virat Kohli, Faf du Plessis(c), Anuj Rawat, Glenn Maxwell, Mahipal Lomror, Dinesh Karthik(w), Suyash Prabhudessai, Wanindu Hasaranga, Karn Sharma, Mohammed Siraj, Josh Hazlewood
Lucknow Super Giants Playing XI: KL Rahul(c), Kyle Mayers, Deepak Hooda, Marcus Stoinis, Krunal Pandya, Nicholas Pooran(w), Krishnappa Gowtham, Ravi Bishnoi, Naveen-ul-Haq, Amit Mishra, Yash Thakur
Toss Update: Royal Challengers Bangalore have won the toss and have opted to bat!
Big News: Josh Hazlewood has marked his run-up at Lucknow. He will get a game tonight! Also Faf is back to lead RCB!
Pitch Report by Sanjay Manjrekar and Rohan Gavaskar: t is a black soil pitch, so the bounce is relatively low. May not be high-scoring, but expect a bigger score than 145. The square boundaries – one side is 72 metres, the other side is 63 metres. Straight it is 78 metres. 
Build-Up..
In the 43rd match of the Indian Premier League 2023, Lucknow Super Giants will face Royal Challengers Bangalore. This match will take place at Lucknow's Ekana Cricket Stadium. Follow the feed for LSG vs RCB: Live Score and Updates.
If the previous game between these two sides is anything to go by, buckle up folks, we are in for a helluva contest. The Lucknow Super Giants won the last encounter between these two teams earlier this season, defeating RCB by 1 wicket off the last ball. The match had a heated and thrilling end. Expect nothing less from the reverse fixture. You can relive the whole game here.
With four wins and four losses in eight games, Royal Challengers Bangalore are fifth in the points table. They were defeated by the Kolkata Knight Riders by 21 runs in their last encounter. They have been inconsistent throughout the season, and their batters have struggled to make an impression except Kohli, du Plessis, and Maxwell. RCB have signed Kedar Jadhav as injury replacement for David Willey to strengthen the middle order.
With 5 wins and 3 losses in 8 games, Lucknow Super Giants are third in the points table. They defeated Punjab Kings by 56 runs in their previous encounter. The Super Giants will be perplexed about returning to Lucknow. Their batting squad, which scored a staggering 257 at Mohali, has struggled on slow home wickets.
Thank you for reading it. Leave us a comment if you liked it.
Do follow us on: Google News | Facebook | Instagram | Twitter | Youtube | LinkedIn
Have a good day ahead 🙂