England all-rounder Moeen Ali has been found guilty of breaching the ICC Code of Conduct. He will be fined 25 per cent of his match fee from the first Ashes Test against Australia. In addition to this, one demerit point has also been added to Moeen's disciplinary record. This was the England all-rounder's first offence in the past 24 months. Moeen Ali has breached Article 2.20 of the ICC Code of Conduct for Players and Player Support Personnel. It relates to displaying conduct that is contrary to the spirit of the game.
Why did the ICC fine Moin Ali?
While fielding Moeen was seen applying a drying agent to his bowling hand at the boundary line. The incident occurred during the 89th over of Australia's first innings at Edgbaston. Moeen admitted the offence and accepted the sanction proposed by Andy Pycroft. So there was no need for a formal hearing. On-field umpires Ahsan Raza and Marais Erasmus, third umpire Chris Gaffaney and fourth umpire Mike Burns levelled the charge.
Also Read: Bangladesh Slam Afghanistan To Record Their Biggest Test Win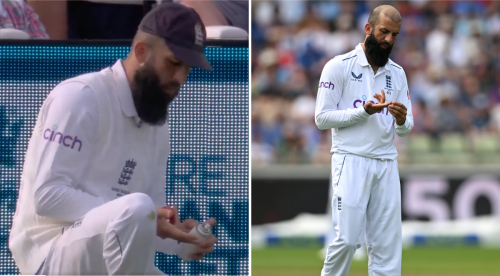 Reviewing the circumstances the Match Referee found that the cream was applied to the finger only to dry his hands. The cream was not applied as an artificial substance to change the condition of the ball. If the cream was applied for changing the ball condition then clause 4.13 was also imposed on Ali. Clause 4.13 relates to ICC playing conditions – Unfair Play – The Match Ball – Changing its Condition. Level 1 breaches carry a minimum penalty of official criticism. Moreover, It also carries a maximum penalty of 50 per cent of a player's match fee, and one or two demerit points.
Also Read: Asia Cup 2023 Format: Is It T20 Or ODI?
Earlier this year, India all-rounder Ravindra Jadeja received a similar sanction during India's first Test against Australia. Jadeja was fined 25 per cent of match-fee for applying a soothing cream to the index finger on his bowling hand.
Thank you for reading it. Leave us a comment if you liked it. Do follow us on: Google News | Facebook | Instagram | Twitter | Youtube | LinkedIn.
Have a good day ahead 🙂