Usman Khawaja has become just the second Australian batter to bat on all five days of a Test match. In addition, he has also become the 13th batter to bat on all five days of the Test match. Former batter Kim Hughes remains the only other Australian to do so. He batted on all five days during the Lord's Test of the 1980 Ashes. Hughes scored 117 and 84 respectively in the two innings of the only test at Lord.
Khawaja showed the strength of character during his 141-run knock in the 1st innings. It was his 15th Test hundred as he showed courage and determination during the second and third day's play. This is also his fourth Test hundred against England but his first on English soil. Khawaja smashed 14 fours and 3 sixes in his knock. Khawaja made a surprise comeback to Australia's Test team in January last year.
Also Read: Moeen Ali Fined For Breaching ICC Code Of Conduct
Here is List of batters who have batted on all five days of the Test match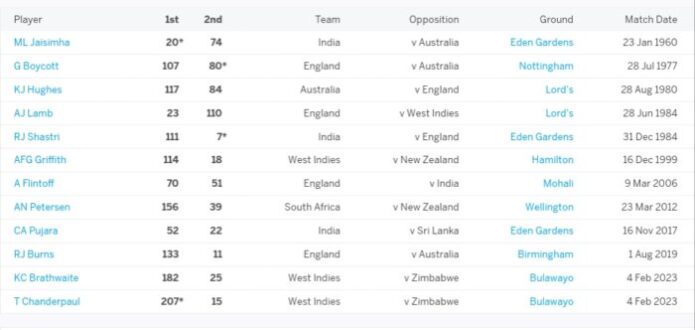 1. ML Jaisimha vs Australia, 1960
2. Sir Geoffrey Boycott vs Australia, 1977
3. Kim Hughes vs England, 1980
4. Allan Lamb vs West Indies, 1984
5. Ravi Shastri vs England, 1984
6. Adrian Griffith vs New Zealand, 1999
7. Andrew Flintoff vs India, 2006
8. Alviro Peterson vs New Zealand, 2012
9. Cheteshwar Pujara vs Sri Lanka, 2017
10. Rory Burns vs Australia, 2019
11. KC Brathwaite vs Zimbabwe, 2023
12. T Chanderpaul vs Zimbabwe, 2023
13. Usman Khawaja vs England, 2023
Also Read: Shyama Dey Shaw Joins BCCI Women's Selection Committee, Thilak Naidu To Head Junior Men's Cricket Team
Thank you for reading it. Leave us a comment if you liked it.
Do follow us on: Google News | Facebook | Instagram | Twitter | Youtube | LinkedIn
Have a good day ahead 🙂