It was not a happy return to cricket for the Indian Captain. Virat Kohli was given out controversially in the first innings of the second and last Test match of the series at the Wankhede Stadium in Mumbai. Kohli was given out lbw by the third umpire Virender Sharma off spinner Ajaz Patel. Virat returned to the pavilion without opening his account in the first innings of the Mumbai Test against New Zealand. His dismissal has sparked a debate over the use of technology in Cricket and the cricketing world seems divided over Virat Kohli's controversial dismissal against NZ
Controversial Decision
After the dismissal of Cheteshwar Pujara, Kohli came to the crease. Ajaz Patel was the bowler in before him. Kohli played the first three balls of Ajaz in a defensive manner. On the fourth ball also he tried to defend but the ball hit the pad. The Kiwis team appealed. Field umpire Anil Chaudhary raised a finger in the air. After this Kohli resorted to DRS.
In the review, it was seen that the ball hit the bat and pad almost simultaneously. However, on progressing the review further, it seemed that the ball had hit the bat first and went towards the pad. The third umpire said that there was no conclusive evidence that the ball hit the bat first. He asked the field umpire to stick to his decision. After this the Indian captain had to approach the pavilion with a heavy heart.
Also read: Revealed! "The pitch will give assistance to fast bowlers". Virat Kohli Press Conference ahead of 2nd Test.
Although before returning to the pavilion, Kohli spoke to the on-field umpire Anil Choudhary but to no avail and he went back to the pavilion with a 4-ball duck. Virat was seen watching replays with the support staff in the dressing room after which he was seen nodding his head in disappointment.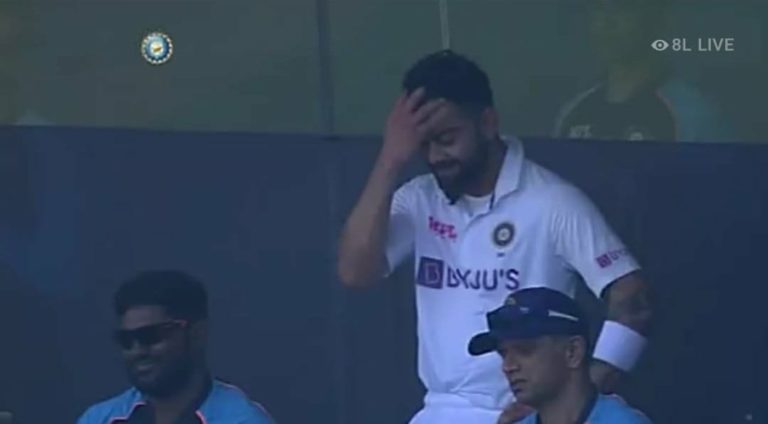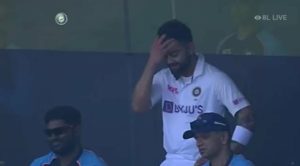 Following this decision, the Wankhede crowd was seen booing the umpires as they come out after the Tea.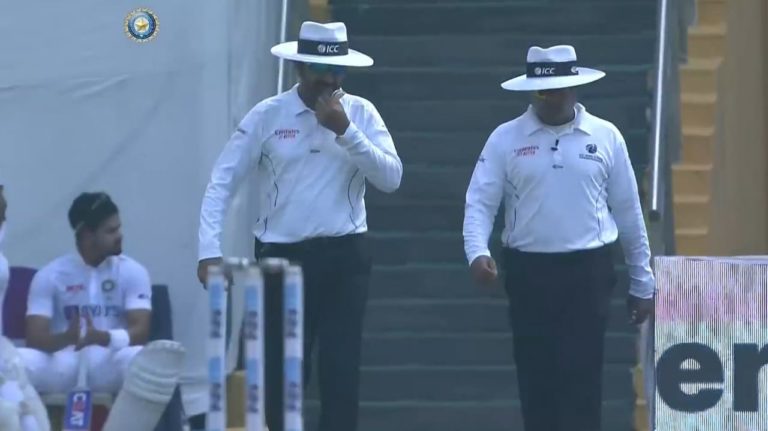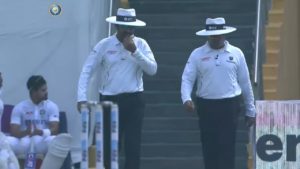 Notably, India ended the day with 221/4 riding on the back of a magnificent century by Mayank Agarwal. However, the Indian batters stumbled a little before the tea, but they held their nerves to avoid any collapse. Meanwhile, Ajaz Patel was the pick of the bowlers scalping all 4 wickets that fell on day 1.
Unwanted Record for Virat
With this, Virat registered an unwanted record to his name. Kohli is the first Indian captain to get out on a duck 10 times in Test cricket. In this list, as a captain, MS Dhoni (8) stands at number two. Kohli has also become the first Indian captain to be dismissed on zero most number of times in a home series. Virat got out for the sixth time in Test matches without opening the account at home. As a result, he overtook the record of Mansoor Ali Khan Pataudi, who was dismissed five times on duck at home. In this list, Mahendra Singh Dhoni and Kapil Dev are placed jointly at number three. Both have been dismissed on the individual scores of zero 3 times in their Test matches at home.
Here are some reactions on the controversial dismissal of Virat Kohli: