Kapil Dev was unarguably one of the finest all-rounders ever to play cricket. To date, he is the only cricketer with more than 5000 test runs and over 400 test wickets. With his achievements at the World Cup of 1983 as a captain, he revolutionized cricket as a sport in India. The World Cup win in 1983 proved to be the turning point for Indian cricket. Commonly known as Haryana Hurricane, Kapil Dev was a very aggressive batter. On numerous occasions, he played some astonishing innings which changed the course of the game. In this article, we look at the 5 best innings of Kapil Dev of all times.
5 Best Innings of Kapil Dev of all times
5) 77 runs* vs England, London, 1990
In the first test match of the series at Lord's, India was 9 down with 24 runs needed to avoid the follow-on. That is when Kapil Dev smashed the English spinner, Eddie Hemmings, for four consecutive iconic sixes and helped India avoid the follow-on. For his 77 runs, Kapil faced just 75 balls and hit as many as 8 fours and 4 sixes.
However, his heroics weren't enough to secure the victory for India. England, eventually, beat India by 247 runs, and Graham Gooch was selected as the player of the match for his first innings score of 333 runs.
4) 126 runs* vs West Indies, Delhi, 1979
Kapil Dev's first international test hundred came against the mighty West Indies in 1979. After winning the toss and electing to bat first, India made 566 runs in the first innings. Captain Sunil Gavaskar, Dilip Vengsarkar, and Kapil Dev scored magnificent centuries to guide India to the huge total. Kapil Dev was in some mood in that match as he bashed the Caribbean bowlers for 11 fours and a six. He took just 124 deliveries for his 126 runs.
India bowled the West Indies out cheaply and forced them to follow on. However, India couldn't bowl them out in the third innings and the test match ended in a draw. Here we have a few excerpts from the match.
Also Read : 5 Indians Who Should Announce Their Test Retirement
3) 110 runs vs England, London, 1990
In The Oval test match, India scored mammoth 606 runs in the first innings. Ravi Shastri opened the innings and made 187 huge runs after India opted to bat first. Kapil Dev provided the finishing touch down the order with his 110 runs. Kapil played 142 balls and hit a total 0f 16 boundaries.
India forced England to follow on after their first innings but they managed to defy the loss and the match ended in a draw.
2) 129 runs vs South Africa, Port Elizabeth, 1992
India was reeling at 5-27 in the third innings of this test match when Kapil Dev came to the crease. Dev held onto one end but the wickets kept falling from the other. But he managed to sneak out a few partnerships with the tailenders and took India's score to 215 runs. He played 180 balls to reach his 129 runs and hit 14 fours along with a solitary six.
Though he couldn't save India from the loss, he should be appreciated for his knock played under immense pressure. He truly justified his character that day. Thus, we think this is one the 5 best knocks of Kapil Dev of all times.
Also Read : 5 Players With Most Runs In T20 Cricket In A Calendar Year
1) 175 runs vs Zimbabwe, Turnbridge, 1983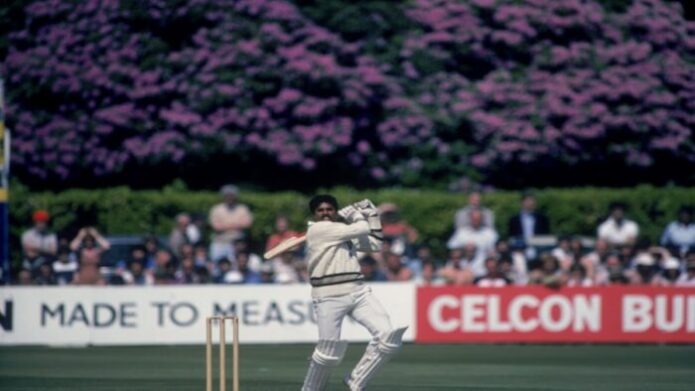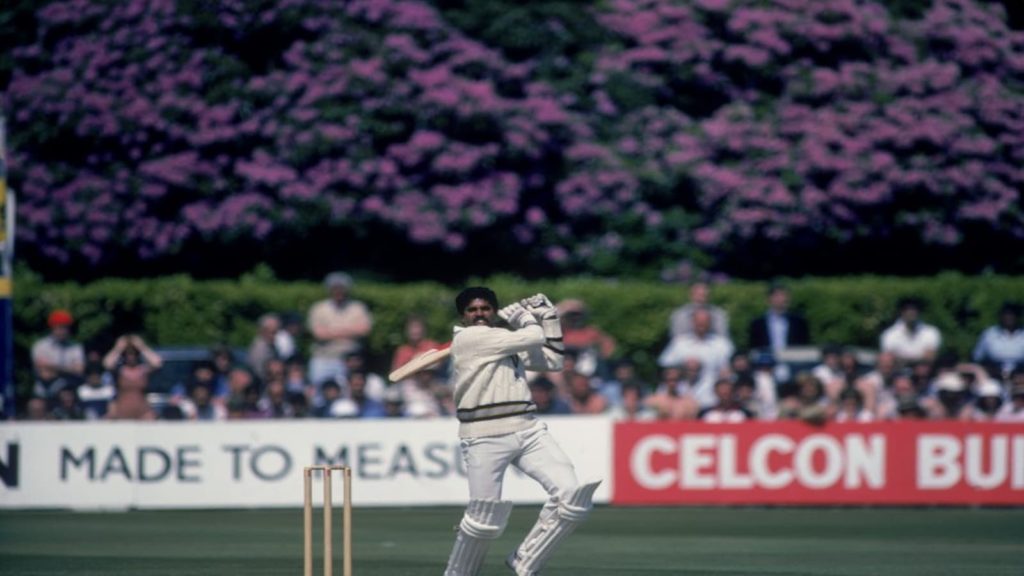 Kapil played a huge role in India's success at the 1983 World Cup. If he hadn't played this masterclass against Zimbabwe that day, cricket wouldn't have been revolutionized in India then. India was 5 down for a mere 17 runs in the must-win match against Zimbabwe. Kapil bludgeoned the Zimbabwean bowling that day with his 175 runs. He hit as many as 6 sixes and 16 fours in the 138 balls he faced.
Eventually, India made a total of 266 runs and won the match by 31 runs to proceed to the next round. Unfortunately, the match wasn't recorded due to the resource crunch of the BBC.
5 Best Innings of Kapil Dev of all times (Summary)
| | | | | |
| --- | --- | --- | --- | --- |
| S.No. | Opponent Team | Year | Format | Score |
| 1 | Zimbabwe | 1983 | ODI World Cup | 175(138) |
| 2 | South Africa | 1992 | Test Cricket | 129(180) |
| 3 | England | 1990 | Test Cricket | 110(142) |
| 4 | West Indies | 1979 | Test Cricket | 126*(124) |
| 5 | England | 1990 | Test Cricket | 77*(75) |