Japanese swimmer Takayuki Suzuki won the host's first gold of the Tokyo Paralympics 2020 at the Tokyo Aquatics Centre. He topped the field in the men's 100-metre freestyle C4 category with an exemplary performance.
This was a very important effort by Suzuki as hosts Japan look to replicate the gold rush that they effected in the Tokyo Olympics.
Italy's Luigi Beggiato bagged the silver medal as he finished 1.63 seconds behind Suzuki's trailblazing effort of 21.58 seconds. Russian Paralympics Committee's Roman Zdhanov walked away with the bronze medal as he finished more than 5 seconds behind Suzuki.
Japan has started its stint in the pool on a really good note as its won three medals at the Tokyo Aquatics Centre. Teenager Miyuki Yamada bagged the first medal for the hosts in the swimming pool on Wednesday.
This was also Suzuki's second medal at the Paralympic Games 2020 as he's already secured a bronze medal in the SB3 50 breaststroke.
He is no stranger to winning medals at the highest stage of them all as he's already a former Paralympics gold medallist when he won gold in Beijing 2008 at the aesthetic National Aquatics centre. Suzuki won this medal in the SB3 50 breaststroke.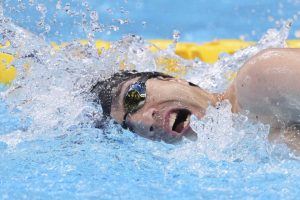 This performance would do a world of good to Suzuki's confidence as the best he could manage at Rio 2016 was a pair of fourth-place finishes as he finished just a whisker away from ending up on the podium on both occasions.
Japan continued their good form in the pool as Paralympics debutant Uchu Tomita also bagged a silver in the men's S11 400 freestyle. He finished 3.33 seconds behind the leader of the pack who was Netherlans's Rogier Dorsman.