Garett Bolles has been carted off the field in Thursday's 12-9 loss to the Indianapolis Colts, Broncos' official site reports.
The Denver Broncos left tackle got his leg caught in a pile of players late in the fourth quarter and was carted directly into the locker room. While there is no official word as to the exact nature of the issue or the severity, it appears that Bolles may have suffered a broken right leg and should be sidelined for an extended period.
The Broncos will have to deal with the absence of Garett Bolles for a minimum of six weeks — and conceivably the season.
How was Garett Bolles injured?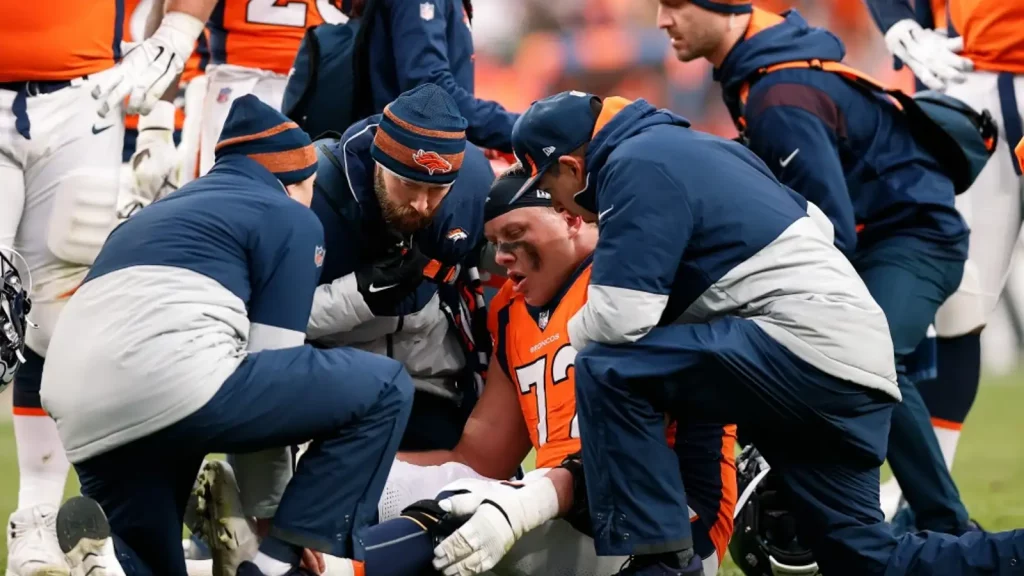 Garett Bolles was blocking for Mike Boone on a running play with 3:58 remaining in the fourth quarter when another player inadvertently rolled on the back of the left tackle's legs from behind. The 30-year-old stayed down on the field for several minutes before he was carted into the trainer's room.
X-rays revealed the break in the leg but more exams will be needed to determine the severity of the damage.
Also read: Record! Patrick Mahomes become the fastest player ever to reach 20,000 passing yards
Injury woes continue for Denver Broncos
The Broncos' awful injury luck continues. They lost Tim Patrick for the season early into camp, Billy Turner has not been healthy, rookie tight end Greg Dulcich has barely been on the field, Justin Simmons is on the IR, and within the last four days, the Broncos have lost Javonte Williams, Randy Gregory, and now Garett Bolles for an extended period of time.
The Broncos were already thin on their offensive line prior to this injury. Cam Fleming has been filling in for Billy Turner at right tackle, while Graham Glasgow has been subbing for Quinn Meinerz at right guard. Now, it appears as though Denver will potentially be without 60 per cent of their projected offensive line.
Also read: NFLPA pursuing legal options on Dolphins and Tua Tagovailoa injury