The Boston Celtics still need to fill up the back end of their roster, regardless of any potential significant shuffles. As the new week began, they had 12 guaranteed contracts in their possession. They are giving Bruno Caboclo, a seemingly unstoppable project, and seasoned forward Noah Vonleh a chance to make the roster. Vonleh has a good chance of appearing in Green on the first night. The announcement of the signing was made by ESPN's Adrian Wojnarowski. The Celtics are likely to add a few more unguaranteed campers and hold a small battle to see who will make the roster.
Noah Vonleh Career in China
Vonleh, a 6'10" stretch four or five, played in China last season, where the league is not known for its strong defence, but Vonleh still produced respectable stats.
In 28 games played in China last year, Noah Vonleh averaged 22.8 MPG. His playing time was probably limited by the rules for non-domestic players. He yet maintained his averages of 14.4 PPG, 9.2 RPG, 1.8 SPG, and 1.3 BPG.
Also read: Celtics negotiate offer with Nets involving Kevin Durant and Jaylen Brown: Reports
Noah Vonleh before China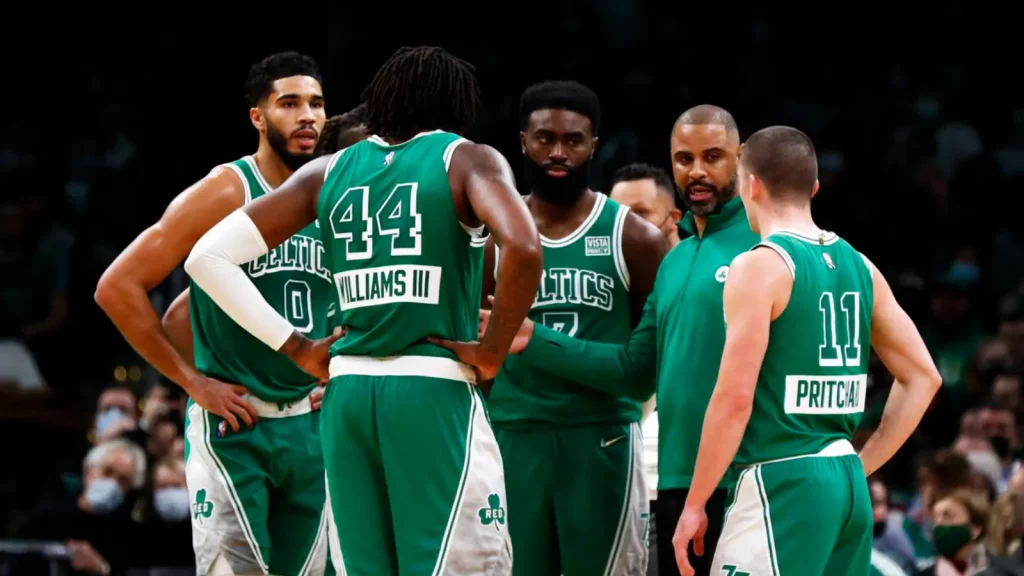 Before playing in China, Vonleh split his three NBA seasons between Minnesota, Denver, and Brooklyn, appearing in a total of 40 games. Vonleh will be given a roster spot if he can prove he can extend the floor for Boston and bring the shot he had in China to the United States.
It will be more difficult for Caboclo to make the final roster, but the former 20th overall choice of the Raptors has struggled to settle down. The Celtics' decision to sign Caboclo is a solid gamble, but it is still a gamble.
Boston Celtics' Current Roster
Following is the current Roster of Boston Celtics:
| | | | |
| --- | --- | --- | --- |
| Jersey No. | Player Name | Country | Position |
| 13 | Malcolm Brogdon | United States | SG |
| 7 | Jaylen Brown | United States | SF |
| 20 | J.D. Davison | United States | F |
| 8 | Danilo Gallinari | Italy | SF |
| 30 | Sam Hauser | United States | SF |
| 42 | Al Horford | United States | FC |
| — | Mfiondu Kabengele | Canada | SF |
| 40 | Luke Kornet | United States | F |
| 11 | Payton Pritchard | United States | PG |
| 36 | Marcus Smart | United States | PG |
| 0 | Jayson Tatum | United States | SF |
| 9 | Derrick White | United States | G |
| 40 | Grant Williams | United States | SF |
| 44 | Robert Williams | United States | PF |
Also read: Monty Williams extends contract with the Suns: Reports