Israel Adesanya vs Alex Pereira: The new champion in the 185-pound division is the Brazillion, Alex Pereira. Additionally, in the main event of UC 281, Alex Pereira shocked the field by KOing Israel Adesanya in the fifth round after four rounds of very one-sided fighting.
Alex Pereira, who has two victories over Adesanya in professional kickboxing, stunned the champion with a series of punches in the closing seconds of the final round before the referee felt the damage was too severe to continue. This was only Pereira's sixth professional MMA fight.
Also Read: Latest WTA Rankings: Caroline Garcia Breaks into Top 5, Iga Swiatek Dominates with Record-Breaking 11,000 points
Israel Adesanya vs Alex Pereira: Adesanya Dominated the initial rounds
in the Israel Adesanya vs Alex Pereira fight, the first person to reach the cage was Alex Pereira, who did so to the sound of an indigenous song. Brazilian green lighting bathed Madison Square Garden. The next to go was Adesanya. The SAW movie character "Jigsaw" made an appearance on screen, although neither the "Undertaker" nor samurai garb were there.
Israel Adesanya delivered a pair of punches on Pereira in the waning seconds of a close-fought Round 1, leaving him wounded on his feet. However, Pereira recovered in Round 2 and applied constant pressure on Adesanya the entire time. Also, To the audible amazement of the fans, Pereira successfully finished off Adesanya late in the match. As the fight unexpectedly turned to a grappling match in Round 3, the tides turned back in favour of Israel Adesanya. Additionally, He continued to gain ground in Round 4 as he dismantled the approaching Pereira.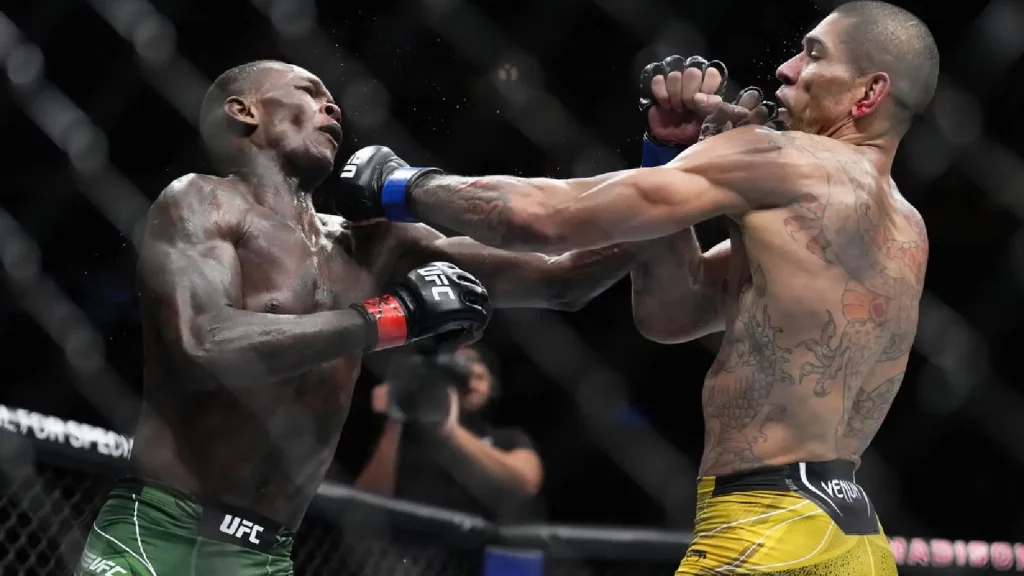 Also Read: Mumbai Indians Trade Jason Behrendorff From Royal Challengers Bangalore Ahead of IPL 2023
Alex Pereira turned things around in Round 5
Finally, In Round 5, things began to change as Alex Pereira entered the ring with a genuine sense of urgency. Also, Alex Pereira increased the stakes, perhaps realising he was probably losing three rounds to one. Adesanya was pushed off balance by a checked leg kick. Israel Adesanya got back up and regained himself. A short while later, the bombardment resumed. Adesanya was hit repeatedly by hard punches from Pereira.
Israel Adesanya attempted to bob and weave his way out of danger while leaning against the cage, but referee Marc Goddard had enough. As Adesanya dove and ducked, he ended the battle. Israel Adesanya first protested but didn't voice any additional grievances either during or after the formal ruling.
Also Read: Top 5 ufc players of all time