Barcelona: A tear-eyed Pique bid adieu to Camp Nou and Football on Saturday. Gerard Pique, 35, has been a stallion in Spain's and FC Barcelona's golden era.
Starting his career at La Masia, Pique has appeared for Manchester United, Real Zaragoza, and FC Barcelona. He won the treble in 2007-08 with United. The stalwart repeated the feat with Barcelona in the successive year. He belongs to an elite list of four players who have won trebles with two different clubs in successive years. Pique has won 8 La Liga Titles, 7 Copa Del Rays, 6 Supercopa de Espana, 3 UEFA Super Cups, and 3 FIFA Club World Cups with FC Barcelona. In addition, he has won four UEFA Champions League (3 with Barcelona, 1 with Manchester United)
Gerard Pique also won the FIFA World Cup 2010 where he played a major role. His resilient defending skills also helped his national side, Spain, in winning the 2012 European Championship. It is quite shocking how Pique announced his retirement on very short notice. Undoubtedly, the teary Pique has left a lot of fans, his and Barca's and United's, red-eyed and devastated. Although he hasn't given a believable explanation for his short-notice retirement, we believe these reasons are the primary reasons.
Also Read: Mason Mount tells his life story with beautifully carved tattoos over his body
The emergence of a Newer and Younger defensive line-up
Pique belonged to Barcelona's long-lost golden era. Veiled in World Cup Winners Xavi, Puyol, Alba, Iniesta, and a strong forte of golden boots in Messi. Hector Bellerin, Ronald Araujo, Eric Garcia are doing certainly okay in defending. In addition, the bench exacts the likes of Jules Kounde and Andreas Christensen. FC Barcelona has found a younger defensive line-up who has shown prospect.
Gerard Pique has started in just 10 games this season. He played in 6 La Liga Games and 4 Champions league Games. It is obvious that Pique has little to no match time.
Pique's Wish To Retire At Barcelona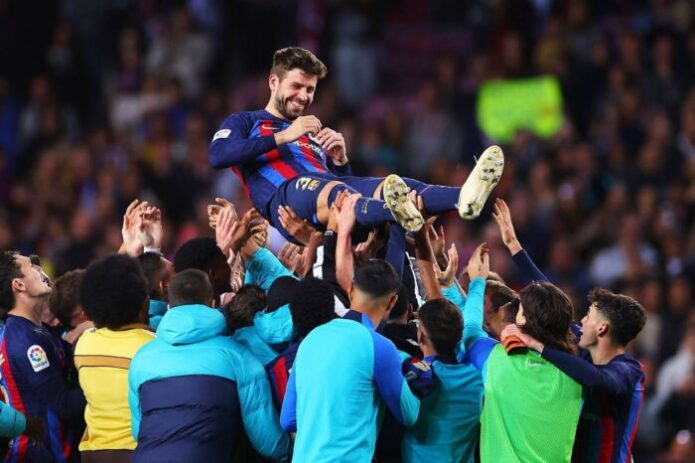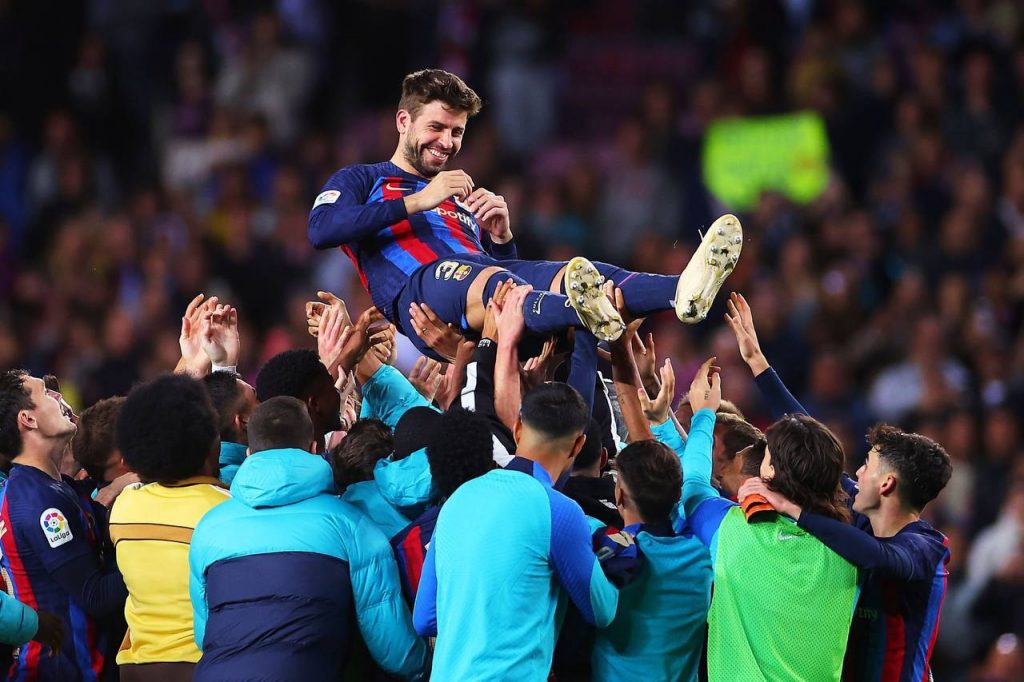 The stalwart has it for FC Barcelona. Players as they get old or out of form usually go to Turkish, Japanese, or other lesser leagues. For Example, Xavi went with Al-Sadd and Chiellini went to MLS. Gerard could have done it but he believes that he has to retire at Camp Nou.
"I will retire at Barca. That is for sure. What I won't accept is playing as a substitute. If it comes to the last three months of a season and that happens, well… But a whole year on the bench? No, I don't want that,"
Pique kind of realised that his time at Barcelona is slipping away. Being a club legend, Pique decided to go in the same way.
Damaged Image and Outlook
Now, one of the lesser but a reason why Piqueshocked the globe by announcing his retirement. Gerard Pique was caugt cheating by his singer wife Shakira a few months back. The scandal and separation from Shakira have destroyed his outlook and personal image. It created a chaos no PR could solve. Pique boasted a fanbase and it quickly decrypted. The younger fans who relived on his brilliance in earlier days ceased to support him more. The current fandom did not hang on the club legend and experience anymore after this.
Also Read: List of Teams Set To Miss Qatar 2022 But Participated in Russia 2018
For more news and information on the FIFA World Cup 2022, Keep reading The SportsLite
Do follow us on: Google News | Facebook | Instagram | Twitter | Youtube | LinkedIn
Have a good day ahead 🙂