Indian cricketer Rishabh Pant has received a response from Bollywood actress Urvashi Rautela on the uproar surrounding her most recent interview. By referring to the keeper-batter as "chotu bhaiyaa" (little brother) in a post on her official social media accounts, she made fun of him.
The entire affair began when the actress claimed in an interview with Bollywood Hungama that a certain individual, whom she referred to as "RP," waited for many hours to meet her while she was in Delhi in a hotel lobby. Although Rautela steadfastly refused to name the person, social media erupted with claims that the "RP" she was referring to was Rishabh Pant. 
Also Read: Rishabh Pant Girlfriend Isha Negi's Age, Height, Bio, Kids, Instagram, Love Story, Net Worth
Things getting intense for the two now
The 24-year-old wicketkeeper batter attacked the actress in a since-deleted Instagram story. He wrote the following: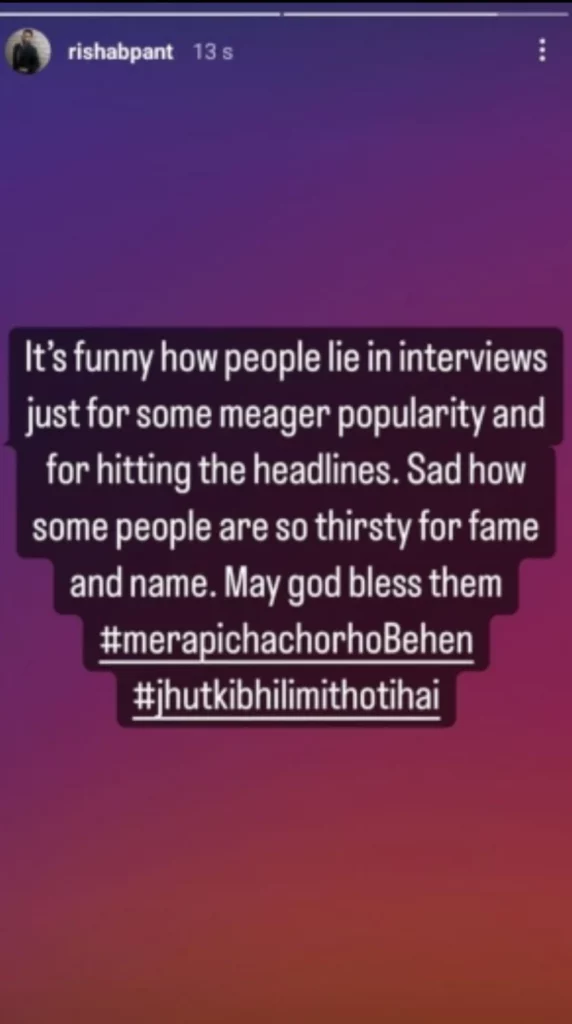 Reacting to Pant's criticism, Rautela has hit back at the young Indian wicketkeeper-batter. She wrote: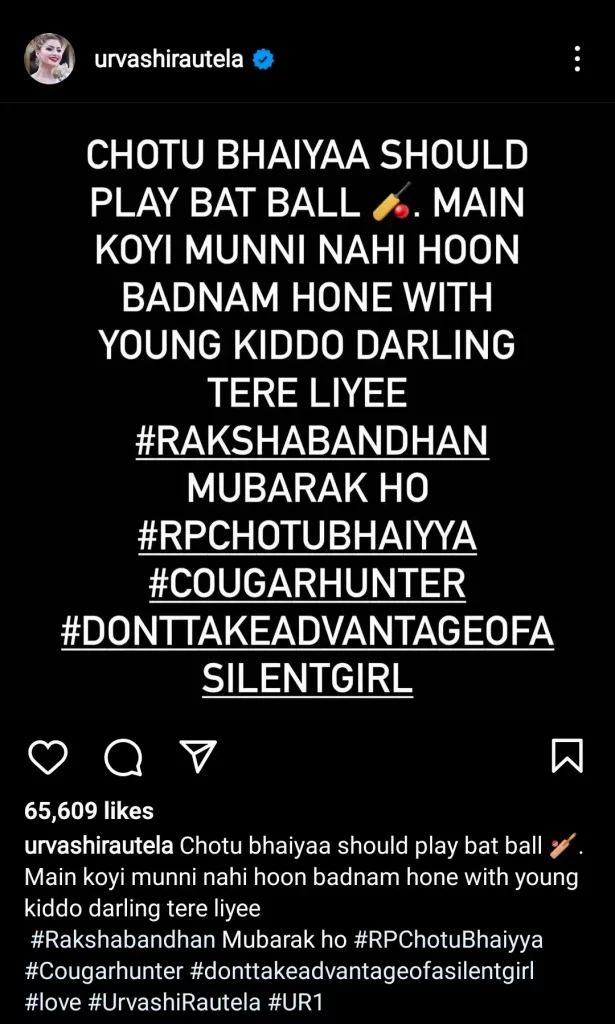 The things got heated after some lines Urvashi spoke in the interview. Lets have a look:
"I was shooting in New Delhi and I arrived at night. Quickly I had to get ready because actresses need more time to get ready. So, Mr RP came to the hotel lobby and wanted to meet. Ten hours passed and I fell asleep. I couldn't attend any calls and when I woke up I saw 16-17 missed calls and I felt so bad that someone was waiting for me and I couldn't meet them. I told him we'll meet when you come to Mumbai. We met in Mumbai but a huge drama happened with the paps and all."
This is not the first time Pant and Rautela have been in the news. Back in 2018, dating rumors surfaced after the two were spotted together on multiple occasions. As per media reports, they later decided to part ways mutually and even blocked each other on WhatsApp.
Thank you for reading. Leave us a comment if you liked it.
Do follow us on Google News | Facebook | Instagram | Twitter | Youtube | LinkedIn
Have a good day ahead 🙂