'Ashes to ashes, dust to dust; if Lillee doesn't get you Thommo must!' The famous line in cricket is enough to tell you about the potency of Australia's attack, if Lillee fails to knock you out, then don't get carried away, Jeff Thomson will do the work.
Today is the birthday of 'Thommo'; Jeff Thomson.
Jeff Thomson's bowling style was unique
Born in 1950, Jeff Thomson had a unique bowling action. A relatively short run-up for a fast bowler, but he generated all the pace from the slinging action. He used to tilt back like a Javelin thrower and then hurl the ball at batsmen with extreme pace. Many great batsmen have had an opinion that he was the fastest bowler they had ever faced. 
Jeff Thomson's one of best wicket video:
Some science and stats
Andy Roberts, the West Indian fast bowler had recorded the fastest delivery of 159.49 km/h. Jeff Thomson was quicker than Andy for sure. The intriguing thing is, Andy's run-up had a speed of 28.78 km/h and Thomson's was 18.02 km/h. This also applies to Michael Holding(28.10km/h) and Dennis Lille(33.57 km/h). All these were not too slow from Thomson, they were there and thereabout, but Thomson's run-up was too slow to generate that amount of pace. Fascinating, isn't it?
Another amazing thing is about certain observations about Thomson's speed. For 160km/h Thomson delivery, it took only 0.438 to reach the other end. It takes 0.30 seconds to see the ball and react to it for any batsmen. So according to the theory, in an ideal scenario batsmen would need to react 0.162 seconds before the release. 
Also Read: Russian Olympic Committee shines in Tokyo, overshadows the ban on Russia
Jeff Thomson's Debut against Pakistan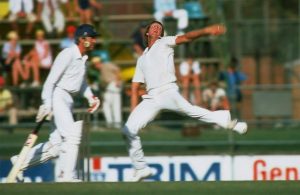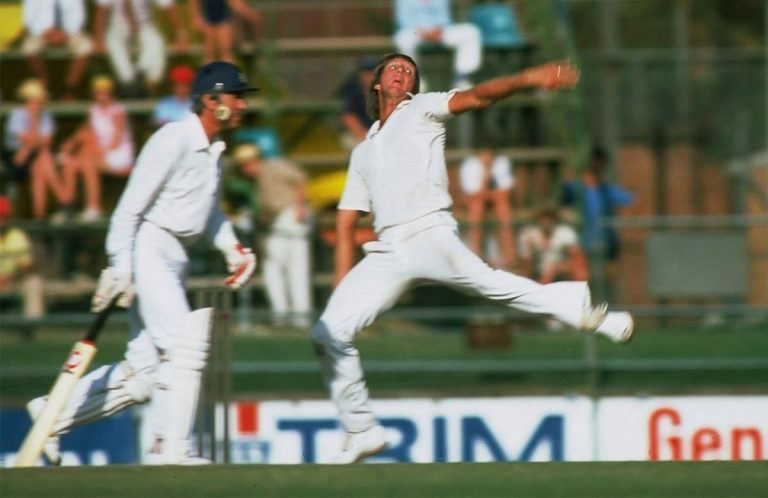 Jeff made his Test match debut against Pakistan on 29th December 1972 and ODI debut on 1st day of 1975 against England. He got the Test call against Pakistan and to not miss the debut match, he concealed the injury to his foot bone. He couldn't perform as per the expectations and the debut figures were 0-110.
Jeff Thomson was commonly known for hitting batsmen
Though Australia gave him another chance for the Ashes and that's where the Lillee and Thomson scared the life out of English players. Dennis Lillee and Jeff Thompon formed a terrifying bowling pair and helped their side to win the most important Ashes series quite convincingly. Thomson took 33 wickets. During that series, he had made a comment saying "I enjoy hitting a batsman more than getting him out. I like to see blood on the pitch". Obviously, it created a lot of controversies. You could understand the fear factor of the Englishmen.
Less pace but same potency
A collision on the field with the teammate Alan Turner caused a collarbone injury and since then his pace was never been the same. However, with pace or without, he was still lethal and took 22 wickets in the next Ashes which Australia won by the barest margin of 3-2.
In 51 Tests matches, he has claimed exactly 200 wickets at an average of 28.00, best of 6/46, and eight 5-wicket hauls. In ODIs, he has 55 wickets in 50 matches at 35.30, with a best of 4/67.
At the time of his Test debut, he had only 5 First class Match experience, but over the years went on to play 187 of them and bagged 675 wickets at 26.46.
On 27th  January 2016, Thomson was inducted into the Australian hall of fame.
We wish you a very Happy Birthday Jeff!
Interesting facts about Jeff Thomson
Everybody thinks of how batsmen would react to the bullets from Jeff, but spare some attention to the keeper as well. Rod Marsh had kept wickets for Thomson in many matches. He once claimed Thommo regularly bowled at more than 160km/h and even touched the 180 mark. Really feeling for Rod Marsh and his hands. 
Thank you for visiting The SportsLite