Lawyer Alen Sahinovic told the Sydney court on Thursday police have dropped three of the four charges against the Sri Lankan cricketer. Dhanushka Gunathilaka was charged with four counts of sexual intercourse without consent. Last November during the T20 World Cup he had been arrested by the Sydney police from the team hotel. However, the public prosecutor withdrew three of the charges in a Sydney court.
Dhanushka Gunathilaka Harrasment Case!
According to the police, the Sri Lankan batter and the 29-year-old woman met via a dating app. After their date, the two returned to the woman's home in Sydney's Rose Bay. There he allegedly choked her and raped her.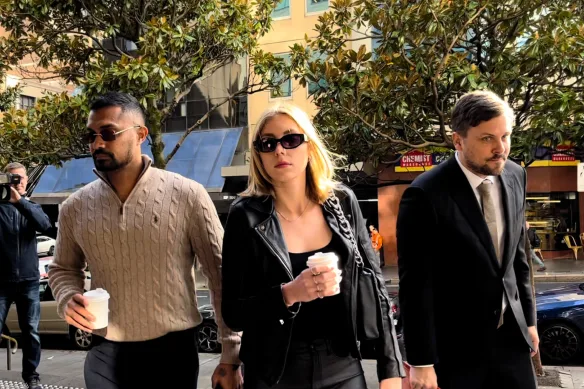 The Sydney Morning Herald reported- "The Director of Public Prosecutions, Hugh Buddin, told the court one charge has been certified. But the remaining three counts of sexual intercourse without consent have been withdrawn."
Also Read: ICC to abolish soft-signal from 2023 WTC Final
According to the chart sheet filed by the police, the remaining charge is that the Sri Lankan batter was engaged in "forceful" sexual intercourse. During which he allegedly "put one hand around her neck for 20 to 30 seconds and choked her".
She "tried to remove the accused's hand by grabbing his wrist, but the accused squeezed tighter around her neck for a further 10 seconds". Gunathilaka also allegedly restricted the woman's breathing for six seconds. Further, the police charge sheet states the woman "was fearing for her life and could not get away from the accused."
Also Read: Bangladesh to host Afghanistan in June-July 2023
Last Year, Gunathilaka was part of the Sri Lankan team for the T20 World Cup. But, he only played in their first game against Namibia. After that, he was ruled out of the tournament due to a hamstring tear. He has represented Sri Lanka in eight Tests, 47 ODIs and 46 T20 Internationals.
Gunathilaka's previous cases!
SLC has also banned him for a six-month in 2018 when he broke the team curfew. In the same year, Gunathilaka was also suspended after his unnamed friend was accused of raping a Norwegian woman.
Thank you for reading it. Leave us a comment if you liked it.
Do follow us on: Google News | Facebook | Instagram | Twitter | Youtube | LinkedIn
Have a good day ahead 🙂