Who is Neeraj Chopra?
Subedar Neeraj Chopra is an Indian track and field athlete who competes in the javelin throw. He's won gold in the Asian Games and the CWG.
Neeraj Chopra in Asian Games 2018 & Commonwealth Games 2018
Chopra's previous best was the 88.06m gold-medal winning throw at the 2018 Asian Games[3] and 2018 Commonwealth Games. Chopra was also selected as the flag-bearer at the opening ceremony for India at the 2018 Asian Games, which marked his first Asian Games appearance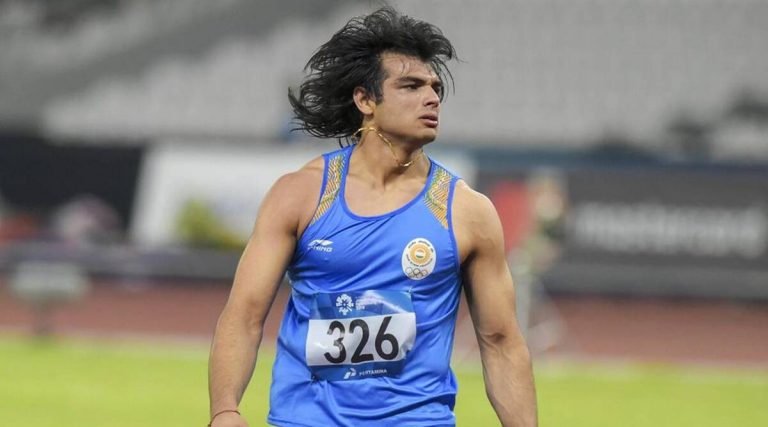 Neeraj Chopra's early life
Neeraj Chopra is from Khandra village, Panipat district, Haryana. He was educated at DAV College, Chandigarh. In 2016, he was appointed a Junior Commissioned Officer in the Indian Army with the rank of Naib Subedar.
On 31 March 2020, he donated Rs. 2 Lakh in PM Cares Fund for the COVID-19 pandemic
He won a gold medal in 2016 IAAF World U20 Championships in Bydgoszcz, Poland. He also set a world junior record. Despite these performances, he failed to qualify for the 2016 Summer Olympics as the cut off date was 11 July.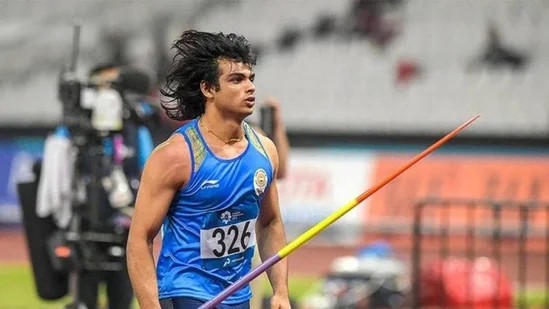 Neeraj Chopra registered a season best effort of 86.47 meters in men's javelin throw at 2018 Commonwealth Games
On 27 August 2018, Neeraj threw a distance of 88.06 m to win gold in the Men's javelin throw at the 2018 Asian Games and set a new Indian national record, bettering his own previous record.
On 5 March 2021, Neeraj Chopra again broke his past National Record setting the new at 88.07m, with a World Leading position in 2021. Javelin thrower Neeraj Chopra opened his international season of 2021 with a throw of 83.18 metres that earned him javelin gold medal at an event in Lisbon, Portugal.
Performance at the Tokyo Olympics 2020
On 4 August 2021, he qualified for the 2020 Tokyo Olympics' Final in Men's javelin throw. Neeraj entered his event as one of the strong medal contenders.
However, the gold medal favourite was Germany's Johannes Vetter who astonishingly failed to qualify as one of the last eight finalists. Due to this surprise, Neeraj could smell the yellow metal as his biggest competitor looked off the radar on the night where it mattered the most.
Neeraj took full advantage as he steamed in, again and again, to open up a significant chasm between him and the rest of the field. Finally, he ended up at the apex and bagged the gold. Neeraj became only the second Indian after Abhinav Bindra to win individual gold at the Olympics.
Neeraj Chopra Caste
He belongs to Punjabi family Khatri which is popular in North India.